This post may contain affiliate links which won't change your price but will share some commission.
Looks like I've got my 5:30 am breakfast buddy today :\  We're all healthy again…now on to another round of major teething. We're also experiencing some crazy "winter" weather here…sunny and 80's! We've been spending lots of time outside lately. I think everyone is a little out of sorts with the abrupt change in weather. Last week was pretty busy. We did end up with one morning at home (Friday) since MOPS was cancelled for fog/school delays. We did make it to a second hand sale and got some summer clothes for the kids. Abram only had 1 pair of shorts! We weren't quite ready for this weather 😛  Rebecca had her last swimming lesson yesterday. It will be nice to have our Saturday mornings back for a few weeks…until soccer starts in April 🙂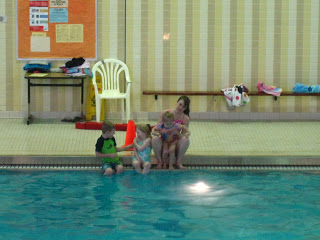 My kitchen experiments last week included another batch of blue moon ice cream, soaked graham crackers, soaked bread, pesto, lots of crispy nuts, yogurt, hot fudge, kefir and bread pudding. Rebecca (Cinderella) enjoyed helping with the bread pudding 🙂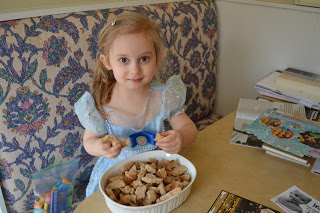 This week should be pretty laid back. Perfect for a week of warm weather! Hopefully we can spend lots of time outside. Today is church. Monday I have a nursery cmt meeting. Tuesday is Kindermusik. Wednesday is co-op pick up. That's it! I'm hoping we can set up a playdate (or 2) and maybe go to the zoo one day.
I'm almost done with one of Abram's bibs. I just need a free 10 minutes 😛  Then I'll work on a few more. Although sometimes I wonder why I'm making them…he rips them off immediately 😛  In the kitchen I'd like to make yogurt, more soaked bread (I go through about a loaf a week myself…I eat it with almost every meal :), possibly another batch of ice cream, salad dressing and pizza crust. I also need to start planning birthday treats and cakes since we'll be celebrating 3 more birthdays in the next couple months. All four of us have our birthdays within a 2 month span 🙂  Rebecca's current request for a birthday cake is a Lego Friends cake (the new "girl" Legos).
Not many updates on me. The last few days have been pretty good. I've been really careful about what I eat/sticking to what I know works. It really makes a difference. I've been miralax free for a week now! It feels so good to be done with that. I learned another important lesson last week…don't use cornstarch. I made vanilla pudding for my birthday treat…and used cornstarch. Right after saying I can't eat corn because of it's starch. Hello!! Lesson learned. Too bad I didn't get to enjoy much of my birthday treat. Oh well. I don't buy/eat much packaged food but I'll for sure have to read labels more carefully now. I'm guessing cornstarch is in a lot of foods. Maybe that's been one of the sneaky culprits causing me problems over the years. I'm sticking with arrowroot and flour for thickeners for now. See how that goes.
One final note…Abram decided that at 10 months he now wants a paci 😛  I think it's mostly because he's teething. We'll see if he keeps it up or not. In the mean time he sure looks cute 🙂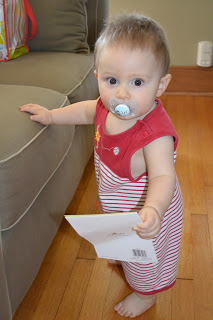 Better get on with the menu before we have total meltdown here.
———————————
S (prep lunch, church, class)
  B – leftover eggs, bread pudding, pineapple
  L – roasted chicken, potatoes, maroon carrots, onions, squash
  D – (early/light/easy clean up) – leftover cauliflower au gratin, bread
M (make dressing, make croutons, nursery cmt, soak flour)
  B – yogurt, granola, pineapple, kiwi
  D – (early) –  chicken and bacon caesar salad, fruit
T (skim cream, make sour cream, soak flour, KM, Cone World)
  B – granola bars, star fruit, yogurt
  D – homemade chicken bacon pesto pizza w/ soaked crust
W (bake bread and buns, co-op, playground prep smoothies)
  B – bagel w/ pb
  D – sweet and sour meatballs, baked potato wedges, beans, sloppy joes on soaked buns, squash, peaches
Th (Zoo)
  B – smoothie, cream cheese pastry
  D – sloppy cornbread, salmon melts, maroon carrots, squash, peaches
F (clean)
  B – smoothie, blueberry muffins
  D – bacon egg bowls, beans, fruit, toast
S ()
  B – leftover egg bowls
  D – grill? – brats