This post may contain affiliate links which won't change your price but will share some commission.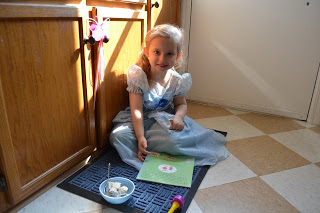 I tried making blue moon ice cream last week. The ice cream was good…but it didn't really taste like blue moon. I decided to try again this week. I did some more research and asked for opinions on flavor. From what I've read the flavor of blue moon is actually nutmeg! I never would have guessed that. I think there are some variations of the flavor. Some say it also has a lot of almond. The most surprising thing is that there is no fruit flavor. The color really fools you. For this attempt I mostly went with nutmeg. But I also added a little bit of homemade almond butter for a hint of almond flavor. And I added some blueberry puree for a little color (it didn't really impact the flavor). Rebecca insisted it had to have some color. It's more of a purple than blue ("blurple" :), but at least it's natural. I'll have to keep experimenting with homemade/natural coloring to make it more blue. This was a pretty successful attempt at homemade blue moon. It really does taste like the blue moon flavor! "Cinderella" really enjoyed it. I didn't measure anything when I made it. I just tasted as I went along until I got the flavor I wanted. So I'll do my best to write down a recipe. If you try it please taste the batter and adjust the flavor as needed before putting it in the ice cream maker.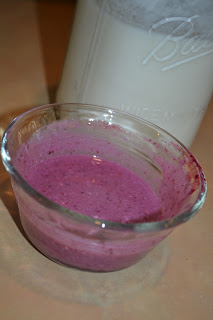 You can use this same flavor idea for other things besides ice cream. I made some blue moon yogurt for Rebecca's lunch yesterday (plain yogurt with maple syrup, a little blueberry puree and a sprinkle of nutmeg). You could even try blue moon pudding or pudding pops (add some nutmeg to homemade vanilla pudding…freeze it in molds for pops).
Now that I've come up with a decent homemade blue moon maybe I'll have to really challenge myself and try to make homemade superman ice cream. Anybody know what flavors the yellow and pink ice creams are?
This post is linked to Fat Tuesday at Real Food Forager, Real Food Wednesdays and Fight Back Friday.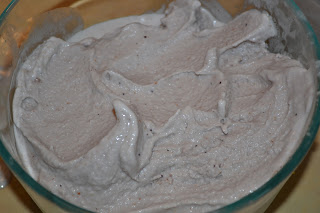 Blurple Moon Ice Cream
3 cups cream (preferably raw)
3 egg yolks
1/2 cup maple syrup (adjust to your taste)
2 tsp. vanilla extract
2 tsp. lemon juice
1-3 tsp. nutmeg (adjust to your taste)
2 Tbsp. homemade almond butter or 1/4 cup crispy almonds
1-2 Tbsp. arrowroot powder (not necessary, but it does help texture)
blueberry puree (optional for color)
1/3 cup blueberries (fresh or frozen)
1 Tbsp. maple syrup
Cook blueberries and syrup on low heat until berries soften and release juice. Strain. Cool.
In blender or food processor (I used my Vitamix) combine all ingredients (including blueberry puree if using), making sure the almonds are totally blended. Taste. Adjust syrup, nutmeg and almond to taste. Process in ice cream maker (mine took 20 minutes in my Kitchen Aid attachment). Store in freezer.