This post may contain affiliate links which won't change your price but will share some commission.
We're into the second half of May already. And warm weather is finally back! We've been trying to get outside often and enjoy it. So far Abram LOVES being outside. But Rebecca usually requires some convincing. She's not a fan of bugs 😛  Abram sits by the door saying "socks"…what he calls shoes…and banging on the door. I have a feeling we'll be spending a lot of time outside this summer. We also did our first wagon ride of the year…first time for Abram. I learned that I am going to get quite a workout on our weekly walks to the farmer's market this summer with a wagon, 2 kids and lots of produce.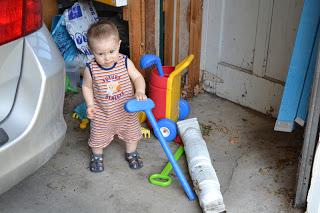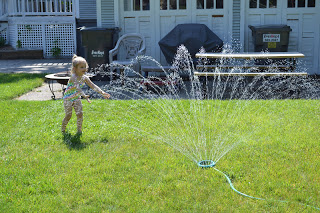 This week will probably be pretty busy. But some plans are not set in stone yet. Today is church. I didn't get to Heffron Farms last week, so I'd like to go this week. Maybe Monday or Tuesday. Monday evening is my last nursery cmt meeting. My term is over in June 🙂  Wednesday is Meijer and co-op pick up. I also might take the kids to a varsity soccer game at the local high school. Thursday I'd like to take yoga. We'll see how the week goes. Friday I might be heading to Lansing or Flint for a girl's day for my SIL. But I haven't heard of definite plans yet. No plans for the holiday weekend at this point.
Last week was my sleep challenge. I did get more sleep. And I do feel more rested. But I also know that one week of a little more sleep is not going to change my health that much. There weren't any noticeable differences aside from not feeling as tired 😛  I will still try to get more sleep when I can. But this week is back to getting stuff done 🙂
Since I didn't do much extra baking, etc. last week I have a lot I'd like to get done this week. I want to make pudding, bread, graham crackers, some type of sourdough bread, granola bars and chicken broth.
I'm not really sure what to say about myself. My colon seems to have gone into spastic mode over the last week or so. I don't know what caused it or how to make it stop. So I'm still doing lots of experimenting and reading. It's all very confusing. I have started keeping a food journal to see if I can pinpoint anything. In the end I don't think it's any one particular thing I did or ate. I'm finding that my body just needs variety. I tend to find something that seems to "work" for a few days…and then keep eating the same stuff day after day. Then things get worse again and I'm confused. I seem to do better if I don't go overboard on any one thing and if I keep changing it up every few days. I go a few days with eating lots of soft, low fiber foods. Then I go a couple days with bumping up fiber. And back. This seems to keep things calm, yet stimulated. I can't just do one or the other. I need balance. It's easier to eat the same things day after day. But my body doesn't like to do that I guess. So I was avoiding much fiber for a bit. Then the last couple days I've had salad, nuts, dried fruit, etc. Gotta keep my body guessing 😛  I hope that will help. No extremes (I was going a bit crazy with the ice cream again…my favorite food and the one I have the one hardest time with portion control). Lots of variety. Hopefully this will keep everything balanced and allow me to not feel like I have to give up any food I love. Just because I have to take it easy with something for a few days or weeks doesn't mean it's out of my diet forever. Things are constantly changing…and so should my diet.
One other thing that stood out to me this week was that I need to not always be waiting to feel better. I need to live life to the fullest where I'm at as much as I can. I may never reach my ideal of feeling good/being healthy. I may never be "healed." I hope to figure out how best to control my symptoms, but ultimately I just want to live. Live for God. Live for my family. Not make myself such a focus. Kelly the Kitchen Kop did a post yesterday about health in the US. And one thing she said really made me think:
"I also have a hunch that for some who have been sick for years and years, their body chemistry and hormones are so screwed up that even if they are doing everything right, it still might be nearly impossible to "reset" themselves. All the chemicals and weird stuff in our food, not to mention the huge number of pharmaceuticals many are taking, that has to make any effort at getting healthy much more difficult, right? I'm curious if any of you are with me on this one. Obviously, this isn't the case for everyone, because I hear stories all the time of people who have been sick and/or overweight their whole lives, and then when they go back to Real Food and a more natural lifestyle, they get better. But I also know of some who, try as they might, just can't get their body back."
I eat a very nourishing real food diet. I try to do everything "right." I put in the effort 10x over to figure out what's healthy and what works for me. But I just might never get back to square one. I have to be ok with that and accept myself where I'm at. It doesn't mean I should be ok with always feeling rotten. I will continue to try to figure things out and live the best life possible. But I also shouldn't let it limit my life and always wait until I'm "healed" to do the things I want to do.
Anyway, when I have a little more clear direction I'll do a bigger update post about diet, etc. For now, it is what it is. On to the menu for this week.
————————————
S (prep lunch, church, prep smoothies, grind flour, make pudding)
  B – yogurt, granola, honeydew
  L – cp pork chops, potatoes and carrots / TBD
  D – leftover lasagna / fresh pea soup pumpkin cake w/ pesto
M (soak flour, prep dinner, Heffron, nursery cmt, strain kefir)
  B – smoothie, date scones (from freezer)
  D – (early) – cp honey mustard chicken and veggies
T (make graham crackers, make bread, skim cream, make sour cream, Meijer)
  B – sd english muffin, fruit
  D – bacon, avocado, pesto, parmesan paninis, roasted cauliflower and brussels sprouts, fruit
W (make sd sweet bread/feed sd, make yogurt, Heffron, soccer, co-op)
   B – smoothie, muffins (from freezer)
   D – (separate/prep ahead) – potato soup w/ bacon and cheese, sd bread / salad
Th (make granola bars, make ice cream, yoga)
  B – toast w/ pb, fruit
  D – tacos
F (Girl's Day? make pesto, make mayo, freeze butter, make cupcakes, make ice cream)
   B – granola bars, yogurt, fruit
   D – zucchini sausage muffins (modified), peas, fruit
S (clean, make broth)
  B – zucchini sausage muffins, fruit
  D –  roasted chicken, scalloped potatoes, beans