This post may contain affiliate links which won't change your price but will share some commission.
Brrr. It's chilly this morning. We have finally gotten a break from the extreme summer heat. Now it's really feeling like fall is on the way. It will be here before we know it. In the mean time, we've got a few weeks of summer fun and produce preservation to get through 🙂
Last week was pretty busy. I froze my last batch of corn (I ended up with 6 gallons this year!). Rebecca and I also made two batches of ice cream (chocolate and honey cinnamon), "oat honey milk cereal" (Rebecca's recipe…basically granola), blueberry, peach, plum cobbler and blueberry zucchini bread. Plus a few other things. We were out and about plenty as well. We finally made it back to the library to stock up on books for Rebecca. Yesterday we read well over 100 pages! We read an entire 100+ page chapter book and the end of another chapter book. This girl loves to read 🙂  We had a blast with my SIL, nephew and niece at a science center. Justin and Rebecca also went raspberry picking yesterday…so dealing with raspberries is on my to-do list this week 🙂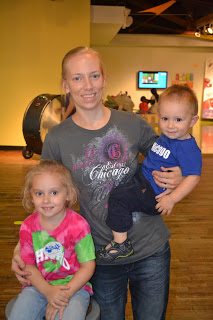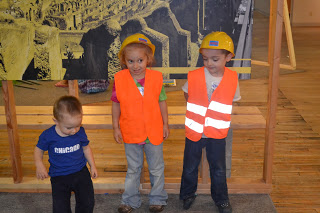 This week will be a bit chaotic. I'm not sure how everything ended up in the same week, but it'll be busy. Today is church. We are also going to the zoo in the afternoon and having a picnic dinner. Monday is milk pick up. Rebecca will be doing an arts and crafts camp all afternoon. I also have an appointment with my psychologist. Tuesday we have the farmer's market. We'll see how Rebecca likes camp on Monday. If she really enjoyed it will do another day on Tuesday (the camp is all week, but you can do just certain days). Wednesday morning Abram has his 15m check up. We might possibly do a gymnastics camp in the morning as well (Rebecca's friend/our former neighbor will be in it). In the afternoon Rebecca and I both have dentist appts. Justin has a meeting at church in the evening. Thursday I will be bringing a meal to a MOPS friend that just had a baby. We also have to grocery shop, and I'll be doing yoga. We don't have anything set in stone for Friday. I was planning to go to the zoo, but now we're going today. So we'll see. We might just need a day to stay home and take it easy. Saturday morning Rebecca and I are getting our hair cut. In the afternoon my parents will be visiting. Rebecca, my mom and I will be going shopping for some school clothes for Rebecca. Then all of us will go out for dinner. I'm feeling worn out just seeing what we have going on 😛
In the kitchen I'll be freezing more beans (I did one batch this morning). I have to freeze raspberries. I want to make something with them as well, but I'm not sure what yet. I will need to make more yogurt. I want to finally actually make a batch of sd breakfast cookies. I might make wheat crackers. I'll probably make more ice cream. I would also like to try making beet kvaas (more on that to follow). Plus I need to make a meal for my friend.
Last week I went to a chiropractor for some nutritional testing. It's muscle testing to see what parts of your body aren't functioning well. It showed that I have issues with my pituitary gland and my gall bladder. Both make a lot of sense…but are two things I've never worked on. Pituitary controls things like fertility, thyroid, mood/mind…all things I struggle with. And the gall bladder deals with digestion, especially fats…which make up half of my diet! My mom has problems with her gall bladder, and my dad just had his removed. So it makes sense that I might have problems with mine. I have some supplements to help both systems. So far I've just started the pituitary supplement (which has magnesium in it :). They were out of the gall bladder ones (which contain some potassium). Hopefully I'll get them this week…although I'm not sure when I'll have time to get over there. My friend (the doctor) has really high hopes that they will help with  my digestion. I hope she's right!! I can't wait to start them. She also said that beet kvaas could be very helpful. I've heard it's easy to make, so I'm hoping to try this week after I pick up some beets at the farmer's market.
On to our busy week. Here's what's on the menu for now.
—————–
S (freeze beans, prep lunch, boil eggs, church, zoo, prep smoothies, freeze raspberries)
  B – zucchini bread, raspberry yogurt
  L – beef and veg in cp
  D – picnic – egg salad sandwich, fresh fruit, chips, cucumber slices, avocado
M (make raspberry topping, make breakfast cookies, milk, camp, Dr. V.)
  B – sd breakfast cookie, smoothie
  D – (light/early/easy clean up) – BLAT, broccoli, fruit
T (skim cream, make hot fudge, fm, camp)
  B – hard boiled egg, toast, fruit
  D – zucchini casserole, beans, fruit
W (prep dinner, chop fruit, bake squash, make hot fudge, Dr. S., dentist, music mtg)
  B – sd breakfast cookie, smoothie
  D – (prep ahead) – TBD cp chicken
Th (pre meal, make zucchini bread, make yogurt, make beet kvaas, bring meal, camp?, Meijer, yoga)
  B – apple w/ almond butter, yogurt
  D – (separate) – RR – TBD pasta
F (chop veggies, zoo?, make ice cream)
  B – yogurt, granola, fruit
  D – fried eggs, toast, roasted brussels sprouts
S (hair cut, shopping w/ grandma, dinner)
  B – tbd
  D – out to eat – Russ's?