This post may contain affiliate links which won't change your price but will share some commission.
I confess…I was scrambling to come up with this week's meals at 9pm last night. I'm normally very on top of it, but last week was CRAZY busy. It was kind of a blur. I felt bad for Abram in and out of the car seat all day. Especially since he hates being in it. He was a good sport for the most part. But Rebecca sure enjoyed our week. We got a little taste of what it will be like when she starts school…much busier. I'll have to be more organized with lunches and maybe cut back sometimes on some of the extras I do to lessen the chaos/mess. And hopefully we can continue working on getting meal times for Rebecca to be more efficient.
That being said Rebecca had so much fun. She went to two days of arts and crafts camp (M/T afternoon) and two days of gymnastics camp (Th/F morning). One thing we confirmed through this…Rebecca NEEDS her downtime/alone time. After camp she was on overdrive/in a state of hyperstimulation until she had some quiet time. By Friday afternoon she didn't even want to play with anyone…for pretty much the rest of the day. She was in quiet time for two hours. When I told her it was over she said she was still playing. I asked if she wanted to help make ice cream…"Not today." I let her stay in her room for a while longer. Every time I asked if she wanted to clean up and come down she said no. We had to force her to clean up and come down for dinner…after over 4 hours alone in her room! I think she played with practically every toy she has 😛  Life could get interesting once school starts.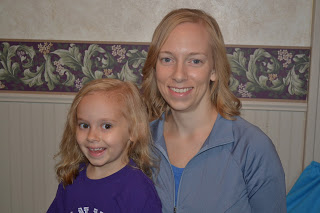 We also had so much fun yesterday on our Mommy/daughter day. We got our hair cut. Rebecca's hair looks so cute…although it's a bit shorter than I expected. In the afternoon we had so much fun shopping with Grandma. Rebecca gave her a little fashion show in the dressing room. She picked out a few really cute things for school. Dinner out was the usual…Rebecca and I shared chicken strips, salad, beans and of course a milkshake 🙂  I'm sure I'll be paying for that meal today.
I had a good appt. with my psychologist last week. I go back again next week…and Rebecca will be coming with me. We'll see how it goes.
Abram had a good 15m check up, and Rebecca did well at the dentist.
Last week was too busy (for my taste). We even added on a trip to a second hand sale that I had forgotten about…until Thursday. This week…hardly anything going on 😛  Today is church. After lunch Justin and Rebecca are going to a Whitecaps baseball game. Rebecca got a free ticket from her library summer reading club prize. Tuesday is farmer's market. Friday I'm going to yoga. My teacher is having a free community class! That's it. Really. That's all we have. Maybe we'll try to go to the zoo this week. We had intended to go on Friday, but as I mentioned, by Friday afternoon we were all ready for some time at home. I think Rebecca might have burst from excitement/stimulation if we had tried to do the zoo in the afternoon.
I'm not sure what I'll be doing in the kitchen this week. Like I said I didn't have time to plan thoroughly. I just have a list of possibilities. I'll try to fill them in on my schedule as I have time/as the week goes on. I could make cheesecake, sourdough blondies, sourdough cookies, sourdough brownies, chocolate swirl bread, fermented punch, pesto, ice cream and caramel. I'm not sure what preservation, if any, I'll be doing this week.
We found out last week that the person we get our chickens from…and had already placed an order with…has NO chickens. So now I need to figure out when/where we can get some good chickens.
I'm in test/experiment mode right now. I've been taking my pituitary supplement for a couple weeks now. And I just got my gall bladder supplement on Friday. We'll see if I notice any difference. So far nothing profound. I have been trying to cut back on miralax again…and again I'm now in quite a bit of pan 🙁  I'm already regretting eating salad last night. I know that won't help. Back to strictly soft foods I guess.
I did make a batch of beet kvass last week. I tried it for a couple days. But then the next morning I had some major stomach pain. So I stopped drinking it. It is pretty strong stuff and helps with liver detox. So maybe I had too much to start. Maybe tonight or tomorrow I'll try again…and start with less.
So, not doing my best right now. I'm waiting to see how this week goes/how the supplements help, if at all. I still think I would like to find a good magnesium supplement. Hopefully I can do that soon.
On a personal note, I got my first two paychecks for my writing last week! Pretty exciting. I guess I can  officially call myself a writer now.
On to the menu. I did it in a rush last night, so it could change as the week goes on.
———————–
S (prep lunch, clean kitchen, church, baseball game, prep smoothies)
  B – granola w/ milk, banana
  L – cp meatloaf, baked potatoes, broccoli
  D – hot dogs, sweet potato fries, watermelon
M (freeze beans, make punch, roast beets, organize office, make sd blondies)
  B – smoothie, soaked cereal bars
  D – hot taco rice (w/ ground turkey), fruit
T (skim cream, make "oreos", FM, soak beans, make ice cream)
  B – peach w/ yogurt, honey and nuts
  D – zucchini cakes, roasted brussels sprouts, watermelon
W (prep dinner, soak lentils, zoo, Dr. V., co-op pick up)
  B – smoothie, zucchini bars
  D – cp pork and beans, roasted brussels sprouts, fruit
Th (make bread, bake squash, freeze broccoli, cook lentils, zoo)
  B – cookies n cream yogurt, banana
  D – lentil burgers, fresh beans, fruit squash soup, chocolate swirl bread, cinnamon swirl bread
F (prep dinner, make pesto, make mayo, soak lentils, nutr. testing, Meijer, yoga)
  B – cinnamon swirl bread, banana
  D – french toast bake, fresh fruit
S (cook lentils, clean)
  B – french toast bake
  D – TBD whitefish (RR?), lentils burgers