This post may contain affiliate links which won't change your price but will share some commission.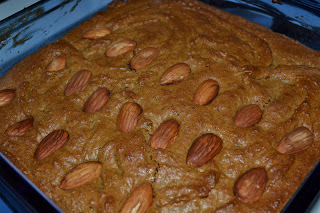 I've been searching for new sourdough recipes lately. I came across a recipe for sourdough peanut butter blondies on Cake Walk. They looked simple and delicious.
Yesterday morning both kids helped me make them (that's how easy they are to make). It only takes a few minutes to mix the batter. Then pop them in the oven.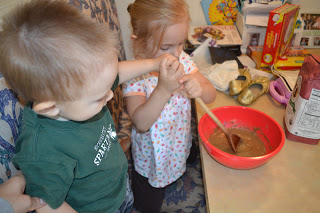 They turned out quite well. Very moist and chewy. They were a little heavy on the peanut butter taste for me. But Justin and Rebecca really liked them. I think they would be better with some chocolate chips to balance the flavor 🙂
I accidentally used more coconut oil than the recipe calls for. So mine were extra moist!
I don't have any peanuts in the house, so I topped them with crispy almonds.
These happen to be vegan. I'm not sure I've ever made a vegan recipe before…at least not knowingly 😛  If you aren't looking for a vegan recipe you could replace the coconut oil with butter.
And back to the original topic of sourdough. These do not taste anything like sourdough.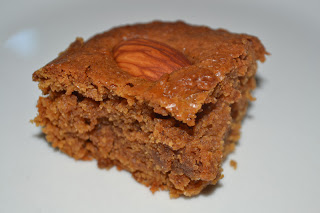 Sourdough Peanut Butter Blondies
3/4 cup peanut butter
1 cup sourdough starter
1/6 cup oil (coconut oil works well)
1 cup brown cane sugar or sucanat
2 tsp. vanilla
1/2 cup whole wheat flour
1/2 tsp. baking powder
1/2 tsp. salt
1/3 cup nuts (for topping)
Preheat oven to 350. Grease an 8×8 baking pan or 8″ round cake pan.
In a large bowl, mix together peanut butter, oil and brown sugar. Mix well, until well incorporated. Add the sourdough starter and vanilla, and blend in thoroughly (kids are very good at this part:).
Stir in flour, baking powder, and salt. Mix the dough (using your hands if you need to) well. The batter is very thick, and doesn't spread on it's own. Transfer dough to baking tin, press into sides, and press the peanuts into the top.
Bake for 25-30 minutes, until set and lightly browned on top. Cool completely in tin before slicing