This post may contain affiliate links which won't change your price but will share some commission.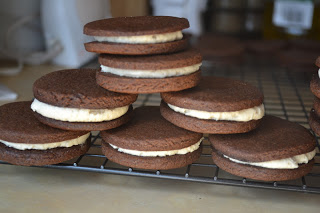 On Sunday Rebecca got to try an Oreo at church (slight cringe :P). Then she asked if we could make our own Oreos so we could make Oreo sundaes (love this girl…what four year-old asks if she can make something from scratch instead of going and buying more:). Why not? So that was our project yesterday.
I had no recipe and no real starting point. I just started experimenting. And I must admit I am quite impressed with what we came up with! Sometimes homemade baked goods taste good…but not quite like the "real" thing. These actually really taste like Oreos…but they are made with REAL ingredients.
These do not have all of the preservatives and hydrogenated oils that make them shelf stable for half a year. So I store them in the refrigerator. That also keeps the cream filling solid. You can make a big batch and freeze them.
There really isn't much more to say except these are delicious! The whole family agreed. What could top homemade Oreos? We made homemade cookies and cream ice cream with some of them later in the day 🙂  I also used some leftover cookie to make cookies and cream yogurt. Yum! I'm taking a cookie break today, though 😛
I used butter in my cookie dough. I find that it gives the best consistency/firmness. But if you want to make them vegan/dairy free you could use coconut oil or palm shortening in place of the butter. I also used all purpose flour in the cream filling because that is what I tolerate. You could use organic corn starch or arrow root. I personally like the soft texture the flour gives. Maybe next time I make them I'll even try soaking the cookie dough.
Please give these a try and let me know what you think! Can you make homemade Oreos? Yes you can! If you think they look good, wait until you taste them!
This post is  linked to Real Food Wednesdays and Fresh Bites Friday and Fat Tuesday.
Whole Wheat "Oreos"
makes 17 – 20 cookies (depending on the size of your cookie cutter and the thickness of your dough)
1/4 cup organic palm shortening
5 – 6 Tbsp. organic all purpose flour (you can substitute corn starch or arrow root)
1/4 cup maple syrup
1 1/2 cups whole wheat flour
1/2 cup cocoa powder
3-4 tsp. chocolate extract
1/2 cup organic cane sugar
1 tsp. baking soda
1/2 tsp. salt
1/2 cup butter, room temp (you can substitute coconut oil or palm shortening)
6 Tbsp. honey
water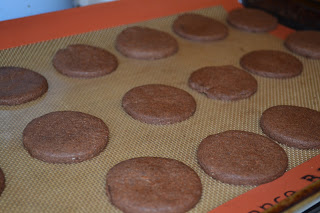 To make the cookies:
Cream butter and sugar in a large bowl. Add cocoa and chocolate extract. Blend well (a hand mixer works well). Taste. Add more chocolate extract until strong enough. Add flour, baking soda, salt and honey. Blend well. If dough is still crumbly slowly add water, 1 Tbsp. at a time until dough will hold together when squeezed with your hand.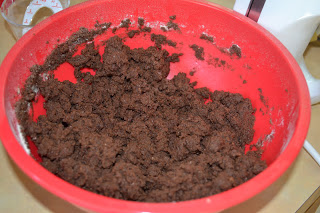 Place 1/3 of dough onto parchment paper. Place another layer of parchment paper over top. Roll dough between parchment paper until it is 1/8 – 1/4″ thick. Remove top paper. Cut circles and place onto parchment lined baking sheet. Repeat this process until you have used all of the dough.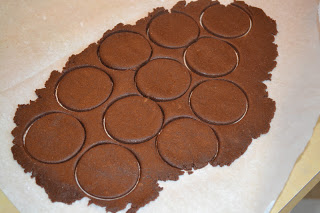 Bake cookies at 350 for about 13 minutes. Allow to cool completely.
To make the filling:
Cream shortening, flour and maple syrup in a small bowl. Add more flour for a stiffer cream (note that it will firm up/become solid when chilled). Add more maple syrup for a sweeter cream. You can prep the filling ahead and store it in the refrigerator. Let it come to room temperature before filling cookies.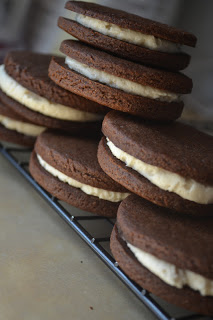 To assemble the cookies:
Place the cream filling in a small plastic bag. Cut off one of the corners of the bag for a pastry bag. Pipe some cream onto the center of one cookie, leaving space at the edge . Top with another cookie. Press together just until the cream reaches the edge. Repeat this process until all of the cookies are filled. Store in an airtight container in the refrigerator. You can also freeze the cookies.