This post may contain affiliate links which won't change your price but will share some commission.
The last week of August. The last free days before school starts. Only two more weeks to have my "baby" girl home with me every day. We're trying to make the most of it.
Last week ended up busier than we had expected. I had a psychologist appointment (doctor had to reschedule) and more nutritional testing (decided to change supplements). We did make it to the zoo and finally got to see the new area that will be the home of tigers in 2014. Can't wait for that! I went to a more advanced yoga class. It was great! I also had some unexpected kitchen work. Rebecca decided she wanted to try making homemade oreos. And I forgot I had ordered a bunch of broccoli from our co-op. So I had to freeze that. I also froze a bunch of squash from the farmer's market and more beans from our garden.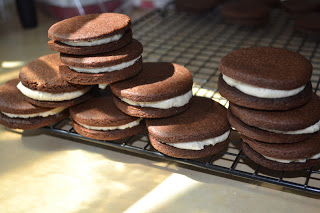 This week we have some errands and some fun stuff. Today is church. I'm not sure yet if Abram and I are going. We've all had colds the last few days, and Abram hasn't been sleeping that well…which means I haven't either. Monday is milk pick up. Tuesday is farmer's market, and we might go to the library. Wednesday is groceries. Thursday we might go to the zoo again. This is the last week they are open until 6, and we want to make our membership worthwhile. No plans for the weekend yet. Maybe some shopping on Saturday.
We'll see what I have time for in the kitchen this week. I might finally start some canning and do a batch of spaghetti sauce. I need to make more chicken broth. I'm not sure about other produce preservation. Some other potentials are yogurt, ice cream, cheesecake, sourdough brownies and funnel cakes or whatever else Rebecca comes up with. Really, we don't live on sweets here 😛
Last week ended much better than it started for me. Going out for dinner and taking the wrong supplements (with soy and oats) just did me in. Thankfully I've gotten past that now (at least mostly). I did some more nutritional testing on Friday. So I've got a couple new supplements to help with my gall bladder and some general minerals. Last week I also finally tried coconut water. I think it's my new obsession 😛  I mix it with a little bit of juice. It's such a refreshing drink. It's hydrating, and it's packed with lots of potassium and magnesium. Plus other vitamins and minerals. I wish I had tried it sooner. I drink it throughout the day to keep a steady supply of minerals and keep myself hydrated. I'm still not ready for much fibrous foods. I tried a little this week…which just leads to pain. But on the plus side I did eat some navy beans without Abram having any problems. This is great news for me! I LOVE beans. But haven't been able to eat them for about a year now. I'm already looking forward to trying some hummus 🙂
I mentioned earlier that I had another psychologist appointment. This one was a little more for Rebecca than for myself. It went well and gave us some good insight. I'm anxious for my next appointment when I can talk to the doctor one-on-one to discuss strategies about how to proceed from here. There may be more posts on this in the future, but not for now. At the moment we're still trying to figure things out see how school goes.
So, on to another week. Here's the menu. I'm not sure exactly how Rebecca's recipe will go this week. She came up with "spaghetti buns." Spaghetti (noodles and sauce) on hot dog buns. We'll see.
———-
S (prep lunch, strain kefir, soak lentils, church, prep smoothies)
  B – leftover french toast casserole
  L – crockpot peppercorn steak, rice, carrots
  D – summer sausage, cheese, crackers, peas, fruit, milkshakes
M (cook lentils, bake brownies, milk)
  B – smoothie, TBD from freezer
  D – lentil burgers, roasted red potatoes, beans
T (skim cream, prep dinner, make sour cream, make yogurt, freeze beans, fm, library, make broth, chop fruit)
  B – granola bar, banana yogurt
  D – roast chicken, scalloped potatoes, broccoli
W (strain/freeze broth, make/can spaghetti sauce, freeze zucchini, Meijer, make scones)
  B – smoothie, TBD from freezer
  D – zucchini pesto quiche, squash white chocolate scones, peas
Th (soak flour, make chocolate cookies, freeze zucchini, chop veggies, zoo)
  B – scones, fruit
  D – "spaghetti buns", corn
F (strain yogurt, make ice cream, make buster bars, soak flour)
  B – quiche
  D – soaked biscuits w/ gravy, leftover quiche, peas, fruit
S (bake bread, clean, make cheesecake)
  B – TBD
  D – BLTPs, squash, fruit OR grill tbd