This post may contain affiliate links which won't change your price but will share some commission.
A while back I made a homemade version of Oreos®. They were delicious!! These holiday Oroes® are a spin on the classic that is perfect for parties and family gatherings.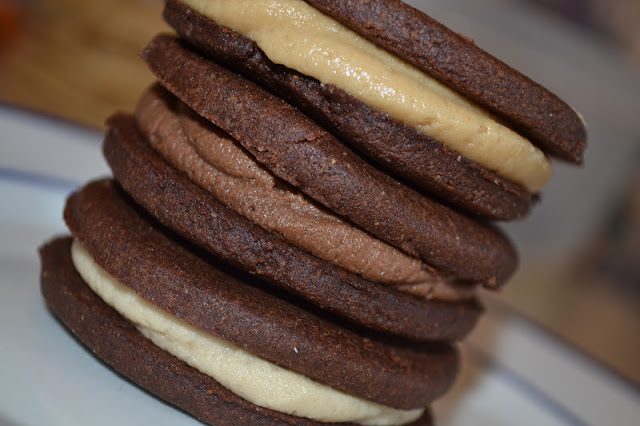 This week for our baking project Rebecca wanted to make a new batch with a twist. She came up with three filling flavors to try for a special holiday treat – mint, peanut butter and chocolate.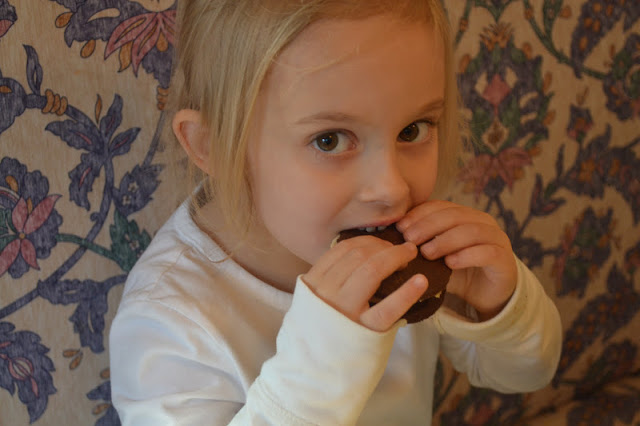 Wow!! The original was good. These are even better. Plus we had extra filling so we made mint, peanut butter and chocolate filled graham cracker sandwiches. Also very good.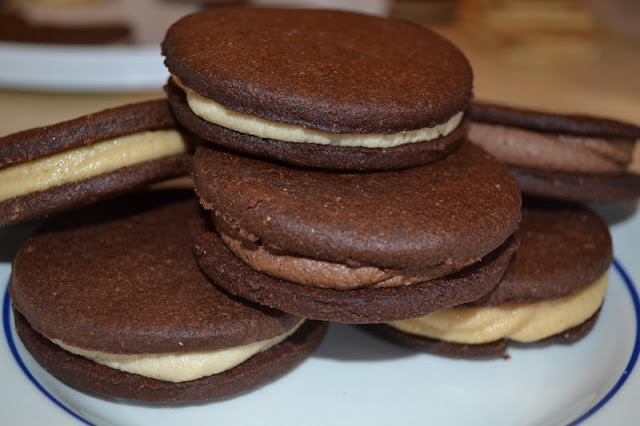 If you want to really impress your guests this year try homemade holiday Oreos® with a special filling. They are sure to be a hit.
Rebecca is already planning our next batch. She said we need to make more the day after Thanksgiving to be ready for Christmas 🙂 We're thinking chocolate mint, chocolate peanut butter and caramel next time.
And maybe we'll go all out and dip them in chocolate. A chocolate covered caramel filled oreo made with all real ingredients? Yes, please!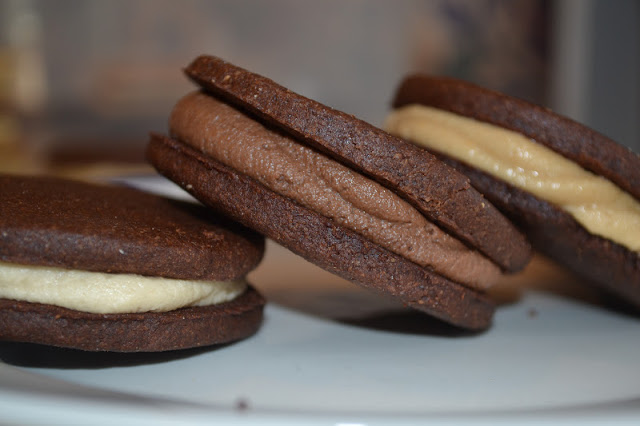 The possibilities are endless…pumpkin, gingerbread, butterscotch, raspberry, orange…We'll have to work on the inside out version sometime too. I'll update this post each time we try a new flavor.
What is your favorite holiday Oreos® flavor?
This post is linked to Fat Tuesday and Real Food Wednesday and From the Archives Friday.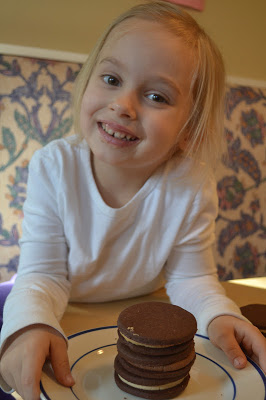 Holiday Oreos®
makes 17 – 20 cookie sandwiches (depending on the size of your cookie cutter and the thickness of your dough)
1 1/2 cups whole wheat flour
1/2 cup cocoa powder
3-4 tsp. chocolate extract
1/2 cup organic cane sugar
1 tsp. baking soda
1/2 tsp. salt
1/2 cup butter, room temp (you can substitute coconut oil or palm shortening)
6 – 8 Tbsp. honey
To make the cookies:
Heat oven to 350 degrees F.
Cream butter and sugar in a large bowl. Add cocoa and chocolate extract. Blend well (a hand mixer works well). Taste. Add more chocolate extract until strong enough. Add flour, baking soda, salt and honey. Blend well. If dough is still crumbly slowly add extra honey until dough will hold together when squeezed with your hand.
Place 1/3 of the dough onto parchment paper. Place another layer of parchment paper over top. Roll the dough between the parchment paper until it is 1/8 – 1/4″ thick. Remove top paper. Cut circles and place onto a parchment lined baking sheet. Repeat this process until you have used all of the dough.
Bake the cookies for about 13 minutes. Allow to cool completely.
________________________________________________________________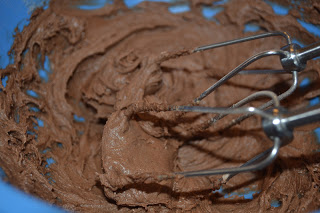 Mint Filling:
1/4 cup organic palm shortening
5 – 6 Tbsp. organic all purpose flour (you can substitute corn starch or arrow root)
1/4 cup maple syrup
1 – 2 tsp. peppermint extract
Peanut Butter Filling (you can make this a stiffer or softer filling):
1/4 cup organic palm shortening (reduce this to 3 Tbsp. for a stiffer filling)
5 – 6 Tbsp. organic all purpose flour (you can substitute corn starch or arrow root)
1/4 cup maple syrup
3 – 4 Tbsp. natural creamy peanut butter
Chocolate Filling:
1/4 cup organic palm shortening
2 Tbsp. organic cocoa powder
4 Tbsp. organic all purpose flour (you can substitute corn starch or arrow root)
1/4 – 1/3 cup maple syrup
1 – 2 tsp. chocolate extract
To make the fillings*:
Cream the shortening, flour, maple syrup and cocoa/peanut butter/extracts in a small bowl. Add more flour for a stiffer cream (note that it will firm up/become solid when chilled). Add more maple syrup for a sweeter cream. You can prep the filling ahead and store it in the refrigerator. Let it come to room temperature before filling cookies.
*Note that if you make the full recipe of all of the fillings with one batch of cookies you will have leftover filling. You can use it on graham crackers or as frosting for cupcakes. One batch of filling is enough for 7 – 12 sandwich cookies depending on how big your cookies are and full you like them.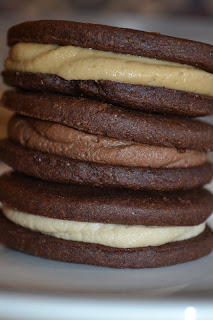 To assemble the cookies:
Place the cream filling in a small plastic bag. Cut off one of the corners of the bag for a pastry bag. Pipe some cream onto the center of one cookie, leaving space at the edge . Top with another cookie. Press together just until the cream reaches the edge. Repeat this process until all of the cookies are filled. Store in an airtight container in the refrigerator. You can also freeze the cookies