This post may contain affiliate links which won't change your price but will share some commission.
Yogurt in a tube…sounds kind of gross to me. Which is why I've never tried it. But kids seem to love them. Sadly my daughter was introduced to go-gurts in preschool this year.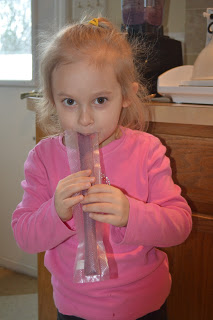 In an effort to help her enjoy the foods she likes in a healthy manner we decided to make our own version of go-gurt.
I tried a couple methods that were ok but kind of tough to eat. Finally we came up with a good one.
I used my vacuum sealer to make a go-gurt package. Then we filled it with thick smoothie.
This go-gurt has a two-fold benefit. It does not have the fillers, sweeteners, etc. that you'd find in the boughten version. And it does have tons of nutrients – egg yolks, kefir, fresh fruit, avocado.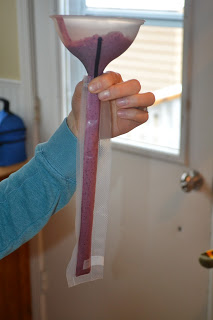 You can use any type of healthy yogurt or smoothie you like. Smoothies work well since you can make them very thick.
You can also turn this into a frozen treat (or use fruity water to make homemade ice pops) . Simply fill it, stand it upright and stick it in the freezer. What a great snack on a hot summer day. You could also fill it with fruity water, homemade pudding or homemade ice cream and freeze it…homemade ice pops, pudding pops or ice cream pops!
This isn't really a recipe. It's a how-to. Now whenever your kids want go-gurt you can give them one…and feel good about it.
My daughter wanted to decorate it, but we didn't have time. Next time we'll use some permanent markers to write on the bag before filling it.
This post is linked to Real Food Wednesday.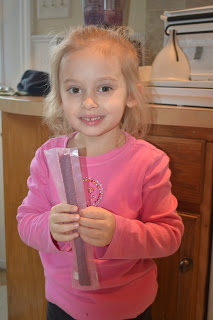 Homemade Go-gurt
Using a vacuum sealer create a "bag" with an opening about 1 1/2 inches wide. Use a funnel to pour in smoothie or yogurt of your choice. Enjoy!
Here are a few smoothie ideas: fruit smoothie, pumpkin pie smoothie, green smoothie