This post may contain affiliate links which won't change your price but will share some commission.
It's another coooold Michigan morning. I'm very ready for spring! But it doesn't look like it'll be here any time soon. Single digits this morning. Brrr.
This will be a fairly normal week. On Thursday we have a Kindergarten information meeting. I can't believe we're already thinking about that for my little girl! We also have Bible study on Friday…as long as we can find a baby-sitter.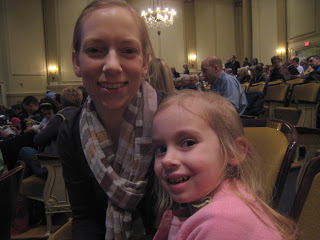 Sleeping Beauty Ballet Grandma, Mommy, Daughter date
I'm hoping to get caught up on some writing this week. Last week Abram was up early every day because of a stuffy nose and cough. And he took short naps. I hope he starts sleeping better again so I can get things done. Although so far it's not sounding promising.
This week I'll be doing more experimenting with alternative grains (now that I finally made it to the health food store!). My plan is to try new grains and to soak them. I'm hoping the soaking will help my body digest them more easily. I learned last week that quinoa does not work for me. I'll have to try it again sometime soaked, but not for a little bit.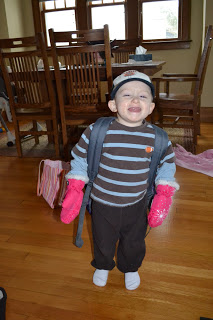 All set for "cool"
I've been doing more research as always. And I re-read some information on the GAPS site. I thought this was interesting:
"Food "allergies" or intolerances are the result of "leaky gut" when the gut lining is damaged by abnormal micro flora. Foods do not get the chance to be digested properly before they get absorbed through this damaged wall and cause the immune system to react to them. Unless the reaction is very severe, it should be ignored. Just concentrate on healing the gut lining with the Introduction Diet. Once the gut wall is healed, the foods will be digested properly before being absorbed, which will remove most food intolerances and allergies."
I'm not going back to GAPS. But I do want to continue to include some of it's healing principles into my diet. So I'm going to try to add broth to my diet daily…but rotate it 🙂  I'll be making beef broth and chicken broth this week. That will give me three broths to rotate (I also have turkey). Hopefully at some point I can make fish broth as well. Theoretically if you really include a lot of broth you should experience healing of a leaky gut fairly quickly…and get rid of intolerances. So I'll keep rotating, eliminate my problem foods and add in broth daily. We'll see what that does.
I'm finding that a rotational diet really makes it easier to figure out what does and doesn't work. Last week I learned that quinoa is out (for now). I also tried sweet potatoes again…big no. I usually react to a food about 24 hours after I eat it. I had sweet potato soup on Thursday. Friday evening I looked in the mirror…eyes were back to red/bloodshot and painful…and they still are. There were plenty of other symptoms too. I just couldn't believe how quickly my eyes returned to red. Really my whole appearance changed…worse acne, red eyes, dry skin and my hair gets kind of frizzy. Who knew that my bad hair days were actually caused by a leaky gut and food sensitivities? 😛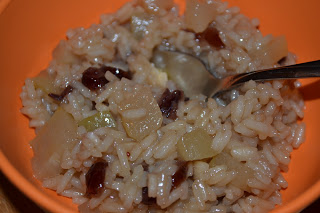 Pear Cranberry Rice Pudding
I'm still figuring out what does and doesn't work. It seems that a lot of the foods I ate while on GAPS are the ones I can't eat now because I ate them over and over and over (that's what tends to happen when you have a very restricted diet). So I'm still not sure about avocado and dates.
I'm trying to get my body back in balance now and stop the inflammatory response. I've got my meals fairly well planned out. I'll be adding in breakfast and maybe lunch items as the week goes on…just to help me stay on track and plan ahead for soaking grains.
I'm happy to say I've been Miralax free for over 2 weeks now!!! I'm so proud and so happy. As long as I eat the way I should my digestion is doing pretty well. I don't intend to ever take it again. And I praise God for giving me the strength to take this step. It will be so helpful for my overall healing and allowing my body to absorb the nutrients it desperately needs.
I have a little boy up now…and I smell something…so I better get this posted. Maybe I'll get to write more tomorrow…
_________________________________________________
S (prep lunch, make beef broth, church, prep smoothies, make kefir, soak garbanzo flour) D4
  B – applesauce bread, banana (Justin), sour cream w/ grapes, squash w/ butter (Mary)
  L – beef in gravy over noodles and squash, corn
  D – waffles w/ fruit topping and nuts, clementines, milkshake (family), tuna sour cream avocado salad on cucumber (Mary)
snack: soaked grahams, frozen grapes; beef broth
M (strain/freeze broth, prep dinner/make chicken broth, make scones, milk, strain kefir, soak beans) D1
  B – leftover waffles w/ blueberry topping (Justin), scone, sauteed broccoli (Mary)
  L –  crispy chickpeas and broccoli, scone
  D – cp chicken, rice, roasted brussels sprouts and cauliflower
snack: carob garbanzo flour scones, blueberries; chicken broth
T (strain/freeze broth, make 2nd batch of broth, soak amaranth flour, cook beans, make white rice scones, KM, CCS) D2
  B – smoothie, cinnamon raisin toast w/ pb (Justin), scone, snap peas (Mary)
  L – rice, peas and beets cooked in broth and coconut milk
  D – chili w/ cornbread (family), salad w/ bacon, beets, pears and cranberries w/ creamy coconut milk dressing (Mary)
snack: scones, honey coconut milk; turkey broth
W (PS, co-op, WT) D3
  B – cinnamon raisin toast w/ pb, smoothie (Justin), pumpkin salmon pot pie w/ soaked amaranth crust (Mary)
  L – goat's mlk yogurt, pumpkin and asparagus cooked in broth
  D – leftover chili and cornbread (family), salmon cakes, roasted asparagus (Mary)
snack: yogurt; beef broth
Th (bake/freeze squash, freeze butter, Dr. M., KG mtg) D4
  B – waffle yogurt (Justin), broth, squash, ice cream (Mary)
  L – broth, squash, ice cream cone
  D – hot dogs, tator tots, squash (family), tuna, squash, avocado (Mary)
snack: soaked grahams; chicken broth
F (clean, chop veggies, PS, BS, soak teff) D1
  B – cornbread w/ syrup, banana (Justin), garbanzo carob scone, broccoli cooked in broth and coconut oil (Mary)
  L – blueberry pie w/ date and garbanzo flour crust, broccoli
  D – pancakes (garbanzo flour pancakes for Mary) w/ blueberry topping, sausage, roasted brussels sprouts
snack: scones, blueberries; turkey broth
S (make TBD w/ teff, swimming) D2
  B – 
  L –  
  D – spaghetti, garlic toast, peas (family), leftover sausage, peas (Mary)
snack: scones; beef broth
____________________________________________________________________________
D1: chicken, dry beans (pinto, navy, white, fava, mung), lentils; quinoa; broccoli, kale, sweet potatoes, brussels sprouts, cauliflower; blueberry, raspberry, date; coconut oil, carob, cane sugar, mint tea
D2: white fish, pork; white rice, teff; green bean, lettuce, peas, beets; pear, cranberry; lard, cinnamon, maple syrup, coconut milk
D3: turkey, salmon; amaranth, tapioca; asparagus, pumpkin; palm shortening, coconut water, goat's milk yogurt
D4: tuna, beef, raw cream, sour cream; wheat, coconut flour; cucumber, squash, zucchini; coconut, avocado, grapes; EVOO, butter, ghee, tallow; cocoa, raw milk, green tea, honey

snacks: D1blueberry, raspberry, date; D2 crumble; D3 TBD w/ palm shortening, tapioca flour or amaranth and pumpkin ; D4 ice cream, soaked graham crackers, raisins, frozen grapes