This post may contain affiliate links which won't change your price but will share some commission.
Good morning, all. It's the last week of February. I'm hoping with the onset of March comes the onset of spring. We're all pretty sick of the never ending snow. I think 40 degrees would feel like a heat wave 🙂
This week will be fairly normal. Justin and Rebecca get two Daddy daughter dates this week. They are going to a hockey game this afternoon (it would be fun for all of us to go…but Abram and sitting for 3 hours don't go together) and a Daddy & Me night at her school on Wednesday. I might go to our rescheduled (for the 3rd time!…thanks MI weather;) West MI Bloggers meet up tomorrow.
I didn't do a whole lot extra in the kitchen last week. But I did do some more gluten free baking and made a few batches of broth. I'm enjoying my new baking experiments.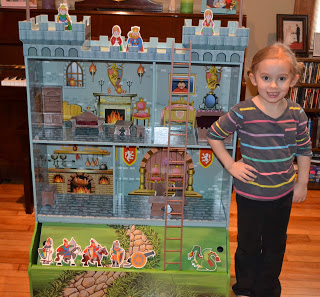 Rebecca won this castle last week!
Last week was quite stressful. And it really took a toll on my body. It made me realize just how important it is for me to get enough rest. Even if my diet doesn't change, if my stress goes up I feel rotten – my metabolism and adrenals crash. I had about four days in a row of feeling ice cold, having low body temps and really messed up digestion. My temps went from almost 98 back to 95s. Thankfully after a couple days of extra sleep and rest I have brought things back my norm at least. I still have a ways to go for full healing, but thankfully I can recover fairly quickly from a crash.
To that end I'm trying to push myself a bit to sleep more and exercise less. Yesterday and today I set my alarm an hour later and skipped my morning exercise. It's a start. I'm learning the difference between my food sensitivity reactions and adrenal fatigue symptoms. That will help me know what to adjust when I'm not doing well.
I also tried to get in plenty of broth daily last week. I think it may have been too much extra liquid. I think that just contributed to the metabolism shut down. So I'll cut back a bit on my quantities.
I'm still experimenting with new grains. And I'm not sure I'm handling the garbanzo flour well. It seems like whenever I eat it I get a lot of pain. So maybe I'll skip it one D1 this week and then try again on the next D1. And see what happens.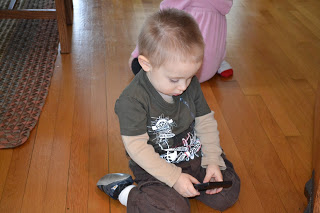 Our future math whiz working on his calculator
I have a few baking projects I might try tackle this week. But I also don't want to wear myself out again. So we'll just see how the week goes/how I'm feeling. I might try to make pretzels and graham crackers with gluten free flours. I also would still like to make a batch of golden grahams (didn't get to it last week). I made one version of gluten free granola bars yesterday (recipe to come). I might make another version today.
One of my stressors right now is keeping up with all of the writing I want to do. Abram's been an early riser for the last couple weeks. So computer time is limited. I'm prioritizing my assignments. Hopefully that will help me stay on track with what really needs to get done and what can wait. And then I have better direction. But hopefully I will have time to get a good start on my Real Food and Health articles this week.
We have decided to do a 5th birthday party for Rebecca. So I need to start planning for that. Rebecca and I decided on a theme. Now we need to work on invites, decorations, games and menus. And the cake of course 🙂  I also want to make some new behavior charts for her – more permanent ones. So I have to get some craft supplies. Finally my own birthday is coming up soon. I'm trying to think of a dessert experiment I could do for myself…something I can actually eat 🙂
Anyway, I better wrap this up. Maybe I'll have time to do some more writing before the rest of the family is up and needs my attention. Here are most of the meal plans. I will fill in some details as the week goes on.
_________________________________________________
S (prep breakfast and lunch, church, hockey game, prep smoothies, bake w/ Abram) D3
  B – zucchini bread, strawberry yogurt (Justin), goat's milk yogurt w/ blueberries and soaked amaranth/tapioca crumble, pumpkin w/ butter (Mary)
  L – cp turkey meatloaf, beans, rice
  D – at the hockey game (Justin/Rebecca), salmon pumpkin pot pie w/ soaked amaranth/tapioca crust
  snack: amaranth granola bars
 
M (SP, PS, WMB) D4
  B – banana bread, sausage, smoothie (Justin), squash w/ coconut oil, raw vanilla ice cream (Mary)
  L – sour cream w/ frozen grapes and soaked grahams, cucumber
  D – leftover spaghetti, garlic bread, corn (family), coconut flour squash cakes (Mary)
  snack: sour cream, soaked grahams
 
T (KM, CCS) D1
  B – hard boiled egg, bagel w/ cream cheese (Justin), raw blueberry cheesecake, broccoli (Mary)
  L – chocolate bars, broccoli
  D – sweet and sour chicken and broccoli over rice
  snack: dinner leftovers
W (soak flour, make pretzels, Meijer, PS, pediatrician, Daddy and me night) D2
  B – banana bread, smoothie (Justin), teff and rice granola bar, peas (Mary)
  L – snap peas, gf pretzels
  D – breaded white fish, beans, baked potatoes grilled cheese, peas, chips, applesauce (family), leftovers (Mary) (sick kid)
  snack:
Th (make graham crackers, make charts, chop produce) D3
  B – hard boiled egg, bagel w/ cream cheese (Justin), amaranth tapioca granola bars, pumpkin (Mary)
  L – goat milk yogurt w/ gf graham crackers, snap peas
  D – pan seared salmon, pumpkin (Mary), broccoli, biscuits w/ jam baked potatoes w/ sour cream
  snack: gf graham crackers

F (make ice cream, make scones, make hot fudge, soak flour, MB, PS) D4
  B – yogurt, banana (Justin), ice cream, squash (Mary)
  L – avocado and snap peas in garlic sour cream, scone
  D – egg and cheese quiche, beans, banana bread french toast, applesauce (family), tuna, squash, avocado, scone (Mary)
  snack:
S (chop produce, make pancakes, swimming) D1
  B – garbanzo flour pancakes/english muffins w/ jam, broccoli
  L – quiche (family). TBD (Mary)
  D – chicken and cheese sandwiches or paninis, roasted cauliflower and brussels sprouts, custard w/ strawberries or tapioca pudding
  snack:
________________________________________________________________
D1: chicken, dry beans (pinto, navy, white, fava, mung), lentils; quinoa; broccoli, kale, sweet potatoes, brussels sprouts, cauliflower; blueberry, raspberry, date; coconut oil, carob, cane sugar, mint tea
D2: white fish, pork; white rice, teff; green bean, lettuce, peas, beets; pear, cranberry; lard, cinnamon, maple syrup, coconut milk
D3: turkey, salmon; amaranth, tapioca; asparagus, pumpkin; palm shortening, coconut water, goat's milk yogurt
D4: tuna, beef, raw cream, sour cream; wheat, coconut flour; cucumber, squash, zucchini; coconut, avocado, grapes; EVOO, butter, ghee, tallow; cocoa, raw milk, green tea, honey

snacks: D1blueberry, raspberry, date; D2 crumble; D3 TBD w/ palm shortening, tapioca flour or amaranth and pumpkin ; D4 ice cream, soaked graham crackers, raisins, frozen grapes