This post may contain affiliate links which won't change your price but will share some commission.
March…really? It feels more like January here. Still cold, cold, cold with some snow, ice and rain mixed in. Hopefully if March is coming in like a lion it will go out like a lamb 🙂
I can't say I've thought too much about my goals yet. The last few days I've had to kind of put everything on hold to take care of Abram. That being said, my main goal for this month is rest and relaxation 🙂  If that's possible with two busy little kids. And this month is actually quite busy. But I'm going to do my best. Here's what's on the list.
1. Writing – Write my GRNL article. Research creating a newsletter. Write my May/June RFH articles and brainstorm July/August topics (if I can think that far ahead :).
2. Photography – start reading my photography book and implement one new method/tool.
3. Healing – I will continue to get extra rest when I can. I will continue to make sure I get enough calories and keep my body temp up. I will not exercise much. I will try my new yoga DVD for exercise/relaxation. I will eat gluten free. I will continue a rotational diet. I might rearrange my menus so that I have some different food combinations this month than I did last month.
4. Homemade Food – I will continue to experiment with gluten free baking and trying to make snacks my kids enjoy. I made some gluten free pretzel sticks a few days ago, but I have to make them another time or two to perfect the recipe. My first attempt couldn't have been too bad, though…Rebecca kept stealing them from me 😉

5. Relationships – I will be going to a conference mid-month with my mom, sister and sister-in-law. I'm very excited to have some girl time. We have a church small group game night. And we might try to set up skype dates with my brother-in-law and niece so the kids can get to know each other better.
6. Rebecca – We are working on making new behavior/daily routine charts. Hopefully we can finish them in the next day or two. Hopefully she will be excited about implementing them. Rewards are very effective for her 🙂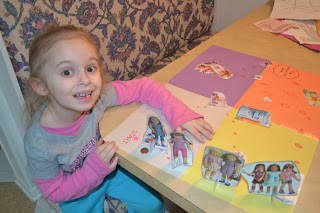 Rebecca created her own American Girl Game
7. Crafts – I will be planning stuff for Rebecca's birthday party. She's having an arts and crafts party! Perfect for my little crafter.
8. Cakes – I will be making some kind of dessert for my own birthday. I thought about doing pie or creating some kind of gluten free cake. But Rebecca came up with a better idea for me yesterday…a revised version of buster bars that is gluten and egg free! I will be finalizing the design for Rebecca's cake and working on designing Abram's cake (Mickey Mouse).
9. Declutter – Organize Abram's closet
10. Acceptance – I am working on acceptance of family members. I am also working on acceptance of my current health status. I may not look or feel exactly the way I want to. But I have to accept where I'm at and hope for better things to come. I'm keeping the end goal in mind…a healthy, strong mind and body that God can use. That helps me through the daily struggles. I know God has a plan and a purpose for me. I know he wants more for me.
I will also continue to read Bittersweet.
11. Service – This is a new one for the month. Even though I need to take it easy and get plenty of rest I also want to use my gifts to serve others. I am going to start helping with the nursery committee at church. I can use my experience, knowledge and organizational skills. And hopefully get to know some people better.