This post may contain affiliate links which won't change your price but will share some commission.
A week ago I had the privilege of attending the Among Friends conference at Trinity Church in Lansing, MI. It was a wonderful experience that I got to share with some of the women in my family.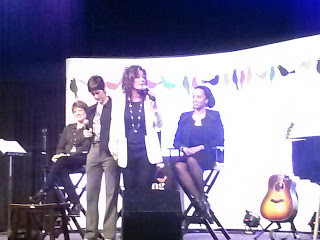 Karen Hossink and Kathy Troccoli singing the closing song…way to go Karen!! 🙂
I have never been to a conference of any kind. I hear about them and then forget about them. But I have a friend that attends Trinity Church that helped organize this event. She asked me if I was interested…and then reminded me…and probably reminded me again 😛  God was using her to give me a little nudge.
Finally I decided to just go. I invited the women in my family to make it a girls' weekend. My husband even encouraged me to spend the night and have a little time to myself. Plans set. Let's do it. I was excited.
Well, of course the week leading up to the conference turned into one of the craziest weeks I've had in a long time. Errands, doctor appointments, sick kids, kid's activities, mom's group, church events, etc. I was in the middle of a bad round of die off and feeling worse than I have in a long time, on top of the usual anxiety related to travel. The weather was bad too…freezing rain and snow. And I had my first non-family member cake order (to be picked up about the time I was leaving for the conference). Not to mention the "joy" of turning another year older 😛
I could have just said forget it. I don't feel good enough. I'm too busy. I'm too anxious. I'm too stressed. It's too much. But I didn't. God didn't. Nothing is too much for God. He wanted me there. He wanted me to hear the message. He wanted me to spend time with my mom and my SIL. He wanted to show me that He is bigger than all of my anxieties and physical pain.
As I was preparing to leave I was wondering what God was trying to teach me in all of this. Why it had to be so tough to do something so simple. Why it was so hard for me when I was trying to do something good.
But by the end of the weekend I had a different thought. When things get tough it's not always because God is trying to teach us a lesson. Sometimes it's because Satan knows us too…he knows our weaknesses, our struggles, our fears. He wants to exploit them and use them to keep us from God.
So while God may not have been trying to teach me anything through the struggles, He was with me through the struggles. He did want me at that conference. He was showing me that He is bigger than all of it. He is taking care of me. Satan can try as he may but he will not take me away from God or from hearing God's message or from fulfilling the purpose God has for me. And that is an awesome thing.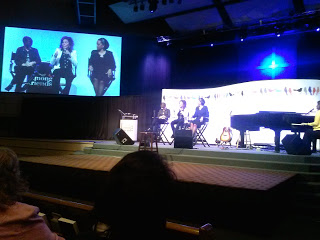 So, on to the conference. I did make it. And although I felt awful I also enjoyed every minute of it 🙂  That's possible, right? I had a lot of fun talking with my mom and my SIL. It's so important to spend time worshiping with the people you love.
There were three speakers: Kathy Troccoli, Jennifer Rothschild and Dr. Jeane Porter-King. Kathy is the main presenter and singer and organizer of the event. All three women had amazing stories and messages to share. There was a lot of heartfelt praise and worship.
I would like to share a few notes from each presentation. I just jotted down notes while I was there. So these will be more like bulletin points. But hopefully you can take something from it.
Jennifer Rothschild:
We have to elevate our faith higher than our fear. It may not be well with our circumstances, but it can be well with our souls (ummm…was she talking right to me? :P)
You could be missing out on a lot by clinging to fear.
Let faith lead you to the treasures in the dark. The treasures are much more satisfying than fear.
You have to trust God more than your feelings. Feeling is a gift from God. Let it lead you to truth.
Faith is a choice. Fear is a feeling.. Don't let fear be the fact that governs you.
I can do all things through him who gives me strength (ten words…count them out on your fingers in front of you…God is always right there in front of you…use this as a reminder).
Your mind is like a closet…a thought closet. Beware of what's in your thought closet. It's what you wardrobe your life with.
We have expectations in our thought closet…you have to be aware of what they are…otherwise the enemy will be aware of them/use them against you. And we can lose out on what we want most – healing.
Our thoughts need to line up with God's thoughts. We have to be in God's Word.
Let others draw near to you and do the same for others (friendships, sisters). We need a community of truthfulness that is real and encouraging.
Be a voice of encouragement. Ask your friends three questions:

What do you see in my life that encourages you?
What do you see in my life that you would like to caution me about?
What else would you like to tell me?

We have to be completely honest and confidential and thorough. You can be honest without being vulnerable. But what you long for most won't come without humility. There is freedom and peace in humility.
I need Jesus far more than He needs me.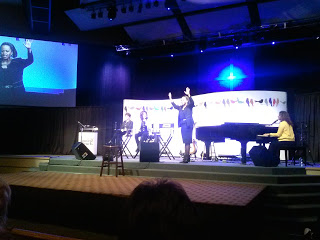 Dr. Jeane Porter-King:
God does great things when there are struggles.
Resist the rivalries (Martha type vs. Mary type) – we all have gifts. We can't use them against each other.
Retire the rigid roles – we are too complex. Who we are in Christ determines the roles we play.
Run to Jesus – turn confrontation into confession.
Remember your sisters – we are in it together.
Represent Christ to one another even through the pain, through any struggles in your life.
Don't let people keep you in the past (the person you used to be). Move to Jesus in whatever way you can.
God reveals things to us when we worship him.
We must open our hearts to what God wants us to do – "let our hair down."
Be free to be who God called us to be.
Don't get stuck in one role.
There were a few things that God laid on my heart through this conference. First, I have to choose each day to serve and follow Christ. I have to trust in Him and let my faith guide me instead of my fears.
Second, I talked about being a "doer of the Word" in a recent post. And that has stuck with me. But I wasn't sure how to do that. Well, you have to read God's Word of course 😛  You can't do it unless you know it. It's like trying to build something without reading the instructions. You might put some pieces together, but you won't get very far very fast. You'd think I could figure that out without someone telling me. Anyway, the way Kathy talked about God's Word. How real and alive it is. How powerful it is.  It made me hungry for God's Word. Since I've been home I have been so excited to dive in and see what God wants to teach me each day. I'm trying to start each day reading the Bible before I do anything else and let the busyness of life get in the way.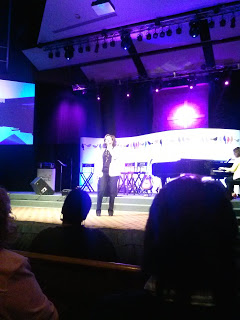 Finally I was reminded that I can't do this alone. I have to share my struggles with others. I have to be open, honest, vulnerable and real. But how do you do that when your struggles prevent you from building relationships? My anxiety, my OCD, my dietary restrictions, my introverted nature, my daily job as a full time stay at home mom to young kids, my…you get the picture. Talking to people is hard. Making friends is harder. Truly letting my guard down and letting people into my life and see the real me…next to impossible. I think only my husband and my kids see that…mostly.
When I was in jr. high/high school I had a friend. A best, best, best friend. We did everything together. We had different upbringings, different lifestyles, different personalities. But that didn't matter. We were inseparable. We shared a passion for Christ. Together we dreamed about who we would marry, having kids, etc. When I went away to college we didn't see each other as often. But we kept in touch through emails and periodic visits. She was one of my bridesmaids when I got married. But then some trials in her life took her away from me, from everyone that loved her and eventually from her home on earth. I still miss her and think back on those days we had together with fond memories. I have never had that kind of friendship since then. I have never had anything even close to that kind of friendship since then. It's a void in my life that I have yet to fill. Sometimes with all of my problems it seems like making any deep connections and friendships is next to impossible.
But nothing is impossible with God. So I'll keep trying. I will continue to nourish my spirit with God's Word. I will seek to do what God asks of me. And I will not get discouraged when Satan tries to deter me. And I will try to share my journey with others. I can't do it alone. Nobody can do it alone. We should all be among friends. So, would you be my sister?