This post may contain affiliate links which won't change your price but will share some commission.
My daughter wants pizza for her birthday party. Pizza for 20 people…from scratch…and gluten free. Ummmm…ok??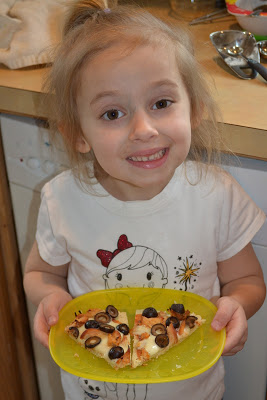 I'm still fairly new to gluten free baking. But I'm always up for a challenge. And this was a big challenge. I don't mind experimenting with my family. But I do mind when I have 20 guests. I am passionate about my food and like to make things people enjoy (yes, I am and always have been a people pleaser…if you come to my house and hate the food please don't tell me :P).
So I used my little knowledge I've gained from previous baking experiments and gave it a go. And I think I came up with a pretty decent crust. Everyone in our house ate it without complaints.
This recipe is great for people with all kinds of allergies. The main recipe does use egg whites. But since I can't have eggs right now I made some without the whites. It was a little thinner/crispier, but it still tasted great. I actually got to eat pizza!!!! Pizza that didn't make me sick!!! A true miracle.
It is also dairy free. So as long as you don't pile cheese on top you can have a dairy free pizza. You can use a cheese alternative. Or you can do what I do and make a pesto pizza. The pesto gives so much flavor you don't even need cheese. I also like to add some dollops of pureed pumpkin or winter squash here and there to give some extra depth to cheese free pizza.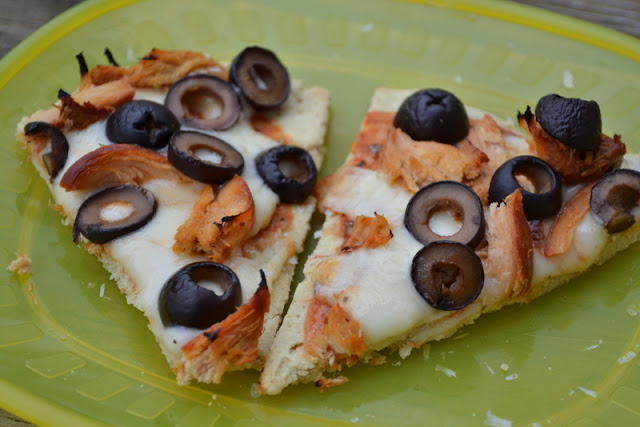 So using this crust you can make a gluten free, egg free, nut free, corn free, dairy free, soy free pizza.
Do you like pizza but thought you had to give it up because of allergies? Think again. Try this great tasting, easy to prepare pizza crust for your next pizza party. Everyone can enjoy it. It's allergen friendly and has no gums or starches.
One of the best things about this recipe is that you can make/bake the crust in advance and freeze it. Then you can have a quick pizza any night of the week. Just add your favorite toppings and bake for about 15 minutes. So easy.
I must point out that I used a small amount of flax seed in this recipe. I don't normally use or advocate the use of flax seeds. But they help bind the dough when using gluten free flours and prevents having to use any gums. I figure one teaspoon for an entire pizza isn't going to do much harm. You could substitute chia seeds for the flax seeds.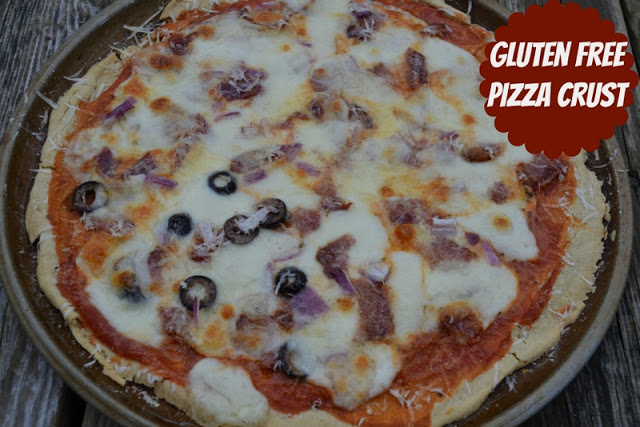 Gluten Free Pizza Crust
makes one 12-14″ pizza or 3-5 individual pizzas
3/4 cup white rice flour
1/4 cup tapioca flour
1/4 cup brown rice flour
1/4 amaranth flour or more brown rice flour
1 tsp. salt
1/2 tsp. baking soda
1 tsp. flax seed
1 tsp. cane sugar
1 Tbsp. evoo
1/2 cup water
2 egg whites
1/2 tsp. cream of tartar
Heat oven to 400 degrees F. Grease a pizza pan or baking pans for individual pizzas.
To make this a soaked crust combine the flour, water and 2 Tbsp. lemon juice. Cover and let set for 7-24 hours. Then proceed with the recipe.
Beat the egg whites with the cream of tartar until still peaks form. Set aside.
Combine the remaining ingredients. Fold in the egg whites. Spread onto the prepared pan(s).
Bake for 10 – 15 minutes (smaller crusts will need less time, whole pizzas will need more time), until firm.
Use crust immediately or allow to cool, remove from pan and refrigerate or freezer. Thaw frozen crust in the refrigerator when ready to use.
When ready to make the pizza, add your favorite sauce and toppings. Bake at 400 degrees for 10 – 15 minutes, until cheese is melted and pizza is hot.