This post may contain affiliate links which won't change your price but will share some commission.
Soaked gluten free oatmeal muffins make a simple, nutritious and delicious breakfast or compliment to a warm bowl of soup. Soak the flour one day. Bake the muffins the next. Easy.
Almost every single morning the first word out of my son's mouth is "munin." He is on a muffin kick! So I try to keep muffins on hand.
Today I made a gluten free version of some oatmeal muffins I've made many times before.
This is a great base recipe. You can add any kind of fruit, nut, etc. to change the flavor. Today's recipe included cranberries and chocolate chips. Cinnamon raisin is always good too.
These muffins are gluten free and soaked to make them easier to digest. They can also be dairy free if you use lemon juice + water for soaking.
If you're looking for a new breakfast treat try these muffins.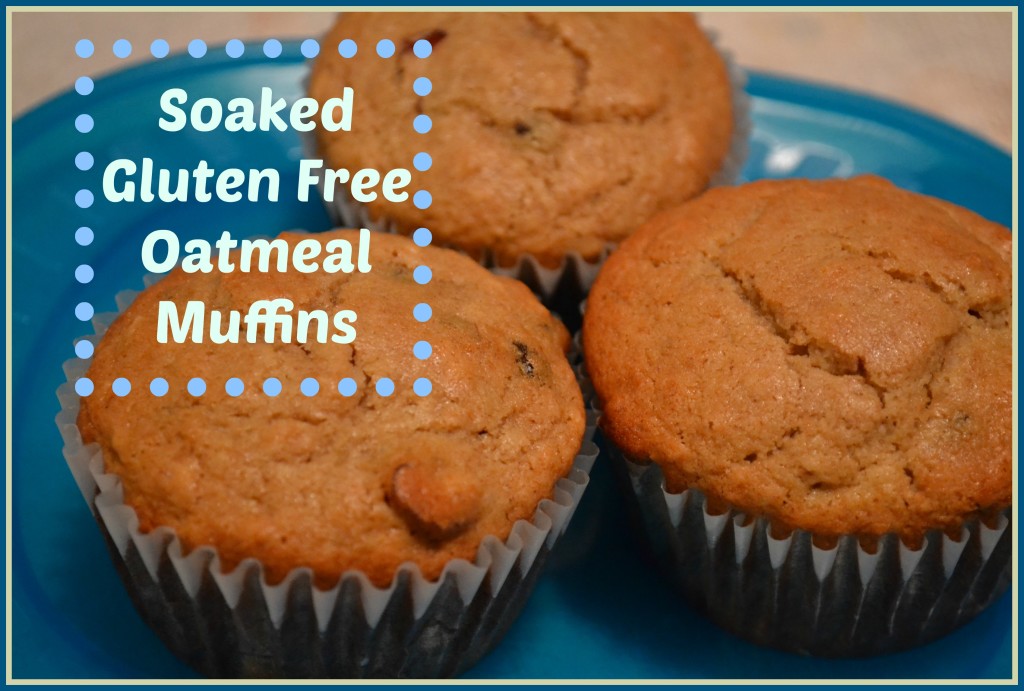 Soaked Gluten Free Oatmeal Muffins
makes 12 muffins
1 cup rolled oats
1 cup buttermilk OR yogurt OR kefir OR 2 Tbsp. lemon juice + water to equal 1 cup
2/3 cup white rice flour
1/3 cup amaranth flour
1 egg
4 Tbsp. coconut oil (melted butter would work too)
1/3 – 1/2 cup brown cane sugar, sucanat or coconut sugar
1 tsp. baking powder
1/2 tsp. baking soda
1/2 tsp. salt
1 tsp. cinnamon (optional)
1/2 – 1 cup add-ins (raisins, nuts, seeds, fresh fruit, dried fruit, chocolate chips)
Mix oats, flour and soaking liquid. Cover and let sit 7 -24 hours.
Heat oven to 400. Mix the remaining ingredients into the oat mixture (I use a hand mixer for this to work out any lumps).
Fill muffin cups 3/4 full. Bake for 18-20 min.