This post may contain affiliate links which won't change your price but will share some commission.
Happy Father's Day!!! I'm so grateful for my father, my father-in-law, my grandfathers and of course my amazing husband!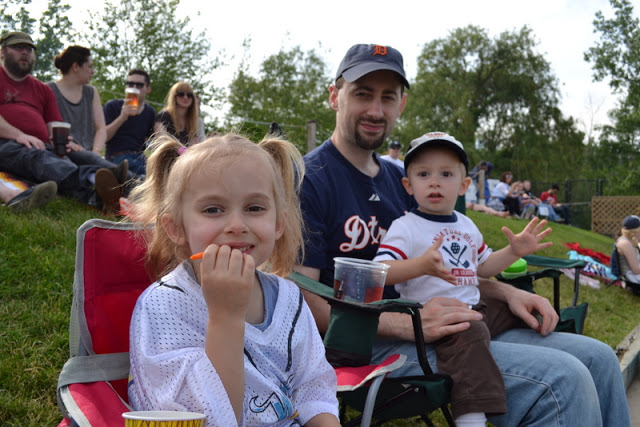 Happy Father's Day!!
This will kind of be a week of celebration for us. We are celebrating Father's Day today as a family. And over the weekend we get to see almost all of our family for my brother-in-law's wedding. Rebecca gets to be a flower girl for the first time. She is so excited. We'll also celebrate Father's Day with both dads and my niece's 2nd birthday while we're there.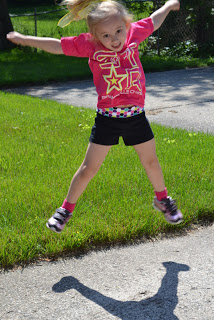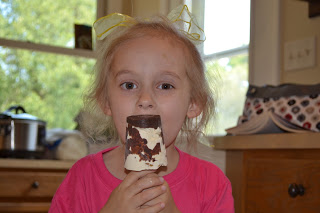 Last week we had fun with cheerleading camp, time at the library, playing outside and homemade ice cream treats. This week I have an appointment with my psychologist. We'll make our weekly trip to the farmer's market. We're starting to see strawberries. Soon we'll stock up (maybe go picking?) so we can get a bunch in the freezer. We have milk pick up and co-op pick up. And we'll be getting ready for wedding stuff.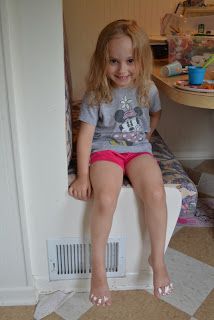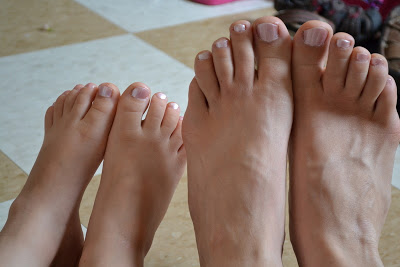 Mommy-daughter date – painting our toe nails for the first time.
I need to make more bars for myself, scones for a new breakfast item, maybe more gummies for the kids (if our order of gelatin arrives) and food for the weekend. Our festivities won't have much gluten free food, so I'll have to be sure I've got easy stuff for Rebecca and me to eat/to bring along.
I'm still plugging along with my healing. I'm trying to take naps most days and get to bed on time. I'm not worrying too much about food, just eating what sounds good and what I know my body tolerates well. I have been learning just how much anxiety impacts my adrenal function. I can tell when I have a cortisol spike. It gives me a burst of energy and it takes over what my body is really feeling. Any pain or upset stomach goes away as the adrenaline kicks in. I want to go, go, go because I've got energy. Even though that's not what I need. The feelings are a short term thing. Then I come crashing down and have to work harder to recover. So I'm working on keeping anxiety to a minimum.

On to the menu. We're running low on meat in the freezer. So it's getting tougher to plan meals. I need to do some shopping soon to stock up. Maybe next week. What's on your menu?
__________________________
S (bake amaranth bars, FD, church, prep smoothies) D3
  B – yogurt, granola (J), pancakes (A/R), gm yogurt, amaranth bar (M)
  L – beef stroganoff, corn, applesauce
  D – grilled hot dogs, seasoned french fries, peas

M (bake scones, Dr. V.) D4
  B – smoothie, scones (J/A), squash, scone (M), granola w/ milk (R)
  D – (prep ahead) – cp rice and beans w/ cheese, sour cream, avocado

T (FM, soak flour) D1
  B – yogurt, granola, banana (J/R/A), duck egg, TBD (M)
  D – cheesy chicken, broccoli and rice

W (make rice bars, milk, make gummies, co-op, pack) D2
  B – smoothie, scone (J/A), TBD, rice bar (M), granola w/ milk (R)
  D – ham, scalloped potatoes, beans

Th (pack/prep food) D3
  B – pancakes w/ strawberry topping (J), gm yogurt, bar (M), toast w/ ab (R/A)
  D – (Justin out to eat) – Rebecca's Restaurant – grilled ham and cheese, peas, milkshakes

F (pack/prep food, prep cake stuff, rehearsal) D4
  B – egg puffs, toast, strawberries (J), squash, scone, yogurt (M) TBD (R/A)
  D – rehearsal

S (wedding) D1
  B – (Justin out to eat) – yogurt, bar (M), muffin, raisins (A), strawberries, granola bar (R)
  L – (Justin out to eat) – hot dogs, olives, grapes (R/A), grilled cheese, squash (M)
  D – wedding