This post may contain affiliate links which won't change your price but will share some commission.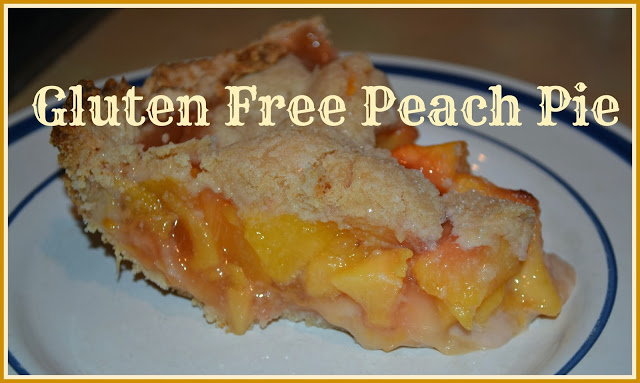 For the last few weeks we've had lots of peaches in our house. I've canned almost 30 quarts of peaches. And still had more. So I asked my family what they'd like me to make. The first request…pie!
Ok. I've never made peach pie before. I'm not even sure I've ever had it to be honest. But that's no problem. I'll make one anyway.
This pie is slightly sweet and captures the fresh peach taste. You can make it with a gluten free crust or a regular wheat crust.

Do you enjoy peach pie? I couldn't answer that question just a few weeks ago. But now I can say yes!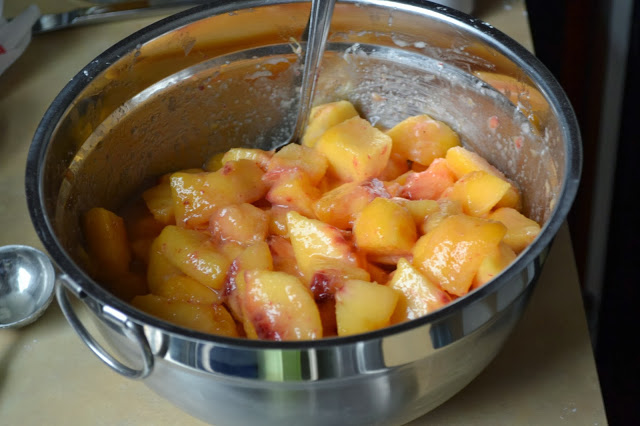 Gluten Free Peach Pie
1 gluten free pie crust (recipe here) or a wheat crust (recipe here) for a not gluten free version
7-9 large freestone peaches, peeled and sliced or chopped
1/2 cup organic cane sugar, sucanat or coconut sugar*
4 Tbps. tapioca flour*
3 tsp. gelatin*
1 Tbsp. lemon juice
1/2 tsp. cinnamon (optional)
1/4 tsp. nutmeg (optional)
1 Tbsp. butter, cut into small pieces (optional)
Prepare the pie crust. Put the bottom layer in a pie pan.
Heat oven to 400 degrees F.
In a bowl combine the peaches, sugar, tapioca flour, gelatin, lemon juice and spices. Let sit for 10 minutes.
Put the peach mixture in the pie crust. Dot with butter.
Place the top pie crust over the peaches and seal the edges. Cut slits in the top crust to let steam out.
Place the pie pan on a baking sheet. Bake the pie at 400 degrees F for 10 minutes. Reduce the heat to 350 degrees F and bake for another 50 minutes, until crust is golden.
Allow the pie to cool and set completely.
*These are affiliate links. It will not change the cost for you if you buy through the link, but I will get a small commission. It helps me earn a small amount to keep putting in the time and effort to do what I do 🙂