This post may contain affiliate links which won't change your price but will share some commission.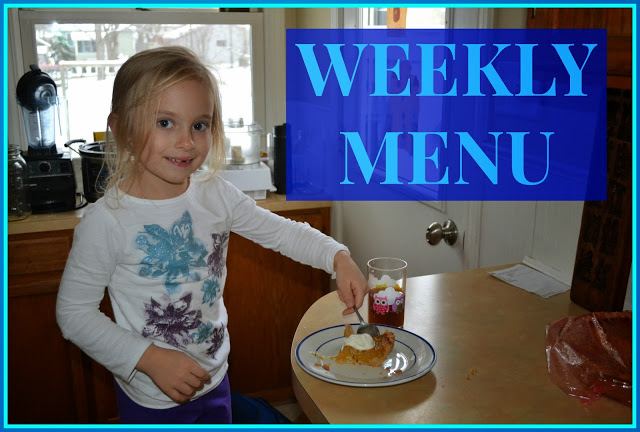 Homemade gluten free pumpkin pie with fresh raw whipped cream and locally made apple cider.
Welcome to December. This month sure snuck up on me! I just realized I completely forgot to do a November recap…or set any December goals. Be on the lookout for both in the next few days. I guess I was enjoying my long weekend so much that it didn't even cross my mind. We did have a nice Thanksgiving weekend. It was great to have so much family time. And we had a fair amount of snow. So the kids got to play outside a lot.
Now it's back to the usual chaos. This week we have church, Christmas program practice, chiro, grocery shopping, Kindermusik, milk pick up, a nursery committee meeting, dance, MomBreak, and Rebecca and I are going to see The Nutcracker. I hope I can stay sane this week.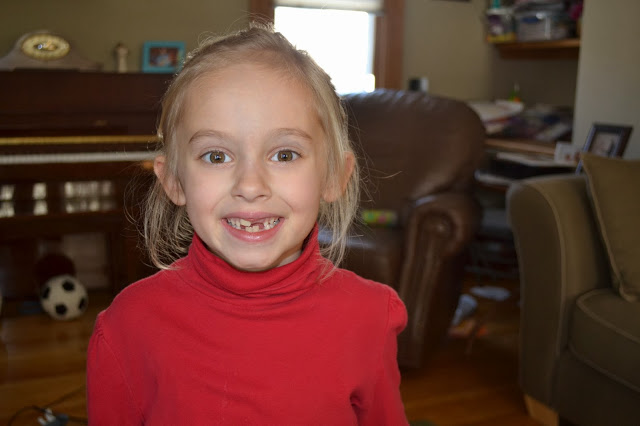 The tooth fairy made her 6th appearance this week.
I was able to get some baking done last week (apple pie, pumpkin pie, two batches of graham crackers), but there is plenty more to do. I still have to make a batch of coconut free granola, a new batch of cheese crackers, soaked gluten free bars, muffins and mayo. Plus our usual smoothies and vegetable puree.
I finally started my Christmas shopping yesterday. I was able to get quite a few things. So maybe I'll have time to start wrapping presents this week. And I need to start working on homemade gifts. We are also getting a bunch of ground beef this week. So I should do a good freezer clean out/inventory. I've needed to do it for quite a while.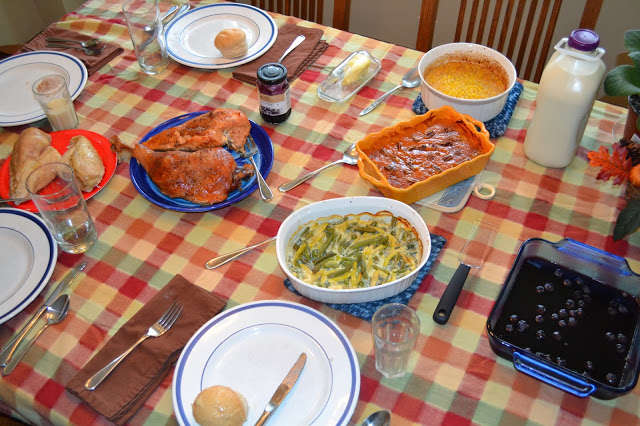 Our Thanksgiving feast.
I'm still making progress with my health. I've been making sleep a priority and taking naps when I can. That really helps. I am also getting to the real root of my swelling, pain, major weight gain, etc. that I've experienced over the last 6 months. I'm very excited to be making progress on it. It will take time. But I'm on the right path. I will give more updates later…after I see some good results.
So now I can get my focus back to the food and nourishing my family 🙂  What's on your menu? Eet smakelijk!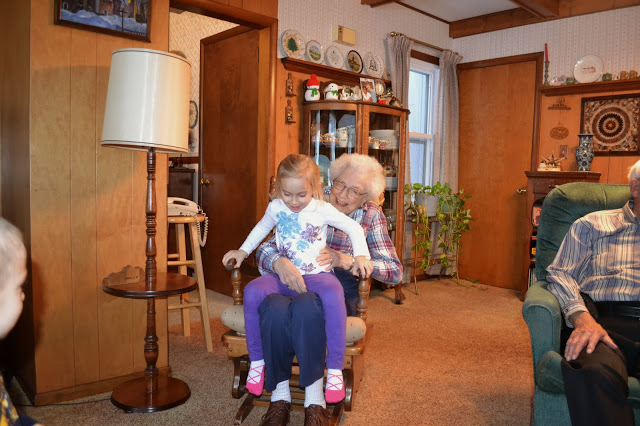 A trip to the farm to see my grandparents.
****MENU****

S (prep lunch, church, Christmas program rehearsal, prep smoothies, puree vegetables, soak flour, make granola)
  B – toast w/ pb, granola bar, clementines
  L – cp roast beef with vegetables
  D – TBD w/ leftover turkey and chicken

M (chiro, Meijer, make gf bars, soak peas, clean freezer)
  B – smoothie, TBD
  D – pork chops w/ apples over rice, peas

T (AKM, bake muffins, RKM)
  B – granola, yogurt, fruit
  D – (prep ahead) – cp pea soup w/ ring balogna, muffins

W (milk, chiro, boil eggs)
  B – smoothie, muffins
  D – tacos

Th (nursery mtg, dance)
  B – hard boiled egg, toast
  D – (early/separate) – cp 7 layer dinner

F (MB)
  B – hard boiled egg, toast
  D – gf pancake and sausage muffins, broccoli, fruit

S (Th Nutcracker)
  B – pancake muffins
  D – beef vegetable soup, crackers w/ cheese