This post may contain affiliate links which won't change your price but will share some commission.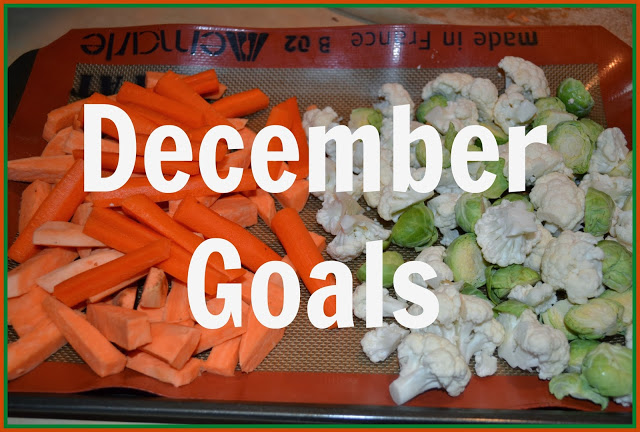 I guess I'm just a tiny bit behind with my goals this month. But life is busy. I'm already looking forward to Christmas break! But there is so much to do before then. My goals this month will focus on health as always. But also on getting ready for Christmas. What are your goals for this season?
1. Health and Healing
*Sleep – I will continue to make sleep a priority. I have found that I do a lot better when I take a nap with my feet up in the afternoon. It's not always possible. But it really does help. This is in addition to shooting for 8 hours of sleep a night most of the time.
*Chiropractic care – I am about half way through my round of traction to help my neck. I will continue to go twice a week for now.
*Exercise – I will keep exercising daily. I need a balance of cardio and strength.
*Allergies – I'm trying to keep my son well fed and avoid the foods he's allergic to. And we are getting my daughter tested in a few days. Meal planning could get even trickier…if that's possible.
*Thyroid – So it turns out I was wrong about my estrogen. It's fine. The real problem…my thyroid. It's always been my problem. Turns out I've been on the wrong dose of medication for quite some time now, which is causing the majority of my really bad symptoms. So I'm working on figuring out the correct dosage. I don't know how long it will take. But at least I'm finally on the right track. And hopefully I'll give a more thorough update/description about it at some point.

2. Writing
I have not been doing a ton of writing lately. It's not by choice. I just haven't had time, especially when trying really hard to make sleep a priority. But I will keep trying. But one thing that is happening for sure…I'm moving to WordPress!!!! Finally. After over 5 years of blogging. Please be patient as I trasnfer and figure out what I'm doing.
3. Food
My goal for this month is just to have food on hand that everyone can eat. It sounds simple, but it's quite a challenge here.
4. Mommy Daughter Date
Rebecca and I are going to see The Nutcracker! We are both very excited.
5. Crafts
I've got my Christmas crafts started. Now I need to keep going and get them all done…before Christmas!
6. Acceptance
God has taught me a lot about acceptance this  year. And I'm still learning. For now I'm accepting each day and what it brings.