This post may contain affiliate links which won't change your price but will share some commission.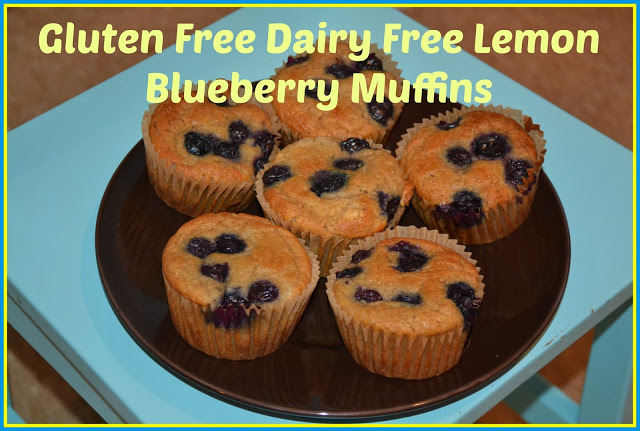 Brrrr!!! Winter is really starting with a bang this year. We've already had so much snow. Now an ice storm. It sure would be nice to be somewhere warm and sunny right now!
I know that is not possible, but I can imagine. And a batch of lemon blueberry muffins really helps. They remind me of the bright, fresh flavors of summer.
These muffins are both gluten and dairy free. And they are very simple to make. My little muffin loving two year old can eat a whole batch himself in a few days.
So whether it is warm and sunny near you or you just want to imagine it is, give these muffins a try.

Gluten Free Dairy Free Lemon Blueberry Muffins
makes 12 muffins
3/4 cups amaranth flour
3/4 cups sorghum flour
2/3 cup organic cane sugar, sucanat or coconut sugar
1 tsp. baking soda
1 tsp. baking powder
1/2 tsp. sea salt
1 egg
1 cup applesauce
4 Tbsp. real lemon juice
4 Tbsp. coconut oil, melted
blueberries (fresh or frozen) (adjust amount for personal taste)
Heat the oven to 350 degrees F. Line a muffin pan with muffin cups.
In a medium bowl combine the flour, sugar, soda, powder and salt.
Add the egg, applesauce, lemon juice and oil. Mix until well combined (I use a hand mixer).
Fill the muffin cups 3/4 full with batter. Drop the blueberries into the muffins. Press down slightly.
Bake for about 30 minutes, until starting to become golden and baked through. Allow to cool for a few minutes before serving.