This post may contain affiliate links which won't change your price but will share some commission.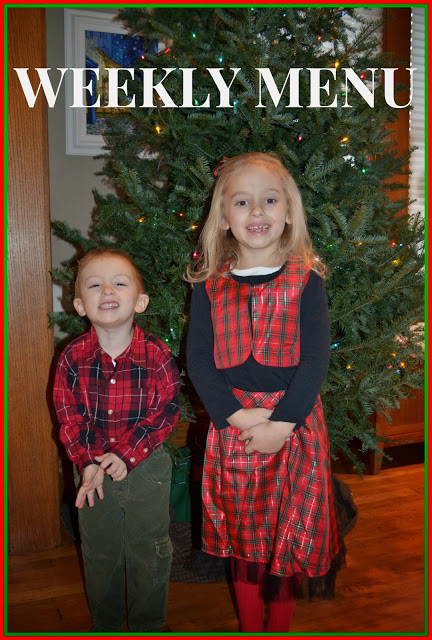 Merry Christmas! It seems as though we're in for an icy Christmas instead of a white one. It's been non-stop crazy weather in Michigan this December. But I'm praying it settles a bit before we have to travel. As for today, we're waiting to see if church is cancelled. Thankfully we still have power. But I know it's pretty nasty outside.
This week will be busy and fun all rolled into one. I'm excited to celebrate Christmas with family. I'm not so excited about all of the things I need to get done in order to do so. We are celebrating as a family on Tuesday, with my family on Wednesday and with my husband's family on Saturday. And Monday will be busy with chiro, milk pick up, my husband's allergy test and my daughter's check up at the pediatrician.
I did not get nearly as much done in the kitchen as I had hoped last week. On the flip side I did finish my Christmas shopping and wrapping. My husband and I also did a lot of cleaning.

So this week I have a lot to catch up on. I need to make graham crackers, gluten free bars, coconut milk ice cream, some kind of Christmas treat (probably oreos) and chocolate swirl bread (my daughter's request). And of course more cleaning. And the dreaded pack, travel, unpack, pack, travel. I hope I can get started on some of the organizing/packing today so I'm not so stressed/anxious about it and can actually enjoy our own Christmas celebration!
No big health updates. I have one more week of my current thyroid medication dose and then I get my levels checked. And we'll go from there.
For meals I'm just planning dinners. When my husband is on vacation I don't plan as much and just go day-to-day with breakfasts and lunches. I pray you will have a blessed Christmas, remembering the birth of our Savior. And don't forget to enjoy some good food! Eet smakelijk!
****MENU****

S (prep lunch, church, start packing, make cm ice cream)
  L – cp meatloaf, baked potatoes, carrots
  D – TBD

M (make chocolate swirl bread, chiro, make oreos, milk, ped)
  D – (prep ahead) – gf pizza

T (celebrate Christmas, church)
  D – ham, green bean casserole, roasted cauliflower, cheesy mashed potatoes, applesauce

W (make graham crackers, relative Christmas party, soak flour)
  D – all families contributing

Th (make gf bars)
  D – misc./leftovers

F ()
  D – roast beef, beans, corn

S (relative Christmas party)
  D – roast chicken, roasted veggies, mashed potatoes, fruit