This post may contain affiliate links which won't change your price but will share some commission.
Put a new spin on your usual chili by adding Bob's Red Mill orca beans to create sprouted orca bean and squash chili. Pair it with freshly baked corn bread for a hearty week night dinner.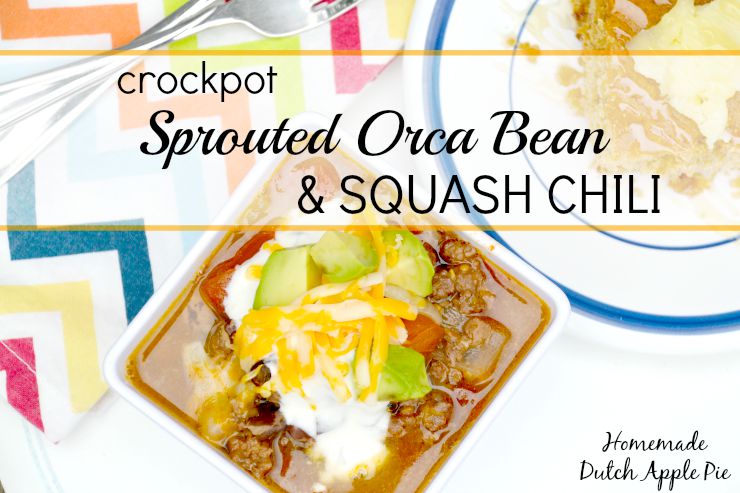 I am partnering with Bob's Red Mill and Stonyfield for this post. I have been compensated for my time commitment to use these products. However, my opinions are entirely my own and I have not been paid to publish positive comments.
There is nothing quite like a bowl of hot chili on a cool fall day. You can add lots of vegetables, make it extra meaty, spice it up or keep it mild.
I've made chili many ways. The possibilities are endless.
Try something new.
But one thing I have never added to my chili is orca beans! In fact I had never heard of them until recently.
Bob's Red Mill orca beans are so fun. They look like mini orca whales with the black and white exterior. What kid wouldn't love to have whales swimming around in her chili?!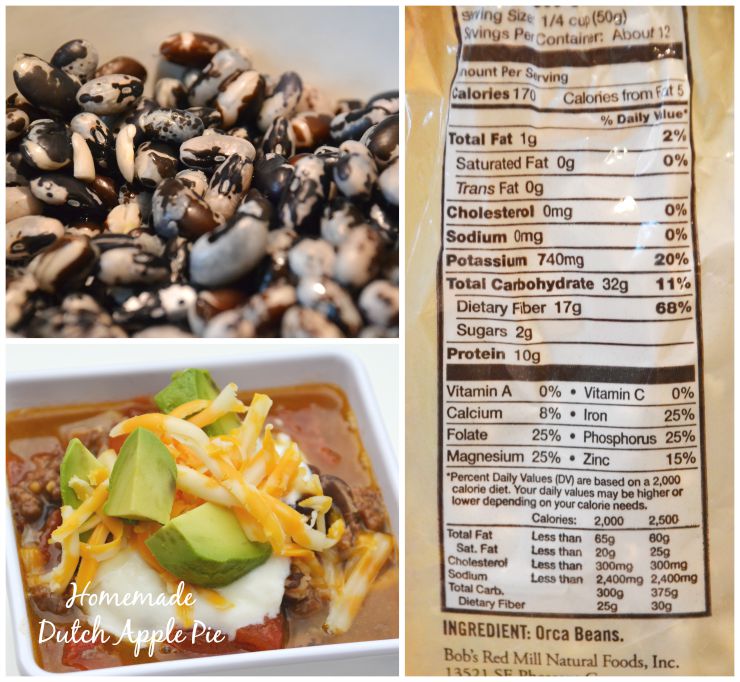 A lot to love about beans.
One of the things about orca beans that stood out to me right away was the nutrition content. They have lots of fiber, protein, folate, magnesium, potassium, phosphorus, iron and zinc. Talk about packing a punch!
Just be sure to sprout your beans first to make them easier to digest and to make the vitamins and minerals available. That means thinking ahead to start the beans the day before you make chili. But it only takes about thirty seconds to get them sprouting.
The other unique thing about this chili is the pureed squash. It adds thickness and a hint of sweetness. Combine that with tomatoes, onions, peppers, zucchini, broth and your choice of beef or chicken. Dinner is served!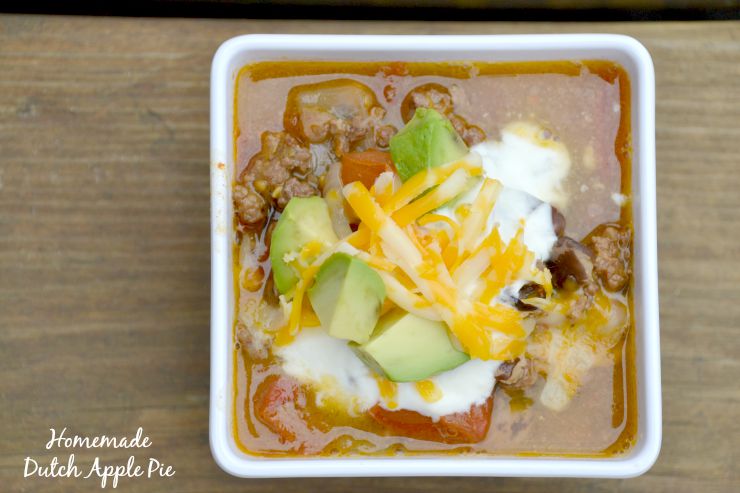 Top it. Pair it.
Sprouted orca bean and squash chili can be eaten as is or you can add a variety of toppings. We like to add grated cheese and avocado. Another delicious addition is Stonyfield plain yogurt. It cools down the spice and adds a creaminess to the chili.
Of course you can't just have a bowl of chili. Sprouted orca bean and squash chili is great served on noodles or rice.
But our favorite way to eat it is paired with cornbread! You can make traditional cornbread. Or if you have corn allergies like we do try my corn free cornbread. You'll never know the difference.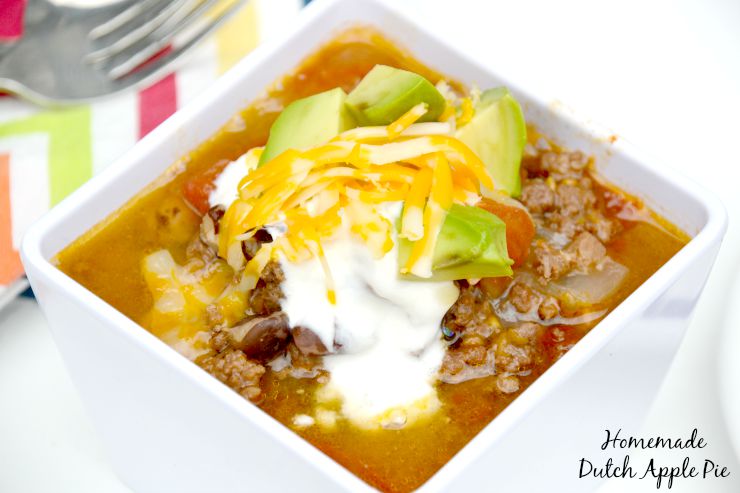 Eat it now, eat it later.
Load up the crockpot with a big batch of chili. Serve it for dinner and pack up the leftovers for school lunches. Simply heat it in the morning, and it will stay warm in a thermos. Spread a generous helping of butter on leftover cornbread. It doesn't get much easier or tastier!
Chili also freezes well. So you can keep some on hand in the freezer for an easy lunch or dinner.
My kids love orca beans. They are great in chili or cooked and eaten plain. Give them a try and see what your kids think. Then add them to sprouted orca bean and squash chili. They won't be able to pass up killer whales in their soup!
Looking for a new, easy dinner this fall? Crockpot sprouted orca bean and squash chili is perfect any night of the week.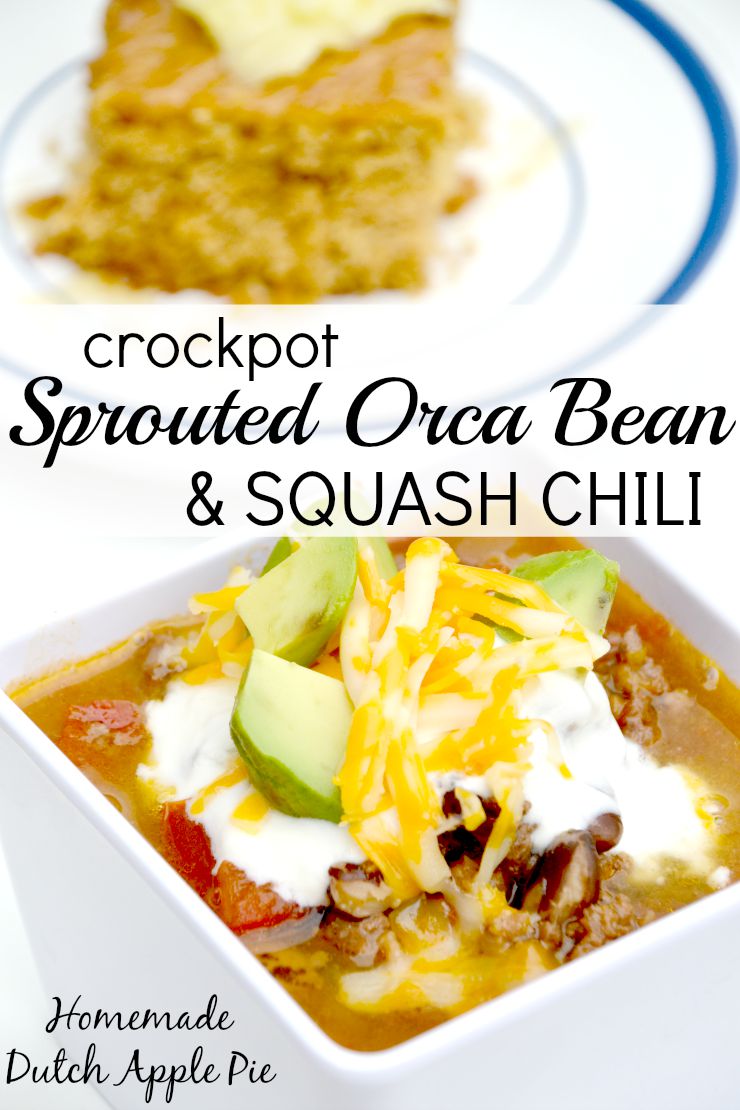 Crockpot Sprouted Orca Bean and Squash Chili
2015-09-04 12:13:02
Serves 6
A new twist on chili with orca beans and squash.
Ingredients
1/2 cup Bob's Red Mill orca beans
warm water
2 cups chicken or beef broth
1 lb. ground beef or chicken
1 cup pureed squash
1 cup diced tomatoes
optional: 1/2 cup diced onion
optional: 1/2 cup green peppers, diced
optional: 1/2 cup zucchini, diced
2 tsp. unrefined sea salt
1 tsp. garlic powder
1/2 tsp. chili powder
1/4 tsp. cumin
optional toppings: shredded cheese, avocado, Stonyfield plain full fat yogurt
Instructions
The day before making the chili, place the beans in a bowl and fill it with warm water. Let it sit 8 hours. Drain the water. Let the bowl sit in a warm area or in the oven (turned off) with the light on for 8 hours.
When ready to prepare, cook the meat. Add it to the crockpot.
Saute the onion, peppers and zucchini (if using). Add them to the crockpot.
Add the sprouted beans, broth, squash, tomatoes and seasoning.
Cover and cook on HIGH 6-8 hours or on LOW 8-12 hours, until beans are fully cooked.
Add toppings to individual bowls if desired.
Notes
This chili freezes and reheats well.
You can replace the squash with pumpkin.
Just Take A Bite https://justtakeabite.com/
This post is linked to
Savoring Saturdays
.