This post may contain affiliate links which won't change your price but will share some commission.
This week's kid-friendly real food meal plan and agenda include easy meals, time with friends and my first trip to Aldi!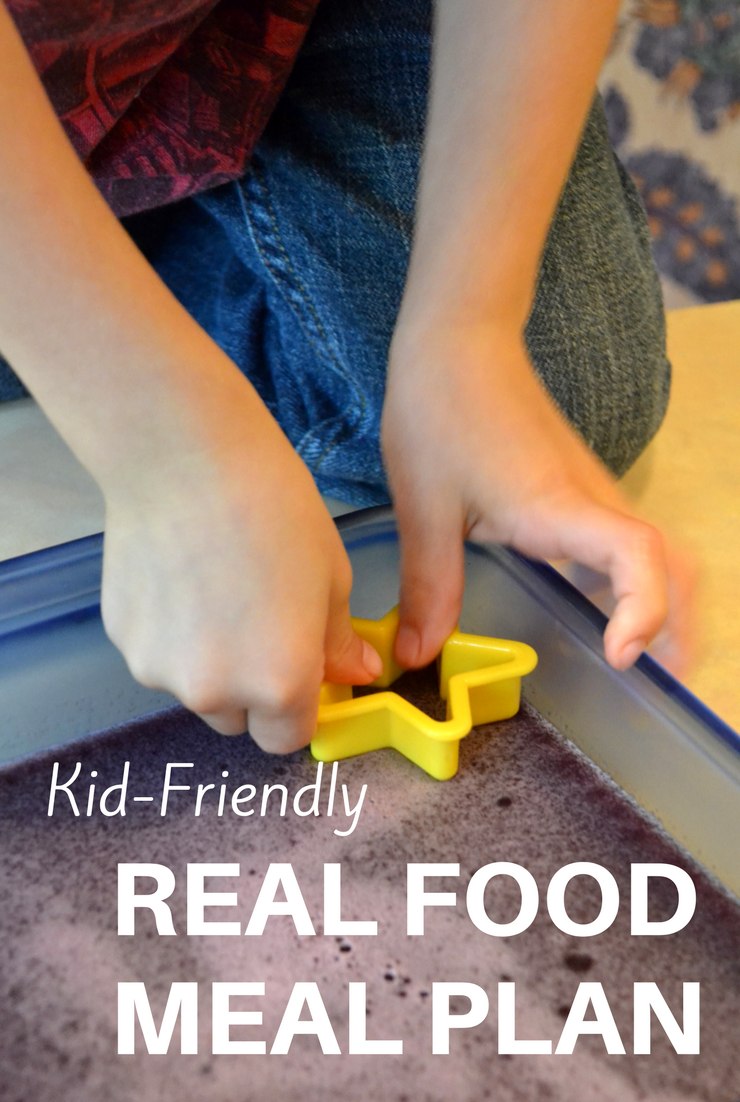 Everyone is back to normal. How wonderful to have kids eating and sleeping regularly again.
A First…or Second
This week we don't have much going on out of the ordinary. Though I am super excited to try Aldi! It's actually my second time…but my first time was about eight years ago. I know things have changed a lot since then. I'm really hoping I find good stuff and can start saving some money by shopping there.
In the Kitchen
We have yet to find time to bake a pie. That idea was put on the back burner during sickness. Maybe this week since we are having guests. It's great motivation. I also have to brainstorm Super Bowl snacks for next Sunday. My husband likes to have munchies to watch. Got any good recipes?
Last week was pretty exciting as my toddler ate both homemade ice cream and sardines with no noticeable reactions! Raw cream and sardines are two super nutrient foods. It makes this mama very happy.
I am still working on recipe creating for my new book! A few to go and then it's time to start writing.
As usual I'm going with simple meals this week. Here is our kid-friendly real food meal plan. What are you eating?
Sunday
B – cereal, fruit
L – crockpot meatloaf, roasted potatoes, peas
D – leftover pizza, veggies with dip, jello
prep: make jello
notes:
Monday
B – yogurt, granola bars
D – crockpot hobo dinners, pearsauce
prep: boil eggs
notes: prep ahead dinner
Tuesday
B – hard boiled eggs, toast, fruit
D – cheeseburgers, carrot fries, roasted potatoes, spinach
prep:
notes:
Wednesday
B – bagels with cream cheese, fruit
D – spaghetti, garlic toast, salad
prep:
notes:
Thursday
B – toast with sunbutter, fruit
D – honey herb chicken, roasted red cabbage, rice
prep:
notes:
Friday
B – yogurt, granola, fruit
D – roast beef, scalloped potatoes, roasted cauliflower and Brussels sprouts, peas, pearsauce
prep: bake pie, make ice cream
notes:
Saturday
B – scrambled eggs, toast, fruit
D – waffles, sausage, broccoli
prep:
notes: