This post may contain affiliate links which won't change your price but will share some commission.
Growing pains, restless legs, trouble sleeping, muscle stiffness? Kiss your aches and pains goodbye with this super simple two-ingredient DIY magnesium lotion.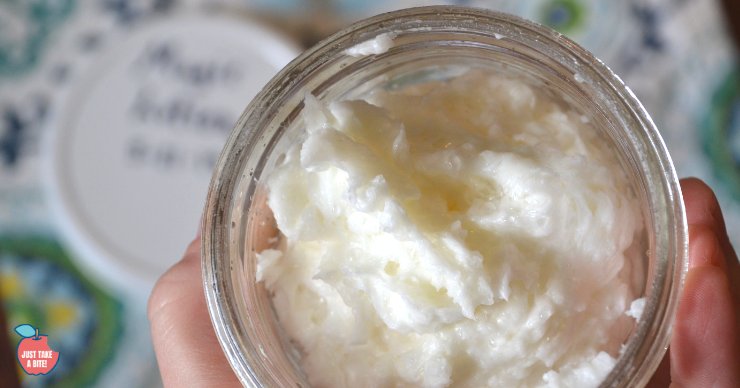 My four-year old has been struggling with leg pain for over two years now. She wakes in the night just crying and crying because her legs hurt so badly.
At first we assumed it was growing pains. But as time went on we started to wonder if there was more going on. The pain was so intense. And recently it became more and more frequent, hurting in the day instead of just at night, on a daily basis.
Of course "mom brain" starts to think of the worst scenarios. I expressed my concerns to her pediatrician. I was worried her bones were weak due to malnutrition as a baby (you can read more about her story here).
So we did an x-ray of her leg. All clear! (phew!) Her bones look normal. Maybe it is "growing pains" after all (though technically nobody really knows what growing pains are…so I still started searching for root cause).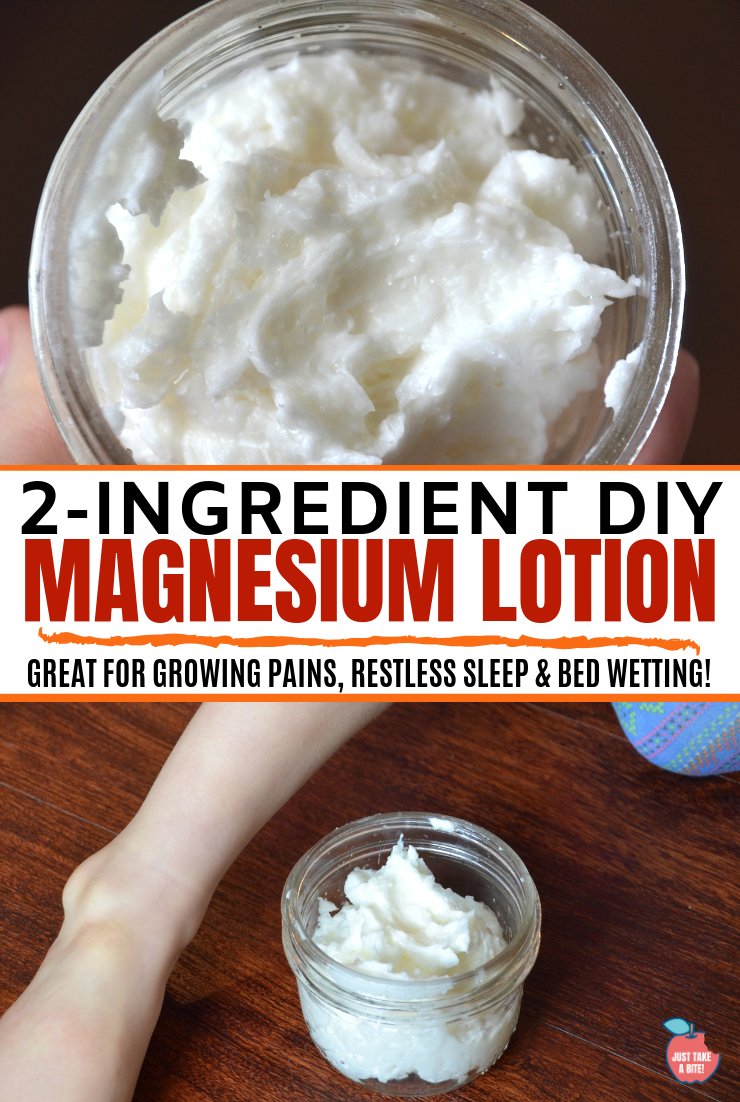 Natural Remedy for Growing Pains
With my mama mind at ease I started looking into natural ways to combat leg pain. One of the best remedies for leg pain is topical magnesium.
Perfect! I already had a bottle of magnesium oil made. I've been using it myself for about six months to help boost my own magnesium levels.
There is just one problem. Magnesium oil is not fun to use. It's kind of sticky. It makes your skin itch and sting.
I knew I'd never get my daughter to use that every day. She tried it once and ended up washing it off because she couldn't handle the itching.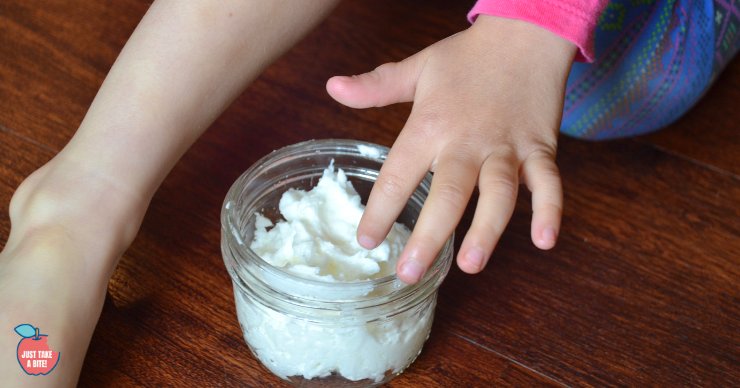 Simple DIY Magnesium Lotion
I started searching for magnesium lotion I could buy. There are some good ones out there (I love this one from The Magnesium Lotion Shop!).
In the end I decided to make my own.
My conclusion?
This is SO easy to make. It is SO much nicer to use than magnesium oil. WHY did I not do this six months ago and spare myself the torture of using magnesium oil every day?
Side note: I just made a fresh batch of magnesium oil yesterday (you need it to make magnesium lotion). So I sprayed a little on this morning to try it. Now I'm sitting here trying to write while my stomach itches like crazy. Only lotion from now on.
Benefits of Magnesium
Who could benefit from magnesium lotion?
Everyone.
For real. Just about everyone is deficient in magnesium. And that one deficiency messes up the balance of all of the other minerals. Imbalanced minerals can cause a host of health problems.
Magnesium may help with:
energy creation
protein formation
muscle movement
nervous system regulation
brain function and mood
blood sugar control
blood pressure
headaches
joint and muscle pain
PMS
digestion
neutralizing stomach acid
strong bones
These are just a few of the ways magnesium helps your body. Magnesium is pretty important!!
Take note that there are a few people that don't tolerate magnesium supplementation, either orally or topically. So use caution when trying magnesium lotion. Here are some reasons magnesium might make you feel worse.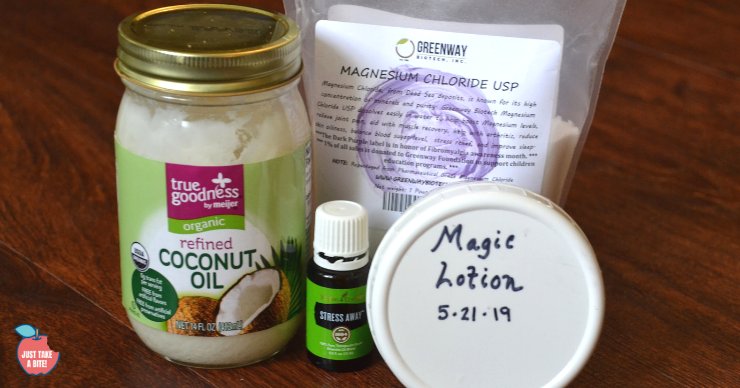 How to Make Magnesium Lotion
For such a prevalent problem, you'd think the solution would be complex. Thankfully that is not the case!
Homemade magnesium lotion is so easy to make. You'll need two basic ingredients:
You have to start by making magnesium oil. This simply requires you to mix magnesium chloride with hot water. The longest part of the process is heating a half cup of water.
Once the magnesium oil is cool you can whip it with the coconut oil. Instant lotion!
Yes, it really is that easy.
I also like to add some essential oils to make it smell nice. But that is optional. My favorite is Young Living's Stress Away. I like the vanilla scent. Lavender would also be good for kids.
Some people use bees wax to help prevent separation. I'm a fan of simple. So I don't bother with that. The magnesium oil and coconut oil may separate a little after the lotion sits for a month or more. Simply re-whip it to combine if that is an issue.
Two-Ingredient DIY Magnesium Lotion
A simple DIY magnesium lotion made with only two ingredients.
Ingredients
1/2

cup

hot water

1/2

cup

magnesium chloride

1

cup

organic coconut oil

5-10

drop

essential oil

optional
Instructions
Place the magnesium chloride in a small glass bowl.

Pour hot water on the magnesium and stir to dissolve.

Allow to cool, and store in a glass jar or spray bottle.

In a large bowl beat together the coconut oil, 1/4 cup of the magnesium oil, and essential oils on medium high until well combined, about 2 minutes.

Store in a glass jar at room temperature for up to 3 months.
Recipe Notes
The magnesium oil and coconut oil may separate after a while (after a month or so). You can simply re-whip it.
Want to see how it's done? Check out my Facebook Live where I make a fresh batch of our "Magic Lotion."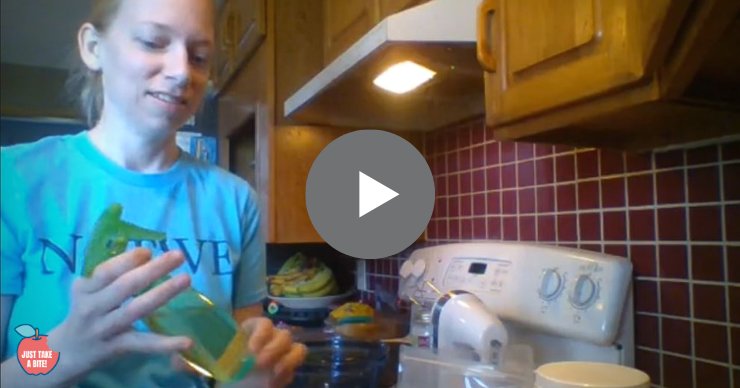 What Kind of Magnesium Works Best?
There are three options when it comes to topical magnesium.
Buy a pre-made oil (like this one).
Magnesium chloride flakes (like these).
Pharmaceutical grade magnesium chloride (like this).
All three will work, but the preferred option is the third one. It does not contain high levels of bromine like the flakes. It costs a few dollars more, but is still very affordable. One pound of the magnesium chloride will last at least a year – probably several years! Even if the whole family is using the lotion.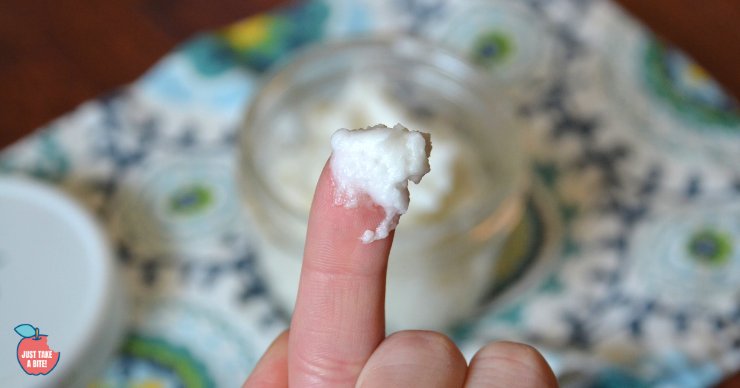 How to Use Magnesium Lotion
We now know how easy it is to make magnesium lotion. Guess what? It's even easier to use!
Simply apply as much or as little magnesium lotion as you like, wherever you like, as often as you like. You really can't get too much. If you notice it causing loose bowels you can cut back. But generally topical magnesium does not have that effect since it is not ingested.
We prefer to apply it to our legs and/or abdomen. My oldest prefers to put it on her belly (I do too). My middle two prefer their legs. But it works no matter where you apply it.
I like to use magnesium lotion two or three times a day to make sure I'm keeping my levels steady. Your body uses it constantly throughout the day, and it gets depleted easily.
My kids always use it right before bed. It helps them settle down and sleep more soundly.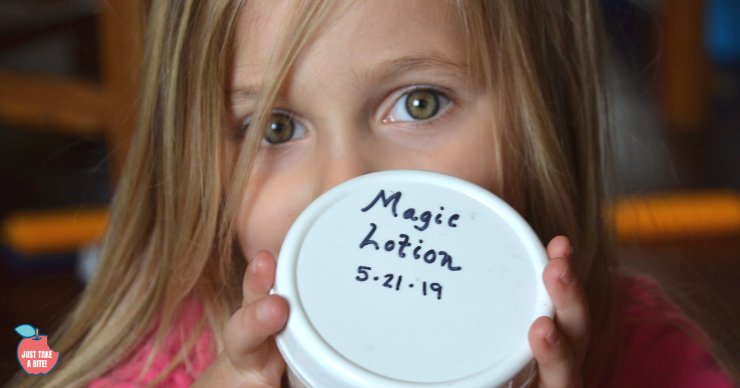 How Magnesium Lotion Helped My Four-Year Old
Back to my daughter's growing pain dilemma.
Armed with a full jar of DIY magnesium lotion I started applying it to my four-year old's legs every night before bed. The first two nights I didn't notice a change.
But after the third night we had an unexpected surprise!
First, her leg pain was gone. And she has not complained of it once since.
In addition she has been dry overnight ever since!! Up to that point she was wearing a pull-up to bed every night. Sometimes it was soaked in the morning.
But she has now been dry every night and is in underwear to bed.
The magnesium lotion was so effective at getting her minerals in balance that she stopped having to urinate so frequently!
If you have a child that struggles with bed wetting, growing pains, overactive bladder, or constipation give magnesium lotion a try.
My kids have actually named it Magic Lotion. It really has felt like magic with such a drastic change overnight. And you better believe we never skip a night now!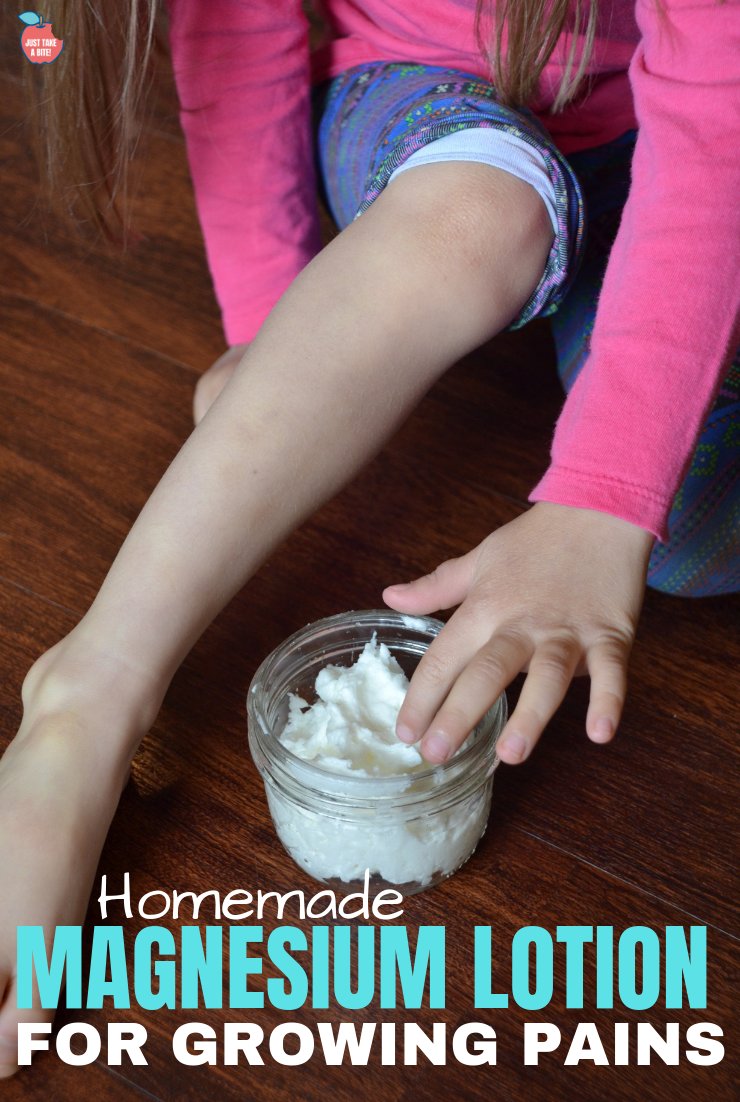 Magnesium Lotion for Everyone
Considering the prevalence of magnesium deficiency, I think almost everyone would benefit from using magnesium lotion. It is safe for everyone, including infants and the elderly.
In fact, I just might make some for gifts this year. I wonder if it could help my dad who was recently diagnosed with Parkinson's. I also need to convince my husband to try it. He struggles with restless legs – which is an obvious sign of magnesium deficiency.
Know anyone with osteoporosis? Magnesium lotion could help. There is such a strong relationship between magnesium and calcium.
If nothing else it can simply be used to help you relax. I think we all could use help in that department in our fast-paced, stressful world.
Do you use magnesium oil or lotion? What health benefits have you noticed? If not, are you ready to give it a try?