This post may contain affiliate links which won't change your price but will share some commission.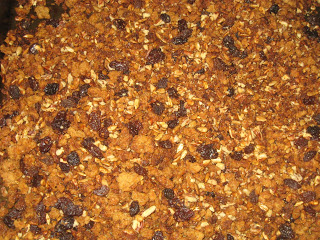 Last week I made a batch of soaked oats and crispy pecans. Then I used them to make homemade granola. I used my usual granola recipe. But I added coconut oil instead of another kind of fat. Maybe next time I'll try butter too. This turned out really well. Although I did let it bake a bit longer than I would have liked since I was busy with other things. It is crunchier than the granola you make with unsoaked oats. But I like that. I'll be making my granola like this from now on to make it easier on my tummy. I'll repost my granola recipe here.
Mary's Soaked Granola
*this can be gluten free if you don't use wheat bran and if you tolerate/use GF oats
12 cups soaked and dried rolled oats
2 cups dried fruit (any mix or just raisins)
2 tsp. cinnamon
optional mix ins:
1 1/2 cups ground flax seed
1 1/2 cups wheat bran or wheat germ
1 cup chopped nuts (crispy pecans, walnuts or almondsl)
1 cup seeds (pumpkin, sesame, sunflower, etc.)
1 cup coconut (sweetened or unsweetened…whatever you prefer, I used organic unsweetened)
1/2 cup honey
1/2 cup maple syrup
1/2 cup coconut oil, melted butter or EVOO (or a combo)
Heat oven to 325. Mix all dry ingredients, except fruit and crispy nuts, in one or two large bowls (however it is easiest to stir). (Mix a small amount of safe (oats, coconut, wheat bran, coconut, rasisins), dry ingredients in a smaller bowl for a toddler to mix and eat:) Pour honey, syrup and oil over dry ingredients. Mix well. Spread granola onto baking sheets (you can do all of it on 2 sheets…they'll be very full. Or you can do it on 4 sheets (2 batches) so that it bakes a little more evenly. You may have to cut the baking time down a bit if you do it on 4 pans). Bake 20 – 30 min., stirring 2 or 3 times throughout. Add fruit and nuts during the last 5 min. or after granola is done baking. Let cool. Store in sealed container or bag. Freezes well. I generally freeze it in gallon freezer bags then just take out a little at a time as we need it. It can even be eaten directly from the freezer. You can scale the recipe down if you don't want to make a large batch. I make a ton and freeze it so that I don't have to make it all the time.