This post may contain affiliate links which won't change your price but will share some commission.
In addition to macadamia nuts I soaked/dried some hazel nuts. I'm not sure I've ever even had a hazel nut. But I wanted to try it. Same process. And another yummy snack 🙂  I'm having fun experimenting with different nuts (since I LOVE nuts). Maybe next I'll try Brazil. I hear those are quite healthy too.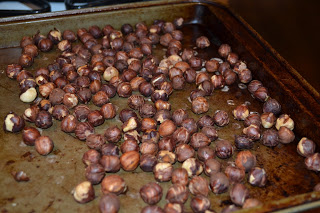 Crispy Hazel Nuts
4 cups of raw nuts
1 Tbsp. unrefined sea salt
filtered water
Mix nuts with salt and water and leave in a warm place for at least 7 hours or overnight (I generally soak them for 24 hours.). Drain. Spread nuts on baking pan. Place in oven on lowest setting (150 degrees) for 12 to 24 hours (or in a dehydrator), stirring once in a while, until completely dry and crisp. Store in an airtight container. The nuts will keep longer in the refrigerator or freezer.