This post may contain affiliate links which won't change your price but will share some commission.
This week I tried soaking a couple new kinds of nuts. One was macadamia. After doing my post on nuts and reading about how healthy they are I wanted to try some right away. I don't think I've eaten one in years. Boy are they good! I only did a small batch to try them out. I'll have to stock up on more for sure. Same process as most nuts. Soak with water and salt. Dry.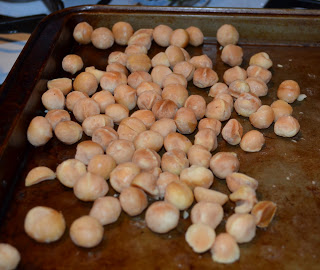 Crispy Macadamia Nuts
4 cups raw macadamia nuts
1 Tbsp. unrefined sea salt
filtered water
Mix nuts with salt and water and leave in a warm place for at least 7 hours or overnight (I generally soak them for 24 hours.). Drain. Spread nuts on baking pan. Place in oven on lowest setting (150 degrees) for 12 to 24 hours (or in a dehydrator), stirring once in a while, until completely dry and crisp. The macadamia nuts absorb a lot of water. It took over 24 hours to get mine completely dry. Store in an airtight container in the refrigerator or freezer. Macadamia nuts don't last long at room temp.