This post may contain affiliate links which won't change your price but will share some commission.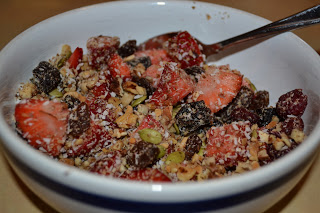 I recently made muesli for the first time. And it was really good! But my tummy doesn't handle oats very well. So I can't eat that. Then I came across this recipe on Gluten Free Diva for a grain free version of muesli. I tried it this morning. Awesome!! It's basically the same ingredients I use for my grain free granola, except you don't add fat/sugar and bake it. So it's super easy to make. Only takes a few minutes. Plus this uses fresh fruit. You can add whatever you like to this recipe…as long as it's not grains 🙂  And you can make a big batch to have on hand and just add fresh fruit when you eat it. It will freeze very well. This is a great option for quick breakfasts, summer breakfasts (when you don't want anything hot) or if you're a long time cereal lover (like me:) but don't want to eat that junk anymore. This was the closest thing I've had to a bowl of cereal in a LONG time (I think I might be going on a year now!). What a treat! And I don't have to worry about it killing my stomach. Love it. I didn't actually measure anything. I just added what looked good. Adjust to your taste. I'll post the original recipe (for 1 serving) with some of my adjustments in ().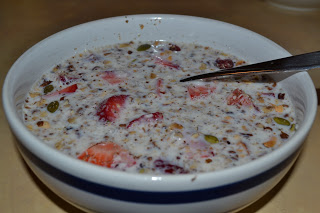 Grain Free Muesli
3 strips of dried banana AND/OR 3 – 6 chopped dates (I used prunes)
one small handful dark raisins (I used golden raisins)
7 raw almonds, chopped (I used a combo of crispy almonds, crispy pecans and crispy walnuts)
7 raw pecan halves, chopped
handful raw sunflower seeds (not roasted or salted) (I used crispy pumpkin seeds)
1 – 2 tablespoons grated unsweeted coconut
one chopped apple (I gave Justin some apple chunks in his. I left them out of mine.)
about 6 – 8 blackberries or the berry of your choice (I used strawberries. Blueberries would be very good…great option in the summer.)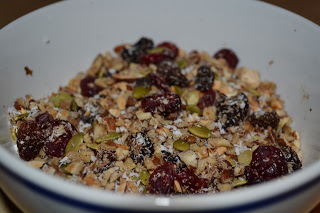 Mix all ingredients (except fresh fruit). Store in a closed container (freeze for long term storage or keep at room temp for shorter term). When ready to serve mix in fresh fruit. Top with milk or stir into yogurt.