This post may contain affiliate links which won't change your price but will share some commission.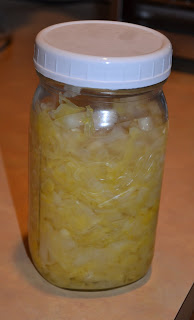 Aside from bone broth one of the most nourishing and healing foods for GAPS is sauerkraut. It is recommended right from the start…starting with just the juice and then adding in the vegetable itself. So I figured I better try some 🙂  This recipe comes right from the GAPS book. Very simple. And only takes 5-7 days to ferment. I made mine even more simple since I didn't have any carrots in the house…and they bother me anyway. So it's just cabbage, water and salt. That's it. It does take a little elbow grease to get the cabbage broken down. But still very easy to make.
I tried my first bite yesterday. It was pretty good. I only took one small bite…start slowly. So I can't say if it had any impact on me or not. I'll have to update again sometime. And I probably should be starting with just the juice anyway 😛  As I'm getting more into the GAPS diet I'm realizing that for now I don't need/can't handle tons of veggies. I always wanted to load up on them before…that's how you get rid of constipation, right? When in reality all of the fiber aggrivates your gut when it's not healed/not able to digest properly. And I think that's why I'm finding so many veggies bother me. Until I get my gut sealed and healed I need to stick to only food that is very easy to digest…like broth, very mushy veggies, probiotic foods, etc. I can't handle much fiber right now. The opposite of what I was told for years. No wonder I had so many problems! Slowly but surely I'm figuring this out 🙂  My goal is to start having a little of the juice and/or the cabbage with most meals. Hopefully that will help with digestion.
And not related to sauerkraut, but something else I'm finding…I think it may be the coconut flour that's been bothering my tummy lately. Same issue…too much fiber for me to handle right now. Coconut flour is particularly high in fiber. So sad. Since it's so good!! But all in good time. Until I'm doing better I'll keep my grain free baked good intake to a minimum and stick with nut flours. I handle those better at the moment.
Anyway, here's the recipe. I only made a small batch…one small head of cabbage. It made 1 quart.
GAPS Sauerkraut
1 medium size white cabbage or combo of red and white cabbage
2 shredded carrots
water
1 – 2 Tbsp. unrefined sea salt
Slice cabbage thinly. Add carrots. Add salt. Knead mixture well with your hands until a lot of juice comes out. If it is not juicy enough add a little water. Put the mixture in a glass jar for fermentation. Make sure the cabbage is covered with liquid and that there is at least 1 inch of headspace in the jar. Cover loosely with lid. Let ferment in dark place for 5-7 days. Check periodically to make sure the cabbage is submerged in liquid.