This post may contain affiliate links which won't change your price but will share some commission.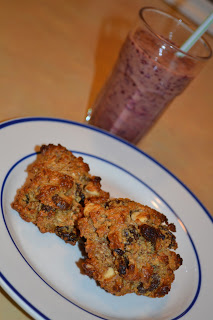 I hadn't intended to do much baking this week. But Sunday I was looking at some grain free blogs and came across a recipe for breakfast cookies on Comfy Belly. And I had to try them! I've loved breakfast cookies ever since I made them the first time. But sadly have not been able to eat them for a while. So I was very excited to see a grain free version. They taste very similar to my other recipe. So good!!! And super easy to make. I didn't follow the measurements exactly…I was trying to use up what I had on hand. But they still turned out great! My plan was to make a half recipe…but it was kind of 1 1/2. I used 1 cup of my homemade almond-pecan meal and about 1/2 cup of boughten almond meal. I still used 1 egg, but only 1/4 cup of honey. Still plenty sweet. As usual I left out the baking soda and used stiff egg white instead. For add ins I used crispy sunflower seeds, raisin, coconut and a few chocolate chips. I know the chocolate chips aren't really on the approved list. But like I said, I was trying to use a few things up and I had a small amount left in a bag. I made my cookies a decent size. I got 12 out of this batch. Another great, easy breakfast to have in the freezer! Love it. Serve it with a kefir smoothie and you've got one very nourishing, tasty breakfast!
These can be dairy free if you don't use butter.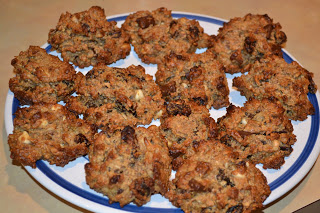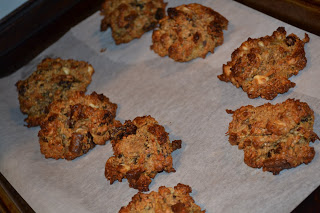 Grain Free Breakfast Cookies
2 1/2 cups of almond meal or almond flour (any nut flour will work really)
1/4 tsp. of salt
8 Tbsp. of unsalted butter, melted (or 1/2 cup of coconut oil or vegetable shortening, melted)
1/2 cup of honey
1 egg, separated
1 Tbsp. of vanilla
about 2 cups of nuts, dried fruit, seeds (or anything else your heart desires)
Preheat oven to 350 degrees F.
Combine all the dry ingredients in a bowl and blend with a spoon. Add the wet ingredients (except the egg white) and blend it well with a spoon.
Beat the egg white until stiff peaks form. Fold into dough.
Drop mounds of batter on the cookie sheets (I used parchment paper lined sheets). Space them about 1 inch apart.
Bake for 12 to 20 minutes (depending on how big you make them…mine took almost 20 minutes), or until they are starting to brown around the edges.
If you want them slightly crunchier (these are on the soft side), leave them in the oven at 200 degrees F for another 15 minutes or so, or in a dehydrator on a fairly low temperature for about 2 hours.
Cool and enjoy. Store in a sealed container