This post may contain affiliate links which won't change your price but will share some commission.
I finally got around to making some fermented veggies yesterday. I followed the directions in the GAPS book. It doesn't give quantities, but it tells the method. I used cabbage, beet and carrot. GAPS also suggests cauliflower, but I'm avoiding that right now. I hope I do ok with the carrot in this form. It was super easy to do. I made 3 quarts. It takes about  week to ferment. I'm anxious to try this when it's done! This is a great probiotic food that will aid in digestion. The veggies and liquid should be added to your diet gradually because of the probiotics.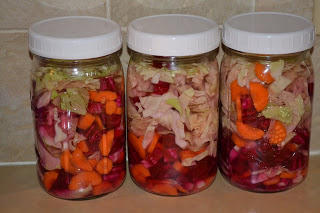 Fermented Vegetables
makes ~ 3 qts.
1/2 large green or red cabbage
2 large carrots
1 large beet root
cauliflower (I didn't use this)
salt
garlic (I just added some garlic powder)
3/4 cup kefir whey
water
Chop veggies into bite size pieces or shreds. Season with salt to taste. Add chopped garlic or garlic powder. Mix. Distribute evenly between 3 wide mouth quart jars. Add 1/4 cup whey to each jar. Fill with water so that all of the veggies are submerged. Seal jar. Let ferment on the counter for 1 week before transferring to the refrigerator.