This post may contain affiliate links which won't change your price but will share some commission.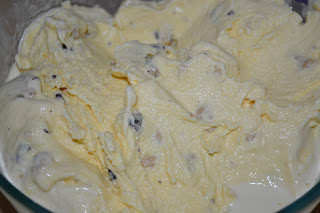 Since learning just how healthy ice cream is (homemade of course) I've been making it a lot lately. Which means experimenting with new flavors.
This week I made cookie dough ice cream. One of my favorites! And it turned out great!!! I had some for snack last night and for breakfast today 😛 It's just a basic vanilla with homemade cookie dough chunks. Yum!!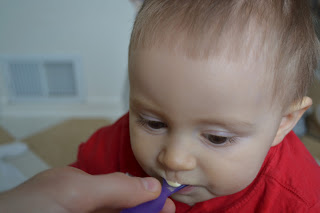 I baked cookies on Saturday. SoI made a full batch of dough and reserved about a cup of it for the ice cream. My son also got his first little taste of vanilla ice cream (his first taste of anything sweetened!). Just a couple little bites. He seemed to enjoy it.
This post is linked to Fat Tuesday at Real Food Forager.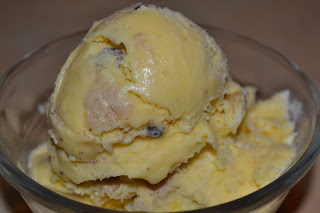 Cookie Dough Ice Cream
Ice Cream
3 cups cream (preferably raw)
3 egg yolks
1 Tbsp. vanilla
1/2 cup maple syrup (or honey)
Cookie Dough (full recipe for cookies…scale down for just one batch of ice cream, freeze it in one cup portions for future use or make some cookies with the rest 🙂
2 1/4 cups whole wheat flour (or any combination of gluten free flours)
1 tsp. baking soda
1/2 tsp. salt
1/2 cup butter, softened
1/2 cup palm shortening (you can use all butter, but I like the combo of butter and shortening)
3/4 cups cane sugar
3/4 cups rapadura or brown cane sugar
1 tsp. vanilla
2 eggs
1 1/2 cups chcolate chips (optional…works well without chips for the ice cream)
Prepare the cookie dough:
Cream butter, shortening, sugars and vanilla. Add eggs, beat well.Add dry ingredients. Mix well. Stir in chocolate chips.
Place one cup of dough in plastic wrap. Flatten to about 1/2 inch. Freeze.
*You can make cookies with the remaining dough: Bake at 350 for ~ 10 minutes.
*You can freeze the remaining dough as one large batch to make cookies later or in one cup portions to make more ice cream later.
To make the ice cream:
Thaw dough for 5 minutes on counter. Cut/break into small chunks. Place in a bowl and return to freezer.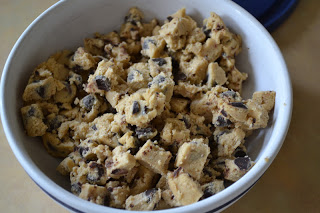 Mix cream, egg yolks, vanilla and syrup with a whisk until well combined. Process in an ice cream maker (takes about 20 minutes in my Kitchen Aid attachment). Add frozen cookie dough pieces during the last minute of processing. Store in an airtight container in the freezer.