This post may contain affiliate links which won't change your price but will share some commission.
I've had a recipe for a chocolate chip cheese ball in my list of recipes to try for a long time. I finally decided to make it. I modified it to use real ingredients. I did use regular chocolate chips. I still need to get to the store to try to find better quality chips. Or I need to find time to make my own again. But aside from that it was all good stuff.
It turned out great! A real treat. It's kind of like eating cookie dough. I served it with a fresh batch of homemade graham crackers. A sweet twist on a cheese ball. Delicious.
The original recipe says to coat it in nuts. I didn't do that since I can't eat nuts. I just added some extra chocolate chips to the outside. Dried coconut flakes would be good too. It's mostly for looks. You really don't need to coat it in anything.
This post is linked to Fat Tuesday.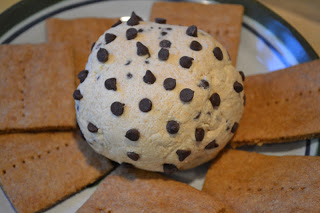 Chocolate Chip Cheese Ball
5 oz. homemade cream cheese
1/3 cup white whole wheat flour (you can use cornstarch or arrowroot. Use a little less than 1/3 cup)
1/3 cup maple syrup
1/4 tsp. vanilla
5 Tbsp. butter, softened
2-4 tsp. molasses
mini chocolate chips
Beat the cream cheese and butter. Mix in the flour, syrup, vanilla and molasses. Taste for sweetness. Add extra syrup or molasses if needed. Stir in chocolate chips (as few or as many as you like).
Refrigerate for two hours.
Scoop onto plastic wrap and form into a ball.
Wrap in plastic wrap and refrigerate until ready to serve.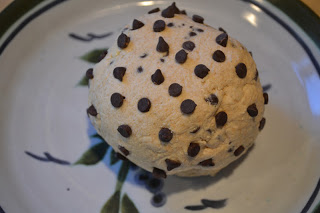 You can roll the ball in chopped crispy nuts, coconut or more chocolate chips.