This post may contain affiliate links which won't change your price but will share some commission.
Last week I made an overnight french toast casserole. I've made it quite a few times now. The best part? The syrup you make to go in it. As I was making the syrup I thought it seemed a lot like caramel. Maybe I could use that same recipe (slightly tweaked) to just make caramel?
This week I gave it a try…success!! It really could not be any easier. No candy thermometer. No standing around with bubbling sugar and heavy cream. No artificial ingredients.
This caramel comes together in minutes and is so good. You can add extra salt to make it salted caramel. Or go with the traditional flavor. Either way you can't go wrong.
Do you like caramels? Give this simple recipe a try. I promise, you'll be glad you did.
Need an easy Christmas present? Wrap these individually in parchment paper or wax paper and bag them. Perfect.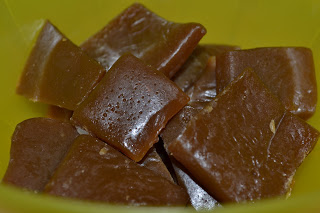 Homemade Caramels
3 Tbsp. honey
1/4 cup butter
1/2 cup brown cane sugar or sucanat
1/4 – 1 tsp. sea salt (to taste)
In a pan on the stovetop, combine the honey, butter, salt and brown sugar. Simmer until all of the sugar is dissolved and the ingredients are well combined, about 5 minutes. Adjust salt to taste.
Pour into a parchment lined 8″ or 9″ pan. Allow caramel to cool in the refrigerator about 30 minutes.
Cut or break into small pieces. Return to the refrigerator to cool/harden completely (do not put pieces on top of each other or they will stick).
Store in a bag or glass jar in the refrigerator.