This post may contain affiliate links which won't change your price but will share some commission.
We tried yet another new recipe for dinner last night. Quinoa Mac 'n' Cheese. This recipe comes from Tasty Kitchen.
The original recipe has spinach in it. I just used the concept of replacing noodles with quinoa and then made it the way I normally make macaroni and cheese.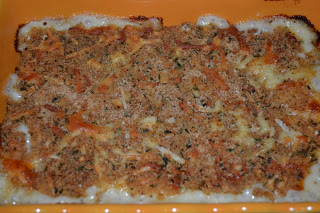 This was quite good. It was a unique way to get my family to eat quinoa. So far they are not big fans (I really enjoy it myself…but the rest not so much). But Justin and Rebecca both finished their helpings. Since they normally only tolerate a few bites of quinoa I consider it a success :).
You could easily add any chopped, cooked vegetables to this dish. Or even add bacon or ham. That would make it even better!
I'll post the recipe the way I made it. Very simple. And a nice change from the traditional macaroni and cheese. It's also a great way to make a gluten free version of a classic dish. If you like your mac 'n' cheese to really hold together well you can mix in a couple of beaten eggs before pouring it into the pan.
This can be prepared in advance and then simply baked right before dinner. Or you can skip the topping/baking and serve it right out of the pan. This would also make a great, warming breakfast!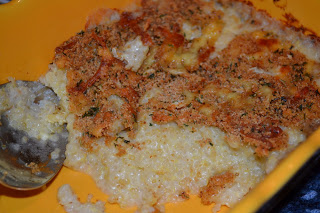 Quinoa "Macaroni" and Cheese
serves 3 – 4
1/2 cup dry quinoa (makes about 1 1/2 cups cooked quinoa)
1 cup water
1 tsp. evoo
1/2 tsp. sea salt
2 Tbsp. butter
2 Tbsp. flour
1 1/2 cups milk
1 – 2 cups grated cheese (depends how cheesy you like it. Any varieties will do. I used mozzarella, cheddar and parmesan.)
salt and garlic powder to taste
1/2 cup seasoned bread crumbs (optional – use gluten free or omit to keep it gluten free)
1/4 cup grated cheese (I used the same cheese mix as was in the casserole)
Rinse quinoa in a small mesh strainer for 1-2 minutes to remove bitter coating.
Toast quinoa in hot oil in a small saucepan for 1-2 minutes. Add water. Bring to a boil. Add salt. Cover. Reduce heat and simmer 15 minutes. Remove from heat. Let set covered 5 minutes. Pour quinoa into a bowl.
In the mean time melt butter in a saucepan. Add flour and mix. Cook for 1-2 minutes, stirring constantly.
Add milk very gradually, a couple Tbsp. at a time at first. Stir after each addition to incorporate into the butter/flour mixture. Add remaining milk. Bring to a boil. Reduce heat and add cheese. Stir until the cheese is melted. Season to taste.
Pour cheese sauce over quinoa and mix. Add extra seasoning if necessary. Add eggs if desired.
Pour into a greased casserole dish.
Sprinkle breadcrumbs and cheese over top.
Bake at 400 degrees for 25 – 30 minutes, until cheese on top is melted and golden. Let set for 5 minutes before serving.