This post may contain affiliate links which won't change your price but will share some commission.
I've just started my rotational diet. And I have a trial four day rotation that I've laid out. It's still a work in progress, but it's a start.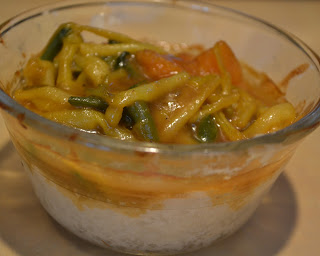 So today I'm allowed rice as my starch/grain, lard as my fat and beans and beets as my vegetables. How do I make that appealing all day long? I had rice cooked in chicken broth with beets and beet greens for breakfast. But I didn't really want the exact same thing for lunch.
I came up with this easy single serving pot pie. Lots of nourishing broth and fat. Plus it's super delicious! It really hit the spot for a comforting lunch as I'm adjusting to having my options so limited/so different from what they were just a week ago.
I was also trying to feed two grumpy kids, so it's a bit lacking in visual appeal. But you get the idea.
My protein for today is pork. I don't have any cooked yet (I'll be making it for dinner). But it would be a great addition to this dish. Chicken or turkey would be great too. And any kind of vegetable will work.
I didn't measure anything as I was cooking. I'll give a rough idea of quantities. But feel free to adjust as needed. And you can multiply this to make a larger dish to feed more than one person.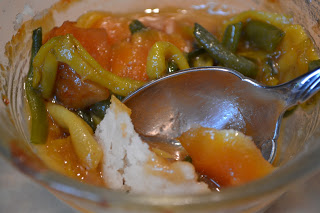 Single Serving Pot Pie
1/4 cup white rice flour
1 Tbsp. lard (or palm shortening or butter)
2 tsp. water
1/4 tsp. sea salt
1 cup chicken broth
1/2 cup vegetables (I used roasted golden beets and frozen green/yellow beans)
1 Tbsp. white rice flour
sea salt to taste
2 tsp. lard (or butter)
1/8 cup cooked pork, turkey or chicken (optional)
Heat oven (I used the toaster oven) to 400 degrees F.
Combine flour, salt and lard. Add enough water for the dough to stick together. Mix until combined. Press into bottom and up the sides of a small oven safe bowl (I used a small pyrex dish). Bake for 15 – 20 minutes.
While the crust is baking, in a small cast iron or stainless steel pan bring chicken broth to a boil. Add vegetables, lard and seasoning. Simmer until broth begins to reduce (about 10 minutes). Add meat. Sprinkle on flour and stir. Continue to simmer until thick. Adjust seasoning to taste.
Pour the filling into the baked crust. Return to the oven. Bake 5 more minutes. Serve warm.