This post may contain affiliate links which won't change your price but will share some commission.
I continue to push myself a bit and try new foods that have been on my avoid list for a while. This week I tried sweet potatoes. And I tried them in a very delicious way…sweet potato and lentil soup! I found the recipe on Food.com.
It was really easy to make. I actually prepped it first thing in the morning. Then at dinner time all I had to do was warm it. We all really enjoyed it. You'd never know it has lentils. So it's a great way to sneak them into a meal since they are so healthy.
I used regular green lentils instead of red…mostly because I started soaking the lentils before I read the recipe thoroughly 😛  I'll have to try it with the red sometime. I also just used what spices/herbs I had on hand. So ours tasted a bit different than the original, but it was still good.
I did learn that sweet potatoes are still on my avoid list 😛  But at least I got to enjoy this tasty soup.
I did not make a full recipe. I'll post it as I made it. There was enough for two adults, one child and enough leftover for a couple more bowls.
I garnished the soup with crispy chickpeas (sauteed in evoo until crisp). They added nice texture to the soup.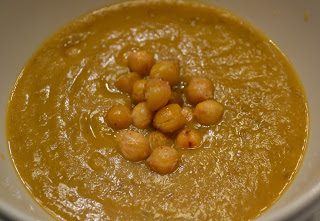 Sweet Potato and Lentil Soup
~ 4 – 5 servings
3 cups chicken or turkey broth (or water)
3/4 cups lentils (red or green), soaked
3 cups sweet potatoes, cut in large chunks
2 tsp. garlic powder
1 tsp. cumin
3 tsp. sea salt
1 tsp. thyme
Combine all ingredients. Cover and bring to a boil. Simmer until the potatoes and lentils are cooked, about 30 minutes.
Use an immersion blender to puree the soup (or puree it in a blender and pour it back into the pan). Adjust seasoning to taste.