This post may contain affiliate links which won't change your price but will share some commission.
I continue to experiment with my allergy-free foods. Last night for dinner I made pancakes. I made our usual buttermilk pancakes for the family…whole wheat, dairy and eggs. Doesn't quite cut it for me.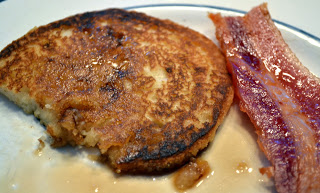 It was a rice day for me, so I tried rice pancakes. I didn't really have a recipe. I just kind of poured and mixed what I thought might work. I ended up with a thick white batter that I really thought would just turn into a messy glob in the pan. But to my great surprise (and to my growling tummy's delight) they turned out quite well!
My biggest concern was not being able to use eggs. But it wasn't a problem. I compensated with a little extra baking soda and some oil.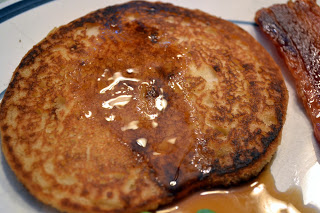 These weren't as light and fluffy like the other pancakes I made. They were a little thicker. I'm sure I'll keep experimenting with the recipe. But honestly I really liked them. I found myself sneaking another bite and another bite and another bite as we sat at the dinner table (after I was "done" with my dinner :P). And then I started snacking on them later in the evening 🙂 The combination of white rice, coconut milk and lard gave them a unique, addicting flavor.
When I search for gluten free recipes I get the usual combo of about five different flours and gums to bind them all. I can't do that with a rotational diet. I have one or two grains allowed each day. And I can't do gums. So my goal is to make simple allergy-free recipes that don't require twenty ingredients.
Eating allergy-free foods doesn't mean you have to give up your favorite meals or buy a ton of specialty food. Do you have a go-to pancake recipe? Do you have a favorite allergy-free breakfast? Give these pancakes a try. Even if you don't have to eat allergy-free. It's a nice change from the usual wheat pancakes.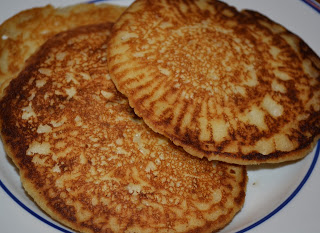 White Rice Pancakes (egg free, nut free, dairy free, gluten free)
makes ~ 6 pancakes
1 cup white rice flour (you could substitute another gluten free flour…you may have to adjust the liquid ratios)
1 cup coconut milk (I used mostly the liquidy part but also a little of the cream)
1/3 cup water
1 1/2 Tbsp. EVOO
1 tsp. baking soda
3/4 tsp. salt
2 Tbsp. cane sugar
lard, tallow, coconut oil or palm shortening for frying (you can use butter if you are not dairy free)
Directions:
Mix all ingredients (except frying oil). Adjust to desired thickness by adding more coconut milk or water.
Fry in lard over medium heat on griddle until golden, 3-5 minutes per side.
Serve with honey, maple syrup or fruit topping.
These can also be used as bread/buns.