This post may contain affiliate links which won't change your price but will share some commission.
First full week of March. This is shaping up to be a very busy month, especially next week. So I'm going to try to get done what I can this week in preparation.
Aside from the usual activities this week I have a psychologist appointment. I'm hoping to make it to the health food store and the library (something fun for the kids). Justin has an orchestra concert and is going to a hockey game this week. And Rebecca and I are getting hair cuts (our Mommy daughter date for the month). Rebecca also has a field trip and playdate this week.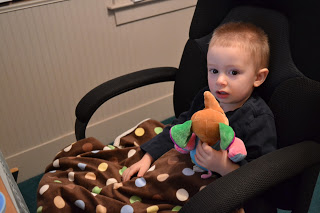 Our sick boy snuggling with "baby" and "blanket."
Last week Abram was sick, which wore me out 😛  And caused a bit of a setback in my healing. When my kids are sick my anxiety goes way up. Especially when the littlest is sick. I just can't relax. I'm a mom…what can I say? 😛  Plus some non-ideal food choices (looks like avocado is out for now) caused a flair of my symptoms. But hopefully this week I can get back on track. I skipped my morning workout and slept an extra hour every day last week! I know I'm still not getting as much rest as I need, but it's a good start.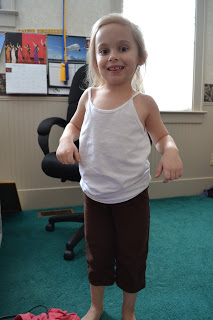 Stuck at home…having a little fun with a pants swap 🙂
I'm still getting in the kitchen and experimenting when I can. This week should be no exception. I've been avoiding fermented foods for a while now because I thought I wasn't tolerating them well. I want to continue the healing process with my gut, so I'm going to try some again. Today I'd like to make fermented punch and sauerkraut. We'll see how it goes.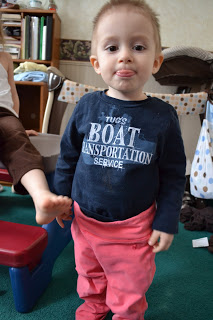 I also am hoping to make a modified version of buster bars for my birthday treat (next week!). So I want to make some gluten free chocolate cookies to use for the crumb layer on the bottom. I'll be making various baked goods for breakfasts, snacks and to go with dinners.
Rebecca made her own grocery list last week and picked out some fruits and vegetables to try. So this week I have to incorporate leeks and red onion in our meals 🙂  We'll be doing onion rings today. I haven't decided on the leeks yet. She also chose purple cabbage. I'll use some to make sauerkraut. Not sure about the rest. Maybe I'll saute cabbage and leeks together. I hope she likes them.
I have most of the meals planned out. I'll be filling in a few breakfasts and lunches as the week goes on.
This week I want to try my yoga DVD at least once. And possibly my kettle bell DVD. I also have to work on my RFH articles. And I have a product review and giveaway that I'm very excited about! I just have to find the time to write it 🙂
Here's what's on the menu. What's on your menu this week? What fun are you having in the kitchen?
________________________________________________________________
S (prep lunch, make whey, church, concert, make punch, make sauerkraut, prep smoothies) D2
  B – bagel w/ cream cheese, fruit (Justin), teff and rice granola bars, beets, snap peas (Mary)
  L – cp pork tenderloin, potatoes, onions and carrots (peas for Mary)
  D – leftover quiche, applesauce, baked onion rings (family),  pear cranberry, coconut milk rice pudding (Mary)
M (soak flour, milk, PS) D3
  B – smoothie, date scone (Justin), amaranth tapioca chocolate bar, pumpkin (Mary)
  L – salmon, zucchini, chocolate bar
  D – turkey summer sausage, crackers, cheese, peas, chips w/ dip, watermelon (family), pumpkin, zucchini, salmon (Mary)
T (make oatmeal banana muffins, KM) D4
  B – lemon blueberry yogurt, date scone (Justin), ice cream, snap peas (Mary)
  L – tuna, squash, sour cream w/ blueberries
  D – squash soup (w/ turkey broth), coconut flour squash scones (Mary), soaked oatmeal banana muffins (family)
W (make gf oreos, HH, PS – field trip/playdate) D1
  B – smoothie, oatmeal banana muffins (Justin), chicken, broccoli (Mary)
  L – lentils, cauliflower, oreo
  D – chicken nuggets w/ honey mustard, roasted brussels sprouts and cauliflower, fries
Th (bake cake, Dr. M., Dr. V.) D2
  B – bagel w/ cream cheese, banana yogurt (Justin), white rice scone, snap peas, beets (Mary)
  L – white rice pancake w/ syrup, snap peas
  D – (prep ahead) – baked white fish, potato wedges, beans
F (bake cupcakes, library, PS, hockey game) D3
  B – banana chocolate chip yogurt, granola bar (Justin), amaranth tapicoa bar, pumpkin (Mary)
  L – goat milk yogurt w/ blueberries and soaked gf graham crackers
  D – (Justin eating at the game) – salmon cakes, pumpkin, zucchini (me), broccoli (kids)
S (bake cupcakes, swimming) D4
  B – (Justin), (Mary)
  L – crackers, cheese, sausage, fruit, veg (family), sour cream, fruit, veg (Mary)
  D – sweet and sour meatballs over squash (Mary)/rice (family), corn, fruit
________________________________________________________________
D1: chicken, dry beans (pinto, navy, white, fava, mung), lentils; quinoa; broccoli, kale, sweet potatoes, brussels sprouts, cauliflower; blueberry, raspberry, date; coconut oil, carob, cane sugar, mint tea
D2: white fish, pork; white rice, teff; green bean, lettuce, peas, beets; pear, cranberry; lard, cinnamon, maple syrup, coconut milk
D3: turkey, salmon; amaranth, tapioca; asparagus, pumpkin; palm shortening, coconut water, goat's milk yogurt
D4: tuna, beef, raw cream, sour cream; wheat, coconut flour; cucumber, squash, zucchini; coconut, avocado, grapes; EVOO, butter, ghee, tallow; cocoa, raw milk, green tea, honey

snacks: D1blueberry, raspberry, date; D2 crumble; D3 TBD w/ palm shortening, tapioca flour or amaranth and pumpkin ; D4 ice cream, soaked graham crackers, raisins, frozen grapes