This post may contain affiliate links which won't change your price but will share some commission.
On your mark. Get set. Go!  That is how I'm approaching this week. So much crammed into a few days. But I'm doing my best to stay organized, prep ahead and not get overwhelmed.
Aside from our usual activities this week we have Kindergarten assessment, a psychology appointment (Justin and I will be going while the kids have a playdate), MomBreak, an overnight women's conference (for me :), and a game night with our small group from church. There is a Mom's Night Out on Tuesday, but I don't think I'll be able to make it.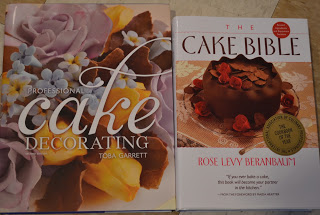 An early birthday present from my in-laws 🙂
In addition to the events I have a birthday cake and 4 dozen cupcakes to make/decorate for Friday. I have to make a couple breakfast items for our MB meeting on Friday. I have to prepare all of the food in advance for the weekend (for myself when I travel and for the family when I'm gone) and make some ice cream toppings for our game night.
Now add to that a time change (less sleep = not good for me :P) and major tummy/health problems right now. And a potentially sick kid (Rebecca is having on and off fevers for some reason…still trying to figure out if it is from her molars or something else). I know I will do it. I know God will give me the strength I need. But right now it seems daunting.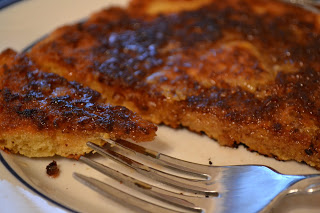 Today's breakfast – soaked garbanzo flour pancakes
I did at least give myself a head start. I already baked all of the cake and made the frosting. And I have banana bread in the oven right now for MomBreak. I'll have a more detailed schedule for this week to make sure I don't forget anything.
My health…definitely could be better. I have avoided fermented foods for a while now. I know they are so healthy. But I always seem to feel awful when I consume them. But I want to heal my gut. So I thought I'd give it a try again. I made some fermented punch last week and drank a little each day. It's a very mild ferment. It's mostly water, lemon juice and sugar. But it seems it was still enough to cause a problem. I had a few great days (as usual when you add good bacteria to your system)…and then things got bad very quickly. The problem? Die off 🙁  I haven't had it in a while. But I know it well. And it is not pleasant. The fermented food kills some of the bad bacteria. And then it has to get out of your body. But that is NOT easy…at least not for me. It just sits in my gut like glue.
I'm trying to just keep going, keep eating, keep moving…but it's hard. My body knows it needs to get rid of toxins. But it doesn't quite know how. So I get headaches, acne over my whole body, constipation, mood swings, all sorts of unpleasant things. As the bad stuff sits there it's like poison in my body. So my focus right now is to "detox" and get the bad stuff out. Then I can get back on track with my usual eating and healing process. I'll probably eat a little lighter than usual and drink a little more fluid than usual while trying to flush things out. I don't like to do that since I'm trying to really nourish my body and heal. But I have to get past this roadblock first. Because right now all I can think about is how badly my stomach hurts.
The one remaining question from all of this is do I just keep adding the ferments and get through the die off  as a way to adjust or do I have histamine intolerance and I should continue to avoid them? I'm not sure.
With that I'll get on with the menu. I have a couple little things to fill in as the week goes on. But here's a start. And my extra schedule to make sure I don't forget anything this week.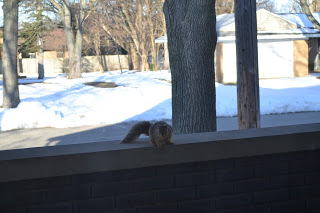 Our little friend still visits daily. The kids have named him/her Tico. He stares at us through the window.
Sunday – set out kids' clothes for the week, pack for weekend, bake for MB
Monday – cake decoration
Tuesday – cake decoration
Wednesday – prep food for F/S, make caramel
Thursday – fill/frost cake, pack
Friday – cake deco/pick up
Saturday – caramel/nuts…bake something extra to bring for myself (there will be an ice cream sundae bar)?
_________________________________________________________________
S (prep lunch, bake banana bread, make pancakes, church, bake, prep smoothies) D1
  B – banana bread, orange (Justin), soaked garbanzo flour pancake w/ syrup, sauteed broccoli and brussels sprouts (Mary)
  L – cp chicken, broccoli and cauliflower, rice
  D – sauteed lentils, cauliflower and brussels sprouts (Mary), egg muffins, toast, fruit or leftover meatballs and noodles (Justin)
M (cake decoration, ped SP, PS) D2 (sick kid)
  B – smoothie, banana bread (Justin), coconut milk rice, snap peas (Mary) 
  L – coconut milk ice cream, snap peas
  D – macaroni and cheese, beans, peaches (family), snap pea, beet, bean, cranberry salad (Mary)
T (cake decoration, pack/pick out clothes KM, MNO?) D3 (sick kid)
  B – yogurt, breakfast cookies (Justin), amaranth tapioca bar, pumpkin (Mary)
  L – goat milk yogurt w/ blueberries
  D – baked salmon, sauteed zucchini, baked potato
W (prep dinner, Meijer, PS, WT, make caramel, thaw cake, soften frosting) D4
  B – smoothie. breakfast cookies (Justin), coconut flour scone, squash (Mary)
  L – sour cream w/ raisins, tuna
  D – Italian pasta bake, corn, garlic toast (family), tuna squash cake w/ cucumber (Mary)
Th (fill/crumb coat/frost cake, prep dinner, KA, Dr. M./playdate, prep food for my trip, pack) (Happy Birthday to Me 🙂 D1
  B – yogurt (Justin), sauteed cauliflower (Mary)
  L –
  D – (prep ahead) – cp pea soup, TBD bread
F (cake deco, MB, PS, cake pick up, AFC) D2
  B – hard boiled egg, toast, fruit (Justin), coconut milk teff porridge, snap peas (Mary)
  L – snap peas, beets, cheese
  D – (Mary out to eat – sushi) – leftover Italian pasta bake, broccoli, garlic toast
S (AFC, swimming, GN) D3
  B – yogurt w/ blueberries, granola bar (Justin), yogurt w/ blueberries (kids), goat milk yogurt, soaked gf grahams, blueberries (Mary – at hotel)
  L – leftover mac 'n' cheese (Justin), pb/j or mac 'n' cheese, olives (kids), pumpkin w/ salmon (Mary – on the road)
  D – (early/easy clean up) – TBD from freezer (family), pumpkin, zucchini, turkey or salmon (Mary)
________________________________________________________________
D1: chicken, dry beans, lentils; broccoli, brussels sprouts, cauliflower
D2: white fish, pork; white rice, teff; green bean, lettuce, peas, beets; pear, cranberry; coconut milk
D3: turkey, salmon; amaranth, tapioca; asparagus, pumpkin; coconut water, goat's milk yogurt, blueberry, raspberry
D4: tuna, beef, cream, sour cream; coconut flour; cucumber, squash, zucchini; grapes;  raw milk