This post may contain affiliate links which won't change your price but will share some commission.
No need to miss out on treats just because you have allergies! These homemade Oreos® are free of gluten, dairy, nuts, eggs and corn.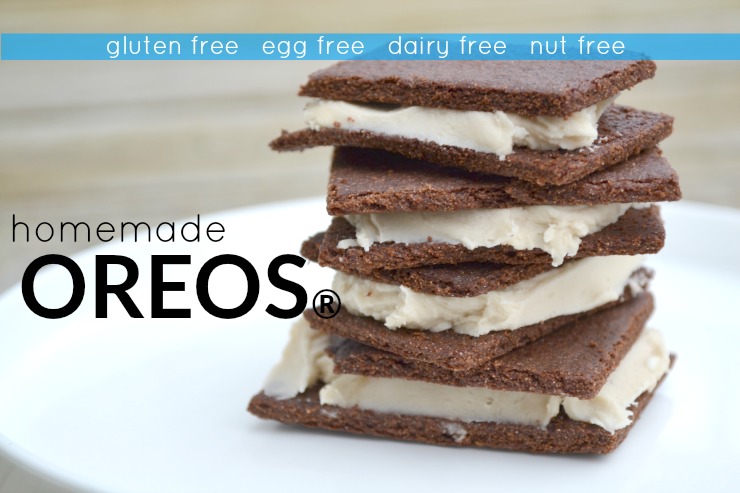 Last year I made a homemade version of Oreos®. They were great! But now that I'm eating gluten free I can't have them…or can't I?
I've been brainstorming ideas for a safe birthday treat for myself. And these came to mind. So I tried a gluten free version yesterday. Delicious!!
The recipe isn't all that different from the original. But I decided to do a separate post so nobody misses out. I don't want it to get overlooked if you're gluten free. You can have a healthy, homemade treat too!
I made some of the cookies round and some square (I was short on time, and the square are easier). I also made two batches of filling. The first one ended up a little looser than I wanted (I had two kids running around begging for breakfast). So I filled the round ones with that. Then I did a quick re-do and made a much better version. I filled the squares with that. They all taste great. One just has a little better consistency and looks better. A good filling needs plenty of flour. Lesson learned.
I hope you enjoy this very allergy friendly homemade treat. These can be gluten free, dairy free, egg free, nut free, corn free and soy free.
Gluten-Free Oreos®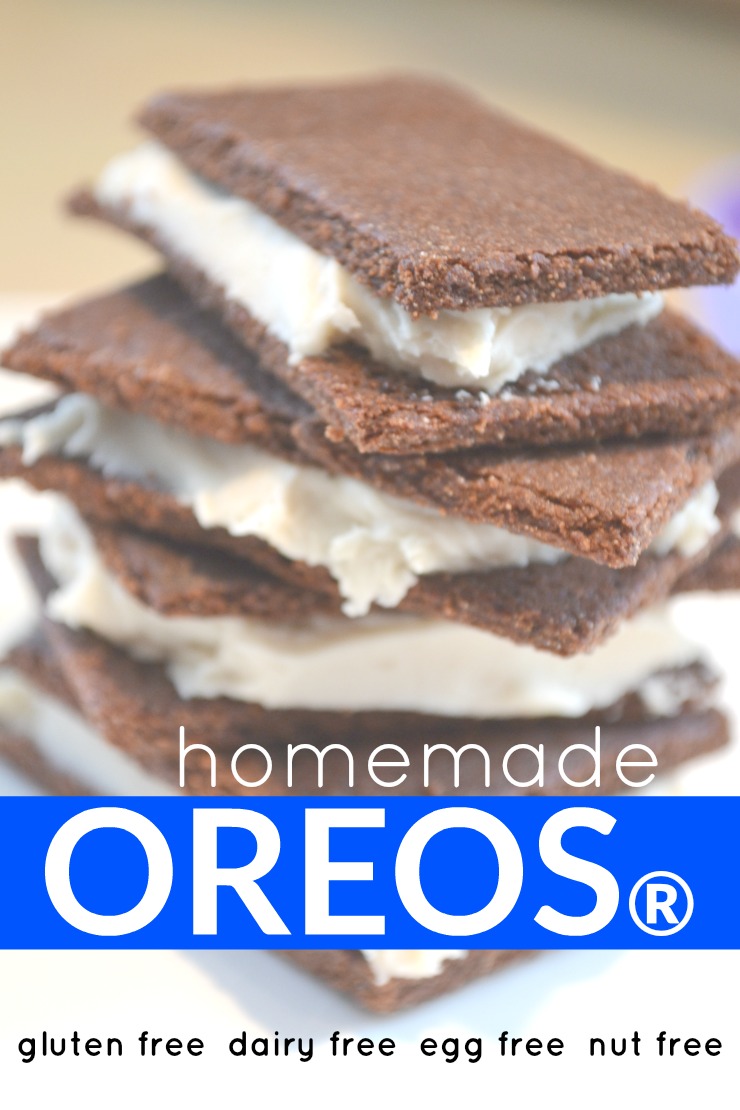 Gluten Free Homemade Oreos®
makes 15 – 20 cookies
1/4 cup organic palm shortening*
6-8 Tbsp. tapioca flour*
1/4 cup maple syrup
2 cups gluten free flour (this is the mix I use)
1/2 cup cocoa powder*
3-4 tsp. chocolate extract (optional…makes it a deeper chocolate flavor, but not necessary)
1/2 cup organic cane sugar
1 tsp. baking soda
1/2 tsp. salt
1/2 cup butter, room temp (you can substitute coconut oil or palm shortening)
6 Tbsp. honey
water
To make the cookies:
Cream butter and sugar in a large bowl. Add cocoa and chocolate extract. Blend well (a hand mixer works well). Taste. Add more chocolate extract until strong enough. Add flour, baking soda, salt and honey. Blend well. If dough is still crumbly slowly add water, 1 Tbsp. at a time until dough will hold together when squeezed with your hand (do not get it too wet or the dough will stick to the parchment paper when you try to transfer the cookies).
Place 1/3 of dough onto parchment paper. Place another layer of parchment paper over top. Roll dough between parchment paper until it is 1/8 – 1/4″ thick. Remove top paper. Cut circles and place onto parchment lined baking sheet. Repeat this process until you have used all of the dough. You can also simply roll the dough and use a cookie cutter to make squares. Then transfer the whole sheet to a baking pan.
Bake cookies at 350 for about 13 minutes. Allow to cool completely. You can do this step well in advance of making the filling.
To make the filling:
Cream shortening, flour and maple syrup in a small bowl. Add more flour for a stiffer cream (note that it will firm up/become solid when chilled). Add more maple syrup for a sweeter cream. You can prep the filling ahead and store it in the refrigerator. Let it come to room temperature before filling cookies.
To assemble the cookies:
Place the cream filling in a small plastic bag. Cut off one of the corners of the bag for a pastry bag. Pipe some cream onto the center of one cookie, leaving space at the edge . Top with another cookie. Press together just until the cream reaches the edge. Repeat this process until all of the cookies are filled. Store in an airtight container in the refrigerator. You can also freeze the cookies.
*These are affiliate links. It will not change the cost for you if you buy through the link, but I will get a small commission. It helps me earn a small amount to keep putting in the time and effort to do what I do 🙂