This post may contain affiliate links which won't change your price but will share some commission.
Happy St. Patrick's Day! There, my celebration is over ;P  That's about the extent of SPD celebrating we do here. Although it is a good reminder get some greens in your diet today.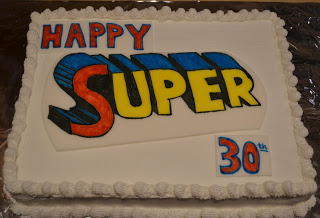 30th Birthday cake  (not for me :P…I'm not that young)
I made it. I really did. Last week was seven degrees of crazy. But I made it. I can't say my body is too happy about it. Ok, not happy in the least bit. By yesterday afternoon as I was attempting to bake another batch of cupcakes (I had lots of frosting to use up) between getting home from the conference and trying to get things ready before the baby-sitter got here so we could go out, my hands were literally shaking because my body had been under so much stress. I had to pause for a moment, have a little snack and just breathe. But I made it. I got the cake/cupcakes done (I hope the people that ordered them enjoyed them! :). I managed all of the running around. I had a wonderful time with my SIL and my mom at an Among Friends conference (if you have the opportunity to go I HIGHLY recommend it…I'll be doing a post on it soon). And I got to spend time out with my husband and other couples just having fun.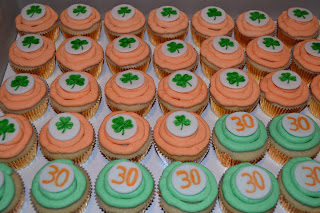 This week is hopefully back to a bit of normalcy. And hopefully allowing my body to relax  So far I don't think it realizes it can 😛  Rebecca and I are getting hair cuts tomorrow. Hmmm…what to do with my hair? We might go out for dinner afterwards since we didn't get to go out or really do much to celebrate my birthday last week (no time for celebrating last week :P). We have Rebecca's parent teacher conferences. We're excited to hear how she's doing. She already passed her kindergarten assessment last week with flying colors. And she got a great progress report. Later this week I will be meeting with some people from church to try to help improve the childrens' snack situation…make things healthier and more allergy friendly. I also have to get my thyroid levels checked this week. I've been on my new medication for about 6 weeks now. So I'm anxious to hear how things are going.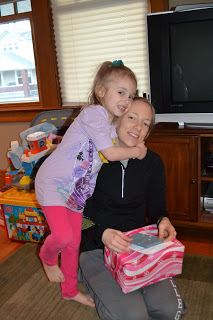 Birthday presents and hugs
Last week I did not have time to do any extra baking for myself. I just barely scraped by with the small stock I had in the freezer of safe foods. But now I'm totally out. So it's back to baking for me. I already made a batch of coconut flour scones this morning. I have a long list of baking projects that I want to try. I know I won't get to all of them this week. But I'm excited to get started. Maybe God gives me new dietary restrictions periodically so I don't get bored with/run out of baking projects 🙂
Rebecca is finally over the virus she had. It wasn't fun to deal with. But in a way I'm thankful. It kind of cleared things up for me a bit. I won't go into details but I think Rebecca is in need of some gut healing like I am. So I am going to try a gluten free week for her. I'm not going to tell her about it. Just do it with foods she enjoys that are naturally gf. Just to see if there is even a small change. I will also be starting her on probiotics and trying to give her more broth. I have to be diligent about her vitamins and cod liver oil as well.
My own health could use some serious improvement as well. I'm not sure if it's still die off or just the anxiety and stress from last week, but things have been BAD. I'm trying to be patient with my body. But it's hard. I had been doing so well for a while (up and down days but overall well)…then bam! Day after day of major struggles. I'm hoping a relaxing day today with no major stresses coming up this week will help. And getting back on track with eating. Not that I ate poorly last week. I just made bad choices here and there because I was stressed and away from home sometimes.
In all the chaos of last week and then being gone/without being able to get on the computer I didn't have much time for meal planning. So I still have some gaps to fill in as the week goes on. I'm trying to plan a little better for meals for Rebecca so I can make this gf week go smoothly.
Some breakfast options for Rebecca are: yogurt, smoothie/shake, eggs, nuts, fruit, veggies, broth gluten/coconut free baked goods
____________________________________________________________________________
S (prep lunch, make scones, church (am/pm)) D4
  B – banana bread, fruit (Justin), coconut flour squash scone, squash (Mary), yogurt (Rebecca)
  L – cp hobo dinners (w/ beef, potatoes, carrots, leeks and broccoli)
  D – (separate) – cucumber w/ sc dip, squash scone (Mary), scrambled eggs, toast, sauteed cabbage, milkshake (Justin), turkey broth, hb egg yolk, avocado, sour cream, sauteed cabbage, strawberry milkshake (Rebecca)
M (roast beets, prep breakfast, soak nuts, chop veggies, milk, ps, hair cut, make kefir) D1
  B – banana bread, hb egg, orange slices (Justin) sauteed broccoli/cauliflower/lentils (Mary), probiotic milkshake, rice pudding (Rebecca)
  L – sauteed brussels sprouts, lentils (Mary), chicken, veggie and rice soup (Rebecca)
  D – baked chicken and potatoes, roasted brussels sprouts and cauliflower
T (dry nuts, skim cream, prep breakfast, gf baking, soak flour for scones, KM, make ice cream, strain kefir, make smoothies) D2
  B – yogurt, soaked apple bar (Justin), teff and coconut milk porridge, snap peas (Mary), yogurt (Rebecca)
  L – salad w/ peas, beets, cranberries, cheese (Mary), crispy nuts, veggies, dried fruit, rice (Rebecca)
  D – baked white fish w/ tartar sauce, roasted potatoes, peas

W (make scones, make gf crackers, make gf bread, bloodwork, HF?, make muesli, PTC, co-op, WT) D3
  B – smoothie, breakfast cookie (Justin), salmon pumpkin amaranth scone, pumpkin (Mary), gf toast w/ pb (Rebecca)
  L – goat milk yogurt w/ raspberries (Mary), broth w/ veggies, gf crackers w/ cheese (Rebecca)
  D – (prep ahead/separate) – salmon salad sandwiches, broccoli, chips (family); salmon pumpkin amaranth scone (Mary)
Th (soak flour, make gf ic cones, roast squash, church mtg) D4
  B – yogurt, muesli, fruit (Justin), squash, ic cone (Mary), ice cream in a cone (Rebecca)
  L – tuna sour cream salad on cucumber (Mary), tuna salad, veggies, gf crackers or gf bread or rice (Rebecca)
  D – cheeseburgers on gf buns, french fries, squash
F (gf baking, make garbanzo pancakes, children's museum?, BS) D1
  B – smoothie, TBD (Justin), pancake, broccoli (Mary), yogurt, pancake (Rebecca)
  L – (Mary), gf crackers w/ cheese, veggies (Rebecca)
  D – baked chicken breasts, roasted cauliflower and brussels sprouts, seasoned rice
S (gf baking, pork sale?, swimming) D2
  B – (Justin), rice/teff bar, snap peas (Mary), rice/teff bar (Rebecca)
  L –
  D – pork w/ dried fruit over rice, beans
______________________________________________________________________________
D1: chicken, dry beans, garbanzo flour, lentils; broccoli, brussels sprouts, cauliflower
D2: white fish, pork; white rice, teff; green bean, lettuce, peas, beets; pear, cranberry; coconut milk
D3: turkey, salmon; amaranth, tapioca; asparagus, pumpkin; coconut water, goat's milk yogurt, blueberry, raspberry
D4: tuna, beef, cream, sour cream; coconut flour; cucumber, squash, zucchini; grapes; raw milk