This post may contain affiliate links which won't change your price but will share some commission.
Vanilla wafers. A classic cookie. Who doesn't love them? Now you can enjoy a gluten free version. These are simple and delicious.
Want to make them a little fancier? Add some filling to make vanilla creme cookies. These were a big hit with the whole family.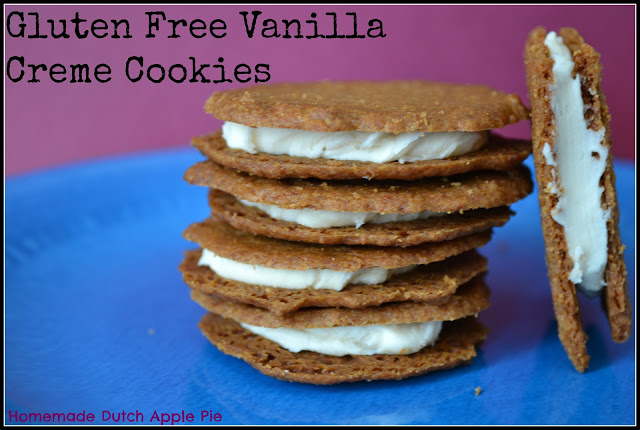 Gluten Free Vanilla Wafers and Creme Cookies
1 cup white rice flour
1/2 cup tapioca flour
1/2 cup teff flour
1/2 cup butter or coconut oil or palm shortening (or a combination), room temperature
1/2 cup coconut sugar or cane sugar
2 Tbsp. honey
1 Tbsp. maple syrup
1/2 tsp. baking soda
1/2 tsp. salt
2 tsp. vanilla
Creme Filling:
1/4 cup organic palm shortening
6-8 Tbsp. tapioca flour
1/4 cup maple syrup
DIRECTIONS
Heat oven to 350 degrees.
Cream the sugar and butter. Add the remaining ingredients. Mix until a ball of dough forms. You may have to squeeze the dough in your hands to see if it will hold.
Roll half of the dough between two pieces of parchment paper until about 1/8″ – 1/4″ thick. Cut into desired shape. Transfer to a parchment lined baking sheet. Repeat until all of the dough is used.
Alternately you can scoop small mounds of the dough onto parchment paper and flatten slightly.
Bake for about 15 minutes, until golden. Let cool completely. Store in an airtight container or add filling.
To make the cream filling:
Cream the shortening, flour and maple syrup in a small bowl. Add more flour for a stiffer cream (note that it will firm up/become solid when chilled). Add more maple syrup for a sweeter cream. You can prep the filling ahead and store it in the refrigerator. Let it come to room temperature before filling.
Place a small amount of filling on one cookie. Top it with another cookie and press down just until the filling reaches the edge. Repeat until the filling is gone. Store cookies in the refrigerator.