This post may contain affiliate links which won't change your price but will share some commission.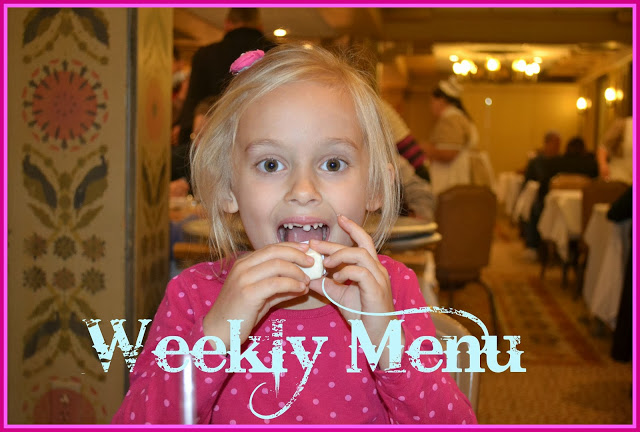 Rebecca eating plain butter.
Cold and rain, cold and rain…that's pretty much the weather here this week. I guess it was bound to really feel like fall at some point. Maybe that means it's time for lots of soup. And since I'm sitting down this morning with not a single meal planned yet I might just do that…a week of soup.
We had a pretty busy week last week. And this week will be even busier. Tomorrow is my son's allergy test. I hope he does ok with it, and I hope there aren't any severe reactions. I also have a psychologist appointment. We have milk pick up. I have a dentist appointment. I have a chiropractor appointment and a massage. I had x-rays taken last week, so I'm anxious to see how bad my spine is and get a plan of action. I think I'm going to live at doctors offices this week. I should make a trip to the local health food store, but I'm not sure I have time. And it's our grocery week. I have no idea when that will happen either.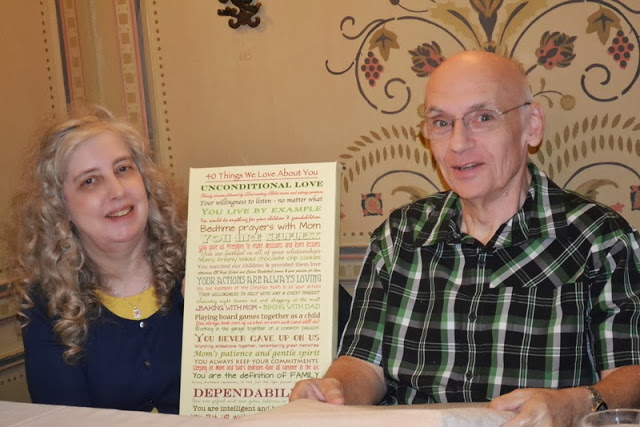 Yesterday we had a fun time celebrating my parents' 40th wedding anniversary. My family hasn't all been together in a while, so it was nice to see everyone.
I'm not sure what I'm up to in the kitchen this week. I have a ton I could do. But I feel like I haven't been getting enough sleep lately. So I want to make that a priority. I guess I'll have to take it one day at a time. These are the potential projects: make and can applesauce, make gf graham crackers, bake/freeze squash, make gf cheese crackers, make gf bars, make ice cream, make bread, make breakfast foods, cook a big batch of beans. I'll fill in details as the week goes on.
Overall I'm doing well health-wise. I know my metabolism is nourished and healthy (with a morning temperature of 98.73 today something has to be working right!). I do need to work on sleeping a little more. My main issue now is balancing hormones. My thyroid and my reproductive hormones are still not doing what they should be. So I'm doing a lot of research on how to help that. I have noticed that doing just about any aerobic activity makes things worse. So I'm going to do more yoga and strength training. They are supposed to help raise and balance hormone levels. Basically it boils down to eat more, sleep more, lift more. I never realized before just how important weight bearing exercise was. But it can be so helpful for hormone regulation, bone health, preventing osteoporosis…all sorts of things! So I'm going to give it a try. I just need to figure out what to lift. Anybody have a weight bench they want to send my way?? I didn't know how spoiled I was back in college when I could go to the weight room every day. I didn't realize how much good stuff I was doing for myself when I did lift weights there.
Now for the menu. Let's see if I can fill everything in here. It's a crazy busy week, so I'm thinking lots of crockpot meals. Again, maybe I'll do a week of soups. What are you eating now that the weather is getting colder (or even if it's not where you are)? It's time for fall foods here. Eet smakelijk!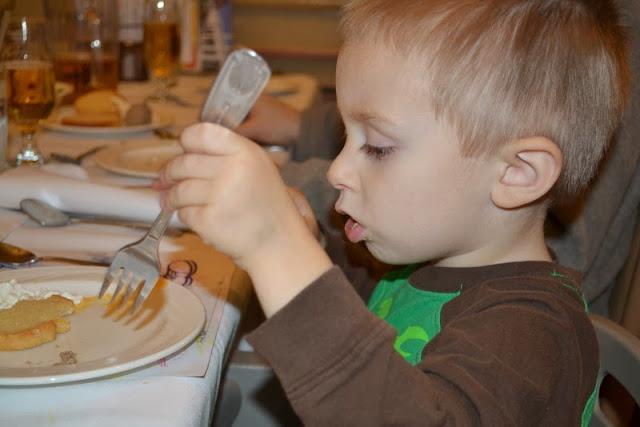 Abram devouring chicken liver pate!
****MENU****

S (church, prep smoothies, soak beans)
  B – toast w/ peanut butter, apple
  L – skillet cheesy beef and noodles, applesauce
  D – leftovers, fried perch, beans

M (cook beans, prep dinner, allergy test, Dr. V.)
  B – smoothie, TBD from freezer
  D – (prep ahead) – cp sausage and bean stew

T (make pesto, AKM, RKM)
  B – yogurt, granola, fruit
  D – (quick prep) – pesto pasta

W (bake tbd for breakfast, milk, dentist, co-op, out for dinner?)
  B – smoothie, baked good
  D – (prep ahead) – cp beef and veggie soup

Th (grocery shopping, chiro, massage, dance)
  B – baked apples, yogurt
  D – (prep ahead/eat separate) – cp baked potato soup w/ bacon and cheese

F ()
  B – hard boiled egg, toast
  D – pancakes, bacon, peas, fruit

S ()
  B – pancakes
  D – stuffed squash w/ bacon and beans