This post may contain affiliate links which won't change your price but will share some commission.
It's the last week of October already! How did that happen? I guess I've been too busy to notice. Last week was crazy busy. And to top it off the kids were sick. But we managed. And thankfully this week isn't so busy.
I do have two chiropractor visits this week (and will for quite a few weeks to come). Rebecca has a field trip for school. And we aren't sure yet what we're doing on Halloween. It depends on what time Rebecca has dance that day. We also have a MomBreak meeting this week. I'm pretty sure the kids and I will be staying home from church today.
I have a list a mile long of things I need to catch up on in the kitchen. Last week my cupboards were bare. And to top it off we had Abram tested for allergies. So what was left he couldn't even eat. I managed to make graham crackers, granola, a few batches of gummies, two batches of ice cream (one dairy free), roast beets, roast and freeze squash, make yogurt and make an apple breakfast cake (recipe coming soon). But I still have a long list. And on the top is making and canning applesauce. So that will be my focus first. After that I can get back to restocking the fridge and cupboards with healthy, homemade food for the kids, like muffins, granola bars, cheese crackers and some gluten free bars for myself.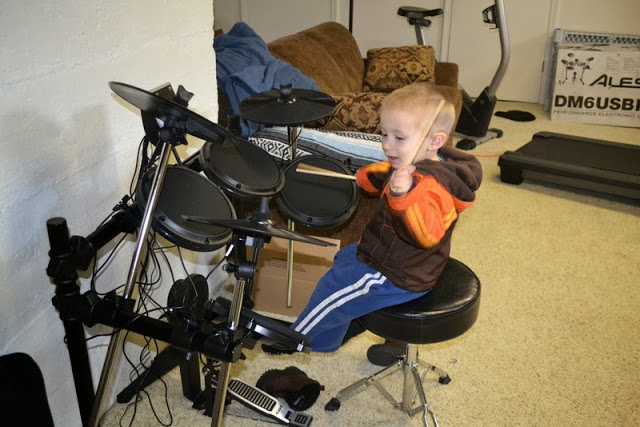 My husband's new toy and Abram's new obsession.
I mentioned my son's allergies. We found out that his main allergy is to dairy. But the list also includes eggs, wheat, rice, almonds, grapes, pears, bananas, peas and beans. So we are in the process of making this adjustment. It definitely makes meal planning harder! It's quite difficult to come up with meals the whole family can eat. I'm not even sure what vegetable to cook anymore. I guess I'll be making more meals that have individual components so everyone can pick and choose what they like/what they can have.
I'm trying to focus on keeping Abram nourished and doing what I can to help his body heal quickly. I hope some day he can add most if not all of these foods back into his diet.
My health seems to continue to improve. I recently had my hormone levels checked…and they are perfectly normal!!! That is truly amazing. God is good. My body temperature has been great too. 98's and even 99's! I learned that I do have PCOS, but not the typical form. Mine is simply from undereating/overexercising/stress. And now that I'm taking care of myself it's reversing quickly. My thyroid problems are the same. I'm in the 10% that simply have hypothyroid due to stress, etc. instead of an autoimmune disease. So that is reverseable as well. I'm on my way to good health again. I still need to work on getting more sleep and reducing stress and making sure I'm eating plenty of nutrient dense foods that I tolerate. But I am truly amazed at how much progress I've made in just a few months. God has done great things. And I'm excited to experience more healing.
I also got to see the details of my scoliosis/spine issues last week. As I've known since I was 16 my spine curves to the left. And now it also curves back to the right at the top (must be from compensation over the years). I also have hardly any curve in my neck…the beginning stages of a hunch back that runs in my family. Thankfully the chiropractor said he could fix both! So I will be going for adjustments and traction two times a week for a while. I also had my first therapeutic massage. Wow, was that great! I'll be doing that again for sure.
On to the menu. Like I mentioned, meal planning is becoming more and more difficult. But I think I came up with an ok menu for the week. What's on your menu? Eet smakelijk!
****MENU****

S (prep lunch, church, make/can applesauce, prep smoothies, make kettle corn)
  B – pancakes, banana
  L – meatloaf, baked potatoes, carrots
  D – (snack foods) – popcorn, pecans, crackers w/ cheese, peas

M (chop veggies, cut butter, organize kithcen, chiro, health food store)
  B – smoothie, TBD from freezer
  D – baked pork chops, broccoli, rice

T (make/can applesauce, AKM, RKM, soak flour)
  B – yogurt, granola, fruit
  D – (quick prep) – pan seared salmon, hashbrowns, beans

W (make gf cheese crackers, chiro, make gf bars)
  B – smoothie, granola bar
  D – spaghetti, broccoli, garlic toast

Th (make dried apples, make egg puff, make yogurt, cut up butter, field trip, dance, work party?, Halloween)
  B – egg puff, toast smoothie, gf zucchini bread
  D – (prep ahead/eat whenever) – cp roast chicken and veggies

F (make egg puffs, chop veggies, make df granola bars, MB, bake muffins)
  B – granola bars, yogurt, fruit egg puff, toast
  D – sausage, gf muffins, roasted veggies, fruit

S ()
  B – leftovers
  D – chicken noodle soup, gf muffins