This post may contain affiliate links which won't change your price but will share some commission.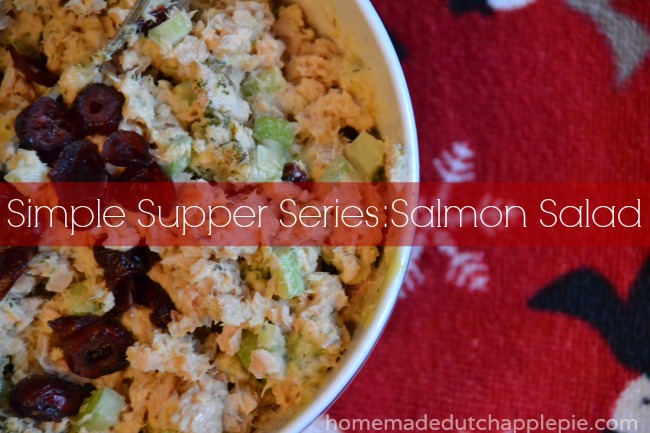 For the final installment in my simple supper series I have a recipe so easy it doesn't even require any cooking! We all have nights where we need something this easy.
Five-Minute Salmon Salad
Salmon salad takes about five minutes to prepare. You can do it right before you eat or you can prepare it in advance.
Canned salmon is combined with celery, cranberries and mayonnaise for a delicious, easy meal. The celery adds a nice crunch. The cranberries give a little sweet and tart flavor.
Then add some seasoning to taste and you're all set.
Kid-Friendly Salmon Salad
My kids LOVE salmon salad. They enjoy anything with salmon. But they really liked this salad.
I served it on bread/rolls for sandwiches. You can put it on a bed of lettuce or rice or even eat it with crackers.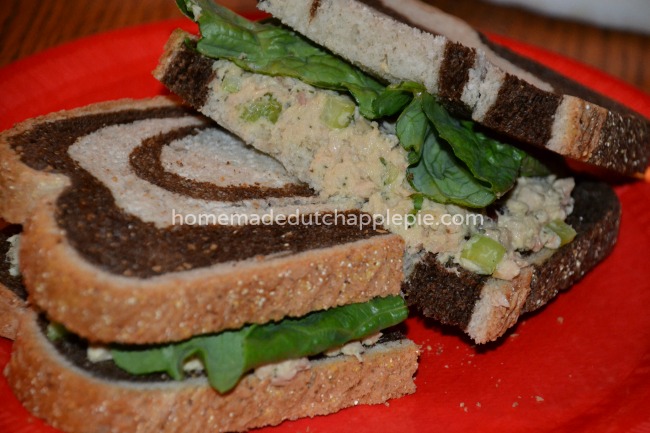 I packed the leftovers in my daughter's lunch (she requested it!). For the lunch I just served it plain. What an easy and nutritious lunch.
I try to serve seafood once a week. This salmon salad is a really easy way to do that and be sure the kids will eat it.
Salmon salad is perfect for a meal where you need to walk in the door and eat. It's even great on the go.
If you don't have salmon on hand you can use tuna or roast chicken or turkey.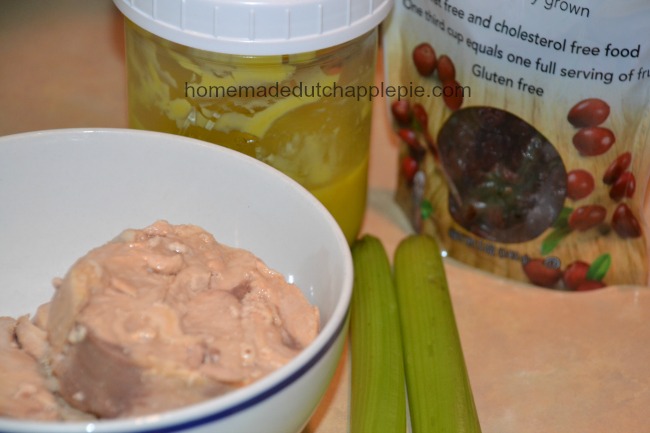 Salmon Salad Appetizer
Salmon salad can be spruced up a bit to make it fancy enough for guests. Add chopped nuts and diced avocado for a really rich flavor. Serve it on crackers for a delicious appetizer.
This is a great recipe for the holidays. The red of the cranberries and green of the celery make it look very festive.
I saved the simplest for last. Salmon salad is perfect for breakfast, lunch or dinner. It only takes five minutes to prepare. And everyone loves it. I call that a winning recipe.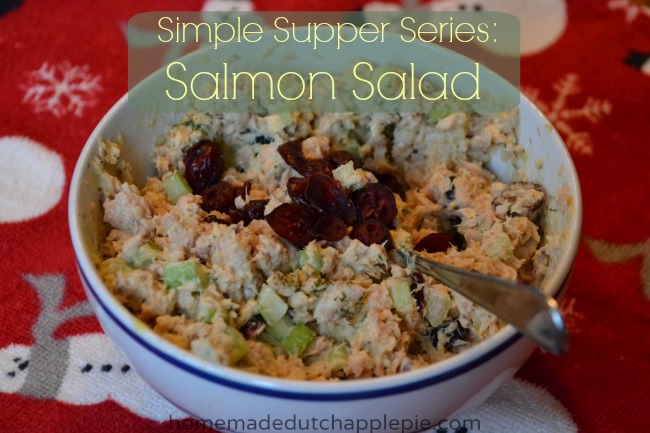 Simple Supper Series: Salmon Salad
2014-12-04 04:47:47
Serves 4
A simple salad that comes together in minutes.
Ingredients
2 (6 oz.) cans boneless skinless salmon
2 celery stalks, diced
1/4 cup dried cranberries or dried cherries
1/2 cup mayonnaise (preferably homemade - see post for link)
1 tsp. unrefined sea salt
1/2 tsp. pepper (optional)
1/2 tsp. garlic powder
1 tsp. dill weed
1/2 tsp. dried thyme
Instructions
Combine all of the ingredients in a bowl. Mix until well combined.
Serve immediately or cover and refrigerate until ready to eat.
Notes
The cranberries can be replaced with raisins or cut up apricots.
The salmon can be replaced with tuna, turkey or chicken.
Serve the salad plain, on bread, with crackers or over rice or quinoa.
Additional add-ins include chopped nuts and diced avocado.
Just Take A Bite https://justtakeabite.com/