This post may contain affiliate links which won't change your price but will share some commission.
Nothing says summer like fresh peaches! Enjoy them in a frozen treat with these simple grain-free peach cobbler creamsicles. Just a few whole-food ingredients and no refined sweeteners! Your kids will go crazy for this special summer dessert.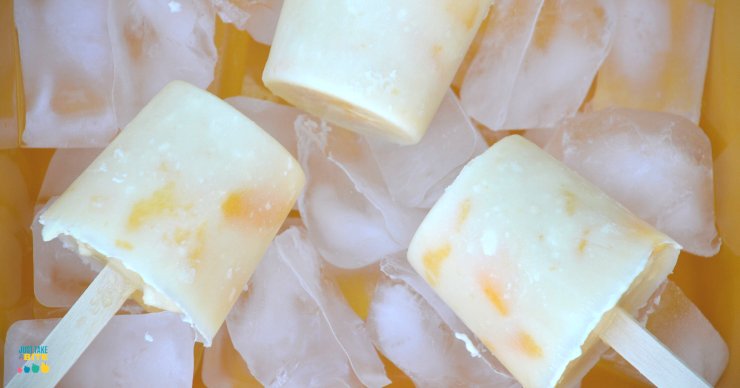 If you want to know what summer tastes like all you have to do is bite into a fresh, juicy peach. There is nothing quite like it.
Peach cobbler creamsicles transform that summer flavor into a frozen treat you can't resist.
Start with a simple grain free crumble that only has three ingredients! A quick mix by hand and it's in the oven.
While the cobbler is baking you can mix up the rest of the creamsicle. Whole milk yogurt and raw milk are combined with pure maple syrup for a sweet, creamy base.
Then cut up fresh peaches right over the bowl so you don't miss a drop of the juice. Stir them in to create peach cream.
Once the cobbler is done you can mix it into the creamy mixture, pour it into molds and freeze.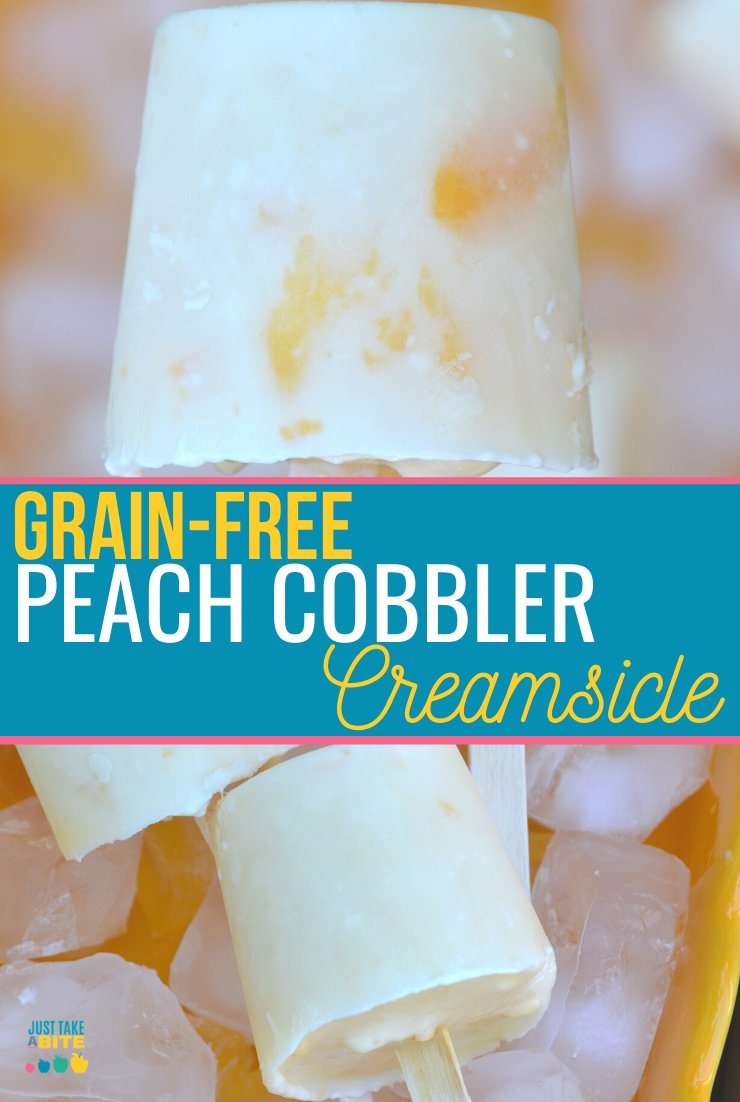 How to Use up Extra Peaches
My kids went crazy for these peach cobbler creamsicles! In fact my husband did too.
I happened to make them when it as about 90 degrees here. Talk about a refreshing treat when it's hot!
Peach cobbler creamsicles are very allergen friendly. You can swap coconut milk and yogurt for the dairy. They are naturally free of grains, gluten, eggs, nut, corn and soy.
If you can't have or don't have tapioca you can substitute for it with cassava or rice. Note that it will not be grain free if you use rice. But it will still be gluten free.
How to Feed Kids that Don't Like Chunks
If your child doesn't like food with chunks simply puree all of the ingredients before filling the molds. You'll still get the peach cobbler flavor in a smooth form. Go with whatever texture works!
When I think of summer I envision sitting on the porch, soaking up the sunshine with peach juice dribbling down my chin (because there is no other way to eat a fresh peach!). Now that summer vision is kicked up a notch with peach cobbler creamsicles (you can let them dribble down your chin too).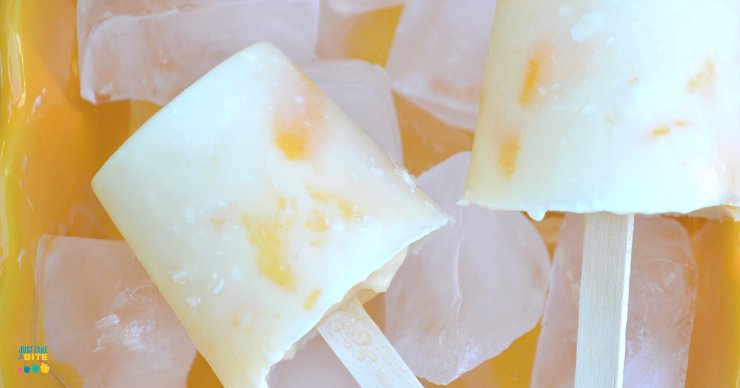 What is the Best Popsicle Shape
When it comes to popsicles I'm kind of old fashioned. I like to use cups and popsicles sticks instead of fancy molds (though these certainly would be a great gift!!!). It reminds me of how I made them as a child. These creamsicles work with whatever you've got.
You can use a traditional mold or even these silicon molds to make them more like push pops.
Peach cobbler creamsicles are so refreshing and bursting with flavor, yet full of healthy ingredients. That is an essential part of a great summer.
If you are celebrating a summer birthday these would also make a great birthday treat.
Are you a peach fan? What is your favorite peach treat?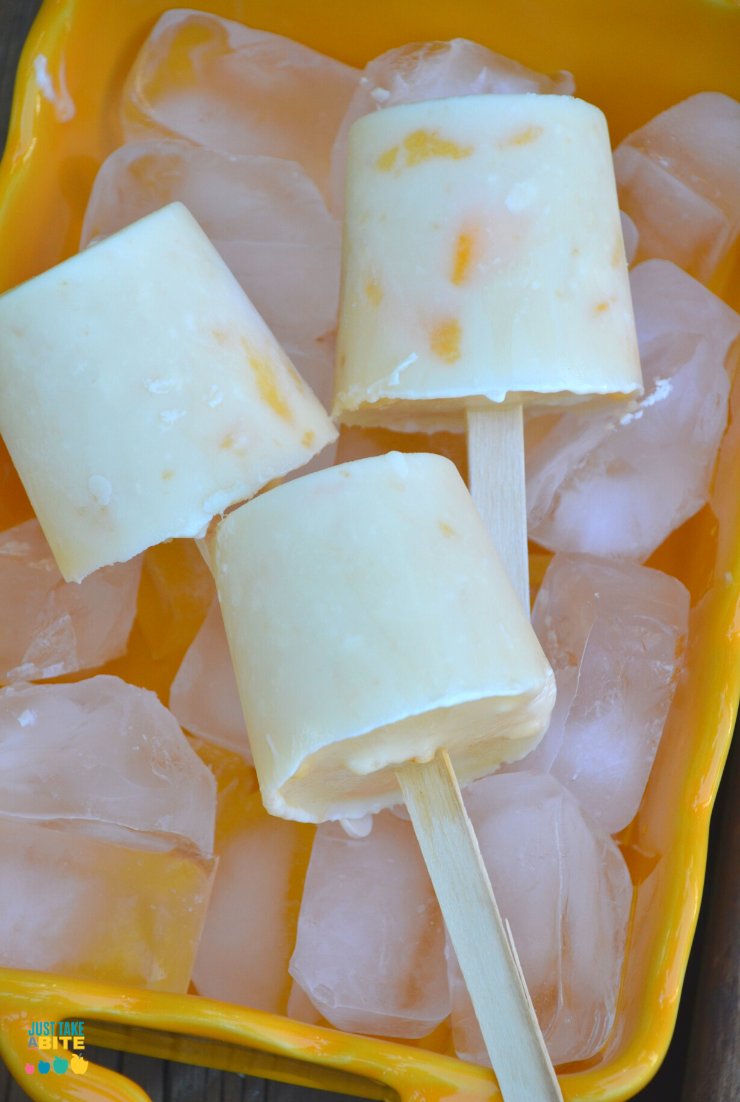 Grain Free Peach Cobbler Creamsicles
2015-08-04 04:55:54
Nothing says summer like fresh peaches! Enjoy them in a frozen treat with these simple grain free peach cobbler creamsicles.
Cobbler
1/4 cup tapioca flour (or cassava or white rice)
2 tsp. butter (or lard or coconut oil)
2 tsp. pure maple syrup (or honey)
Creamsicle
3/4 cup plain whole milk yogurt or coconut yogurt
1/4 cup whole milk (raw if possible) or coconut milk
3-4 Tbsp. pure maple syrup (adjust to your liking)
1/8 tsp. unrefined sea salt
1 large peach, cut into small chunks, juice reserved
Instructions
Heat the oven to 350*F. Line a baking sheet with parchment paper.
In a bowl combine the flour, butter and syrup until crumbly.
Spread on the parchment paper. Bake for 20 minutes.
Allow to cool and crumble into small chunks.
In a bowl combine the yogurt, milk, syrup and salt.
Cut the peach over the bowl so the juice drips into the yogurt.
Stir in the peaches.
Stir in the cooled cobbler.
Pour into popsicle molds and freeze until solid.
Just Take A Bite https://justtakeabite.com/
In order for me to support my blogging activities, I may receive monetary compensation or other types of remuneration for my endorsement, recommendation, testimonial and/or link to any products or services from this blog.
This post is linked to Savoring Saturdays.