This post may contain affiliate links which won't change your price but will share some commission.
Everyone deserves cake on their birthday. Even if you have allergies! This allergen friendly vanilla cake is free of gluten, dairy, eggs, nuts, corn, soy, rice and coconut. Plus it's super easy to make!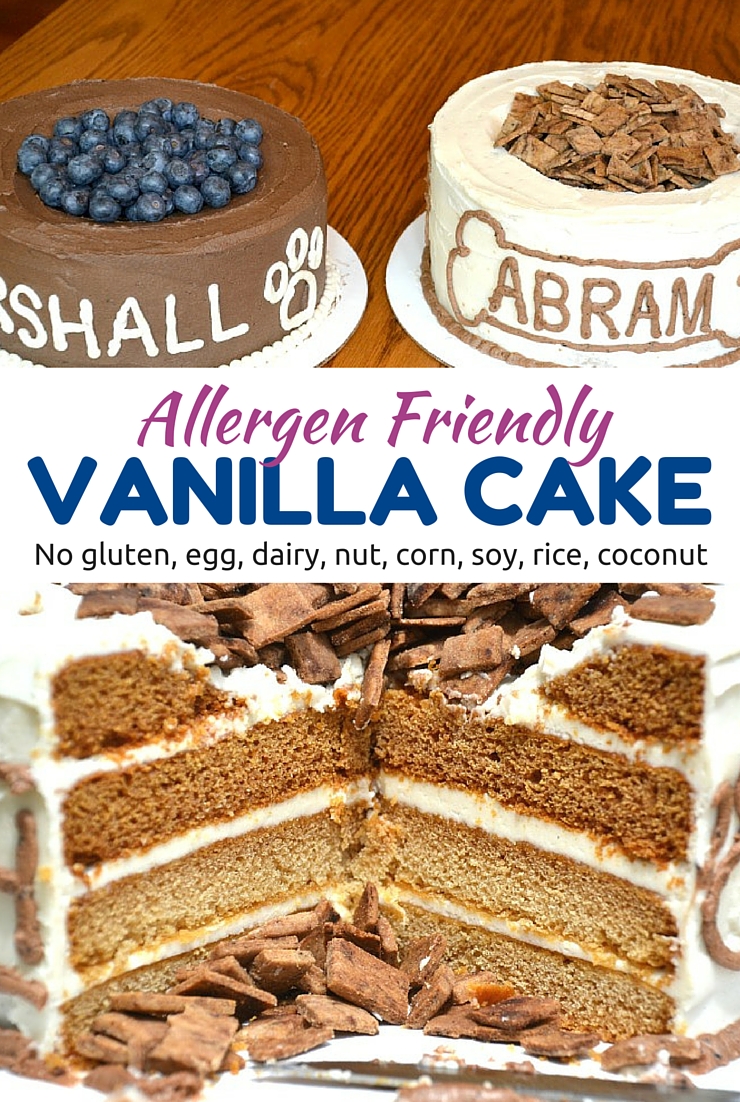 A couple months ago my son had another round of allergy testing, revealing more allergies and more severe allergies. It's definitely not what we had hoped for.
But when his birthday approached I did not let his allergies stop me from making him a super fun (and safe) birthday cake!
He was determined to have a Paw Patrol cake. And I wanted to make that happen.
Together we came up with the idea of turning the cake into a dog dish. I added homemade carob puff cereal on top for the dog food. It was a huge success.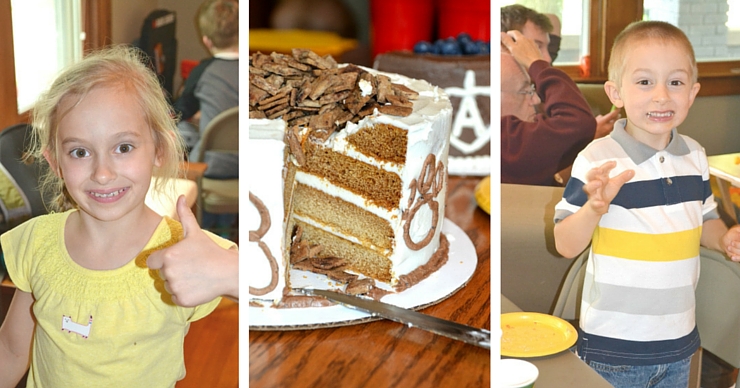 We found a winner.
My kids gave it two big thumbs up!
This cake does not rise as much as a regular cake (did I mention it was free of everything? Even gums as those often contain allergens too). So I made a double batch and turned it into a four layer cake. It was mostly for effect to create a big dog dish. Just a single batch would be just fine for enjoying the cake.
Then top it with your favorite frosting. I used a "buttercream" made with palm shortening and homemade powdered sugar. Really, just two ingredients. My kids go crazy for the frosting.
I did also make a regular cake for the other party guests. That cake was the water dish, topped with blueberries.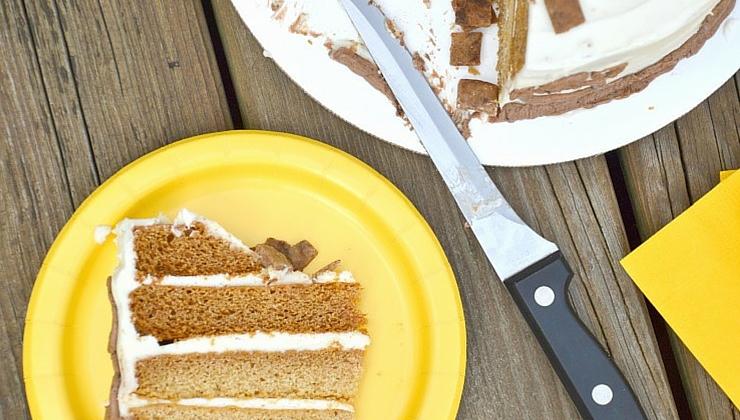 Everyone join the fun.
It was wonderful to see my five year old enjoy his special day and not feel left out. To top it off my niece and nephew with allergies were able to eat cake too! It sure made my day to see everyone included in the celebration.
I really don't have much else to say about this cake. I'll let the pictures and the smiles speak for themselves.
Are you in need of a cake that is truly allergen friendly? This vanilla cake is the perfect solution!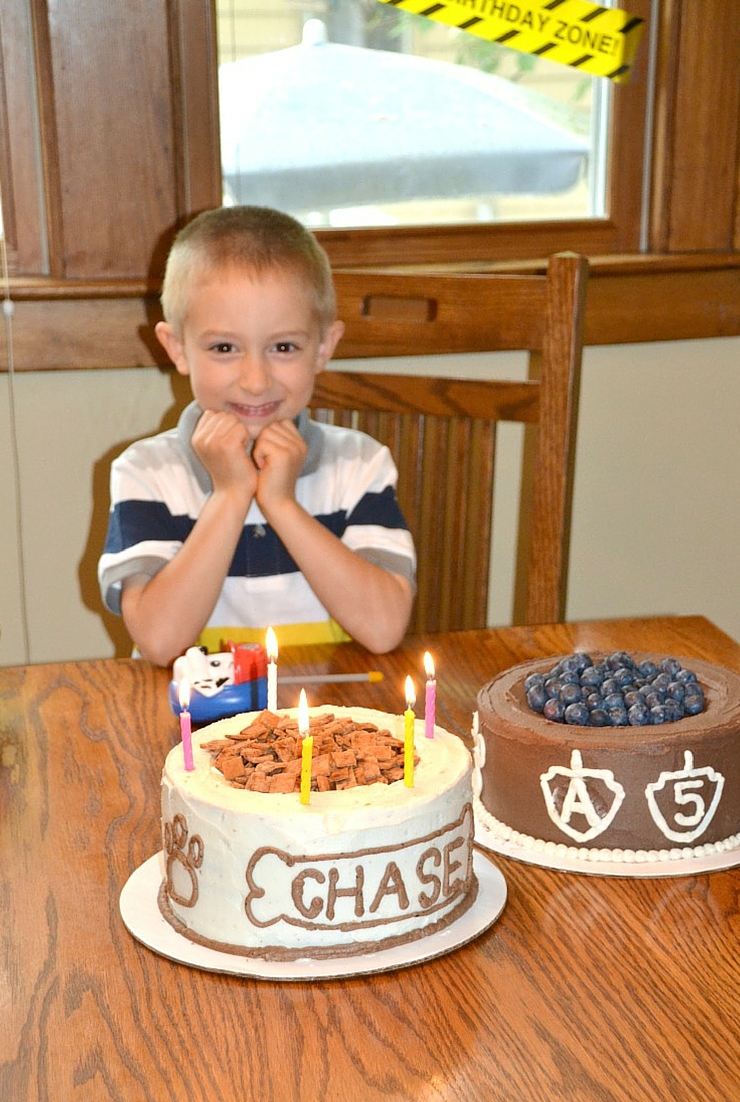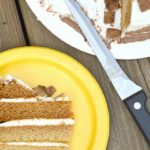 Allergen Friendly Vanilla Cake
2016-05-29 06:00:28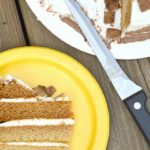 Serves 12
Ingredients
1 1/2 cups sorghum flour
1/2 cup tapioca flour
1/2 cup organic cane sugar
1/2 tsp. unrefined sea salt
1 tsp. baking soda
1 tsp. cream of tartar
1/4 cup honey
1/2 cup palm shortening, melted
3 tsp. grass-fed gelatin
1/4 cup cold water
1/2 cup + 1 Tbsp. boiling water
Instructions
Preheat the oven to 350*F. Grease and line with parchment paper two 8" round cake pans.
In a small bowl combine the gelatin and 1/4 cup cold water. Set aside.
In a large bowl combine the sorghum, tapioca, sugar, baking soda, salt, cream of tartar, honey and shortening. Stir to combine.
Add the boiling water to the gelatin mixture and stir until the gelatin is dissolved (about 10 seconds).
Add the hot gelatin mixture to the cake batter.
Stir until well mixed.
Pour half of the batter into each of the prepared pans.
Bake for 30 - 35 minutes, until golden.
Allow cakes to cool in pan for 15 minutes. Remove from pans and cool completely.
Remove parchment paper.
Frost and serve.
Notes
Cream of tartar is made from grapes. Replace it with an extra 1/2 tsp. baking soda if you have a grape allergy.
Palm shortening is in the same family as coconut and may not be safe for those with a coconut allergy. The palm shortening can be replaced with lard, olive oil or avocado oil.
Store the cake in a sealed container in a cool spot.
The cake can be frozen with or without frosting.
Make a double batch for a 4 layer cake.
Just Take A Bite https://justtakeabite.com/