This post may contain affiliate links which won't change your price but will share some commission.
Looking for a delicious jelly that is naturally free of pectin? This is it! Red plum raspberry jelly is the perfect fruit combination for your morning toast, mixed into yogurt or spread on your pancakes.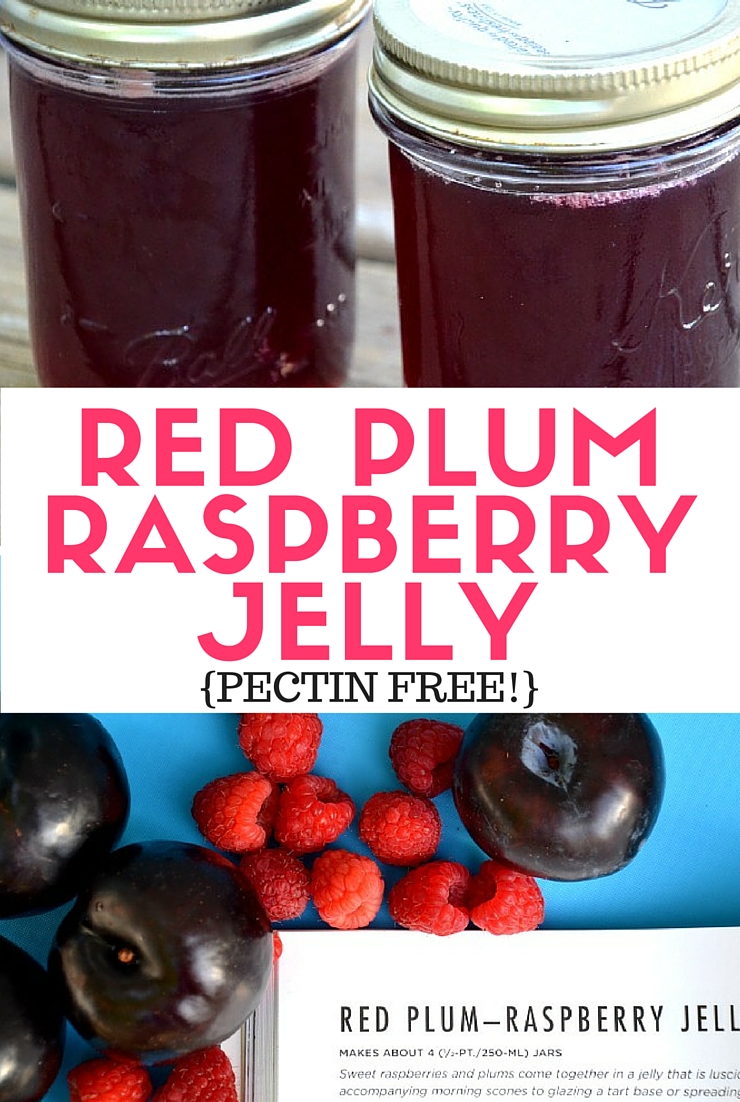 I've said it before and I'll say it again…I'm not very good at making jams and jellies. Even when I use the packs of pectin!
I have switched over to using gelatin to create my strawberry freezer jam, cherry jam, grape jelly and five minute peach jam. They turned out beautifully!
But I recently teamed up with Ball Brand to try one of their recipes. I had the great pleasure of perusing The All New Ball Book Of Canning And Preserving. It's like a canner's dream.
The pictures are gorgeous. And the recipes all sound so delicious. I wish I had time to try them all!
But I had to just pick one to try and share with you.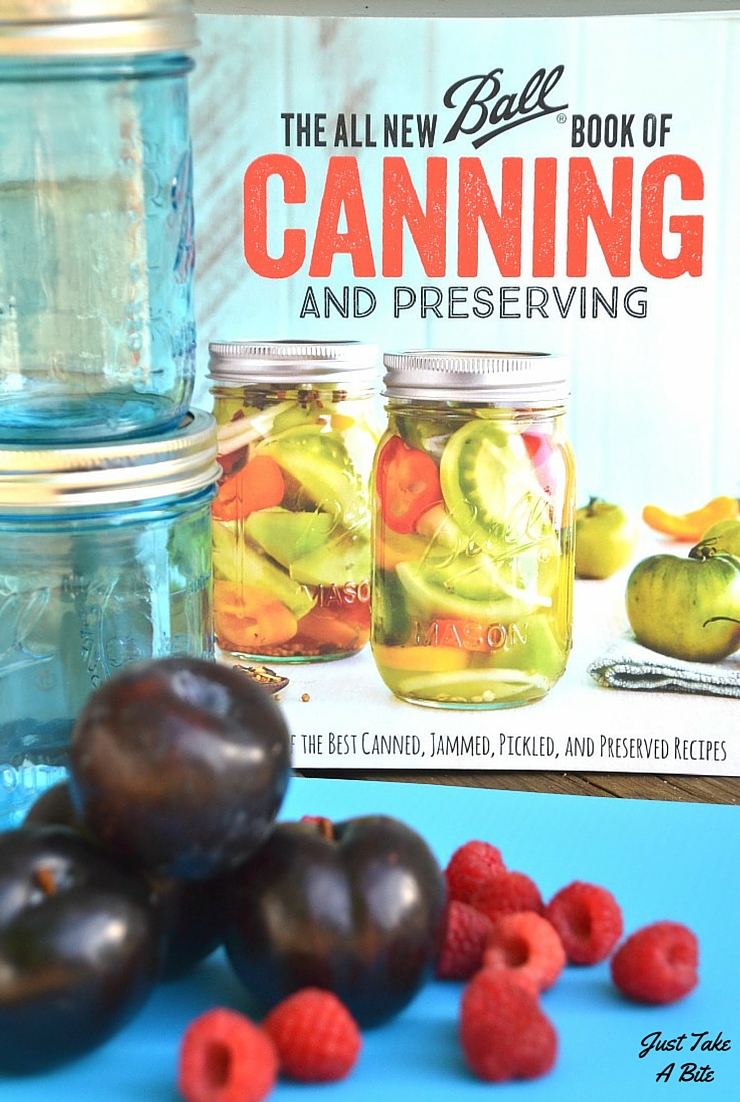 Trying My Hand At Jelly Again
With our allergies I don't use pectin. Since I can't be certain of the source it's too risky. I know a lot of pectin is made from apples. And my two youngest are allergic to apples.
So instead of modifying a recipe I went for one that didn't even need pectin. Red plum raspberry jelly sounded like the perfect combination of fruit flavors. And it is!
Neither fruit over powers the other.
There is no doubt that red plum raspberry jelly tastes good. You can use it for your morning eggs and toast or mixed into some plain yogurt. We like it on pancakes.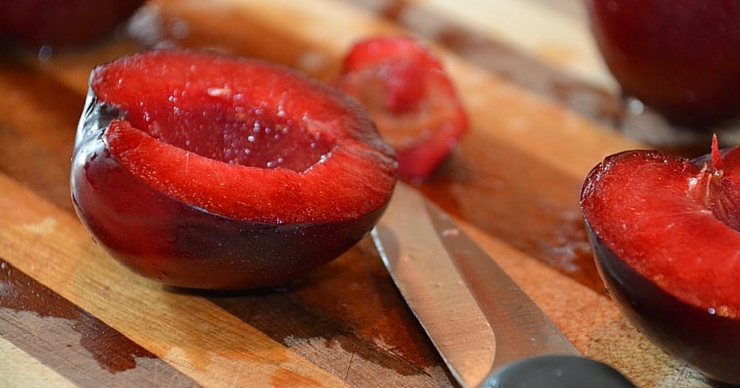 The Outcome
The real question, though, is did I manage to make good jelly without using gelatin?
Ummmm, no.
I read the instructions on how to look for the gelling point. I used a thermometer to monitor the temperature (got it to 220 just like it said).
But the timing worked out that it was right around the gelling point when I was trying to get my toddler down for a nap. And of course this was the one day where she was fighting sleep. In fact, instead of taking 3-10 minutes to get her to sleep it took over an hour and a half (including a dirty diaper change)! Maybe it was all those raspberries she ate!
So I kept bouncing back and forth between checking the jelly and checking the toddler. And at one point I just said I have to get it done and said a prayer. Well, it wasn't gelled.
My Big Mistake
And now that I am re-reading the directions I see that it says to stir constantly…oops. Not easy when trying to get a toddler to nap. I think all of the pectin came to the top when I wasn't stirring…there was a sticky, pink foam. Oops.
Note – keep stirring while it boils!!
All is not lost, though. We now have sweet red plum raspberry syrup! I can't wait to use it on our pancakes this week (every Friday we have breakfast for dinner…pancakes is on the menu).
I might also try cooking it down a bit or adding a little gelatin when I open a jar. Just to see what happens.
It's Your Turn
In spite of my inability to make jams and jellies I am sharing this delicious recipe with you today. I bet you'll have better luck. Maybe you can teach me a thing or two about gel! My motto moving forward is going to be "Follow the directions and keep stirring."
I hope to try this recipe again and actually cook it the right way. I REALLY want to try red plum raspberry jelly on bread (freshly baked sourdough would heavenly).
How about you? Are you a pro at making jams and jellies? Or are you jelly challenged like me?
I'd love to hear how it goes if you try red plum raspberry jelly.
But there's more! Keep reading.

Red Plum Raspberry Jelly
2016-07-17 05:18:07
Ingredients
2 lbs. firm, ripe red plums, halved
1 cup water
4 cups raspberries
3 cups cane sugar
cheesecloth
Instructions
Pit plums, reserving pits. Chop plums and place in a 6 qt. stainless steel or enameled Dutch oven. Lightly crush the plum with a potato masher.
Stir in the water and reserved pits. Bring to a boil, reduce heat, cover and simmer 10 minutes.
Add raspberries, crushing with a potato masher. Return to a boil, cover, reduce heat and simmer 10 minutes.
Line a large, fine wire mesh strainer with 3 layers of dampened cheesecloth. Place the strainer over a large bowl.
Pour the plum mixture into the strainer (do not press down). Cover and let stand 3 hours or until collected juice measures 3 1/2 cups and mixture no longer drips.
Wash and dry Dutch oven.
Pour the juice into the Dutch oven. Stir in the sugar and bring to a boil over high heat. Boil, stirring constantly, to gelling point.
Ladle hot jelly into a hot jar, leaving 1/4-inch headspace.
Wipe jar rim. Center lid on jar. Apply band and adjust to fingertip tight.
Place jar in boiling water canner. Repeat until all jars are filled.
Process jars 10 minutes, adjusting for altitude. Turn off heat, remove lid and let jars stand 5 minutes.
Remove jars from canner and cool.
Notes
Tip - plum pits are super high in pectin, so simmering them with the fruit really helps give this jelly its velvety smooth set.
Just Take A Bite https://justtakeabite.com/
Can It Forward
Don't forget to "Can It Forward" with Ball Brand. On July 22, 2016 they are hosting a Can-It-Forward day live on Facebook. You'll see demos (I think I need to tune in for one on jelly). Plus Ball Brand will be donating to a local charity. The more engagement they receive the more they donate!
Here's how you can participate.
More For You
Ball Brand would also like to give one of my lucky readers coupons for canning supplies and a copy of The All New Ball Book Of Canning And Preserving! Enter below for your chance to win.
a Rafflecopter giveaway

Does red plum raspberry jelly sound like a delicious combination? What is your favorite jelly flavor?